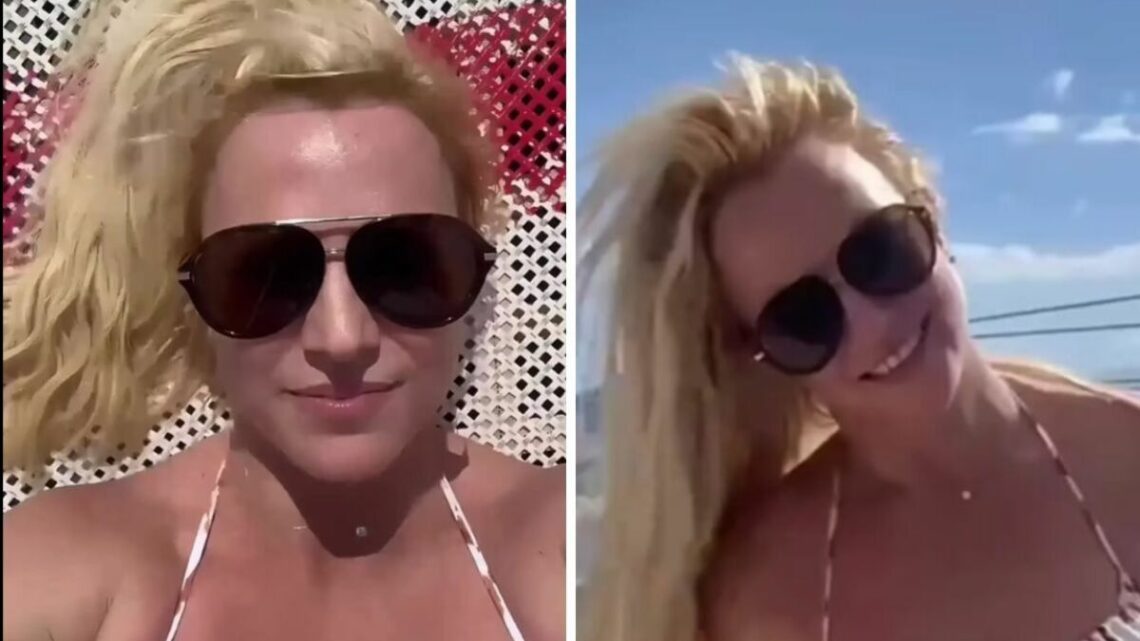 Britney Spears slams 'bullying' in now-deleted bikini video
November 15, 2023
Britney Spears cradles dog while posing in sheer dress
Britney Spears has once again clapped back at haters online in a since-deleted Instagram post on Thursday.
She shared a video of herself wearing a cheeky white bikini and soaking up the sun on a boat.
The mother-of-two also sported oversized aviator sunglasses and held a fruity-looking drink.
In the comments section on Instagram, she wrote a massive message to her followers that said she could empathize with kids being bullied at school because she knows "what it's like to feel tormented … bullied … and completely humiliated."
"I did research about bullying and kids being mistreated at school," she said in her caption, adding that she's "probably studied human emotion more than anyone on the planet."
Read more: Britney Spears' sister Jamie Lynn 'to join' I'm A Celeb to 'spill the beans'
Spears continued that over the years, she has been "studied and analyzed like a science lab" and claimed that "some people are better suited to hide" their feelings.
She added: "Most of them live in Los Angeles they are called actors and actresses."
Although Spears has "never been that great at acting," she can "spot one a mile away" and that actors give her "shivers" as if someone "saw a real criminal !!!"
"I wear my heart on my sleeve and I've had to learn the hard way … but i do know what it's like to feel tormented … bullied … and completely humiliated," the Stronger singer added.
The pop star then doubled down on her feelings about Hollywood, acknowledging that she has "a pretty home in Los Angeles," but "people scare me there and always have !!!"
Don't miss…
Britney's British ex claims: 'Britney wanted to have a baby girl with me!'[UPDATE]
Britney Spears' sister Jamie Lynn appears to swipe at memoir 'Sick and tired'[INSIGHT]
Britney Spears claims her memoir sales have beaten Prince Harry's book Spare[NEWS]
This isn't the first time Spears has flaunted her toned body on Instagram or clapped back at fans.
She recently combined the two, as she did with the now-deleted post, in another post.
Earlier in the month, Spears hinted at having a "turbulent life" in post after dancing in tiny shorts.
She frequently shares videos of herself dancing in bikini bottoms and crop tops.
Her Instagram rant comes after the pop star's mother, Lynne Spears, denied getting rid of her daughter's belongings — a claim the Grammy winner made in her bestselling new memoir The Woman in Me.
Support fearless journalism
Read The Daily Express online, advert free
Get super-fast page loading
"@britneyspears I'm not sure who told you I got rid of your dolls and journals but I would never do that!" her mother captioned an Instagram post. "That would be cruel because I know how much they mean to you."
"Of course I still have your things, and I am happy to send them to you if you'd like me to," Lynne added. "Please let me know and know how much I love you!"
There have also been reports Spears could be working on another tell-all book which could shed light on her brief marriage to Sam Asghari.
The Woman In Me has become a bestseller but failed to match the success of Prince Harry's memoir Spare which was published in January.
It's unknown why Spears decided to delete her latest rant on Instagram, but she's been known to delete her posts.
Most recently, her fans demanded an apology from rapper and producer Timbaland over his comments.
Source: Read Full Article