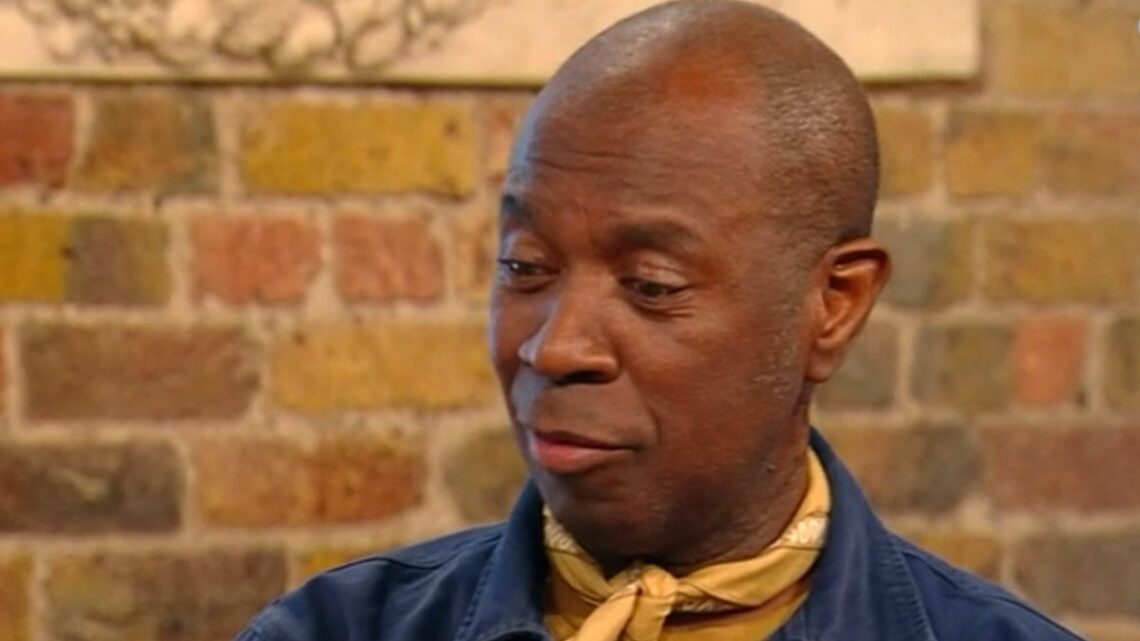 Saturday Kitchen viewers all say the same thing about Clive Myrie's outfit
November 4, 2023
Mary McCartney infuriates viewers by talking over Clive Myrie
Mastermind presenter Clive Myrie ditched the suits he wears in his day job for a stylish ensemble during an appearance on Saturday Kitchen and fans of the show were loving it.
The award-winning BBC News presenter, who was on the show to promote his book Everything Is Everything, was wearing jeans teamed with a yellow tee and a matching casual blue jacket, which he adorned with a poppy.
He accessorised the look with a jaunty yellow scarf tied breezily around his neck and his fashion choices proved a hit with viewers, who took to X formerly known as Twitter, to remark on the look.
@MarkBinmore commented: "Obsessed with Clives collection of dainty neck scarfs. Very Liza Minnelli Arthur 1981. #SaturdayKitchen," in reference to the hit movie starring Dudley Moore and the aforementioned Liza.
@drofidnas also likened him to another 80s icon – Keven Rowland from chart topping group Dexy's Midnight Runners.
"And you can catch Clive Myrie after #SaturdayKitchen with his Dexy's Midnight Runners tribute act tonight at the Northampton Roadmenders," they quipped.
READ MORE: Strictly's Shirley Ballas inundated with support as she opens up about baby loss[LATEST]
@Chakrawarthige felt he had a creative swagger writing: "Clive Mhyrie(?) looks like a French impressionist painter from the early 1900s who was severely underappreciated in his time. #SaturdayKitchen." (sic)
Meanwhile, @BevMaccas asked: "Is @CliveMyrieBBC the coolest guy on tv? 10/10 for the outfit #SaturdayKitchen." (sic)
While viewers were loving his look, they were up in arms when a fellow guest kept interruputing the erudite star.
Mary McCartney appeared on the show to promote her new book and demonstrate how to make vegetarian smoking dogs – a hot dog alternative.
However some viewers felt that she was taking over the conversation on the show and they weren't happy.
Don't miss…
Heston Blumenthal's wife in horror crash 'with mum trapped inside'[LATEST]
Coronation Street's Paul Foreman receives devastating news[SPOILER]
Sir Tom Jones details most 'difficult' part of The Voice[BEHIND THE SCENES]
Advert-free experience without interruptions.
Rocket-fast speedy loading pages.
Exclusive & Unlimited access to all our content.
@kjhubbardtweet took to the platform to vent: "Don't usually comment about TV, but the producers @SaturdayKitchen need to have a word with Matt and Mary. Clive is the guest. Mary cut across Matt trying to ask Clive a question. She has spoken more than Clive has!! #saturdaykitchen."
@angelazhay concurred writing: "Ms McCartney loves the sound of her own voice! Were there no cooks available? Clive is lovely let him speak! #SaturdayKitchen." (sic)
Meanwhile a user with the handle @iluvbatfink chimed in: "Blimey, Mary doesn't stop! #SaturdayKitchen."
They later added another tweet saying: "She's quite rude isn't she. Butts in every time."
Saturday Kitchen is on BBC One every Saturday at 10am.
Source: Read Full Article