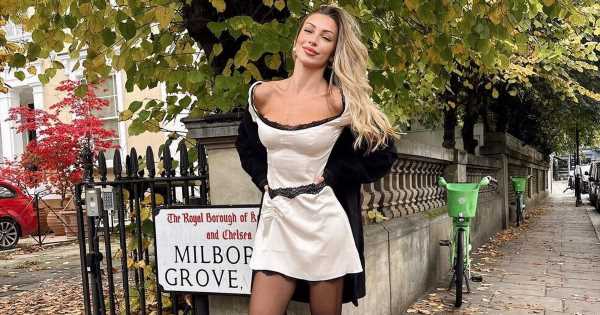 BBC Strictly's Zara McDermott bounces back from show's exit with sexy photoshoot
November 4, 2023
Zara McDermott looked like she's bounced back from her recent Strictly Come Dancing exit as she posed up a storm for a sexy photoshoot in London.
The star, who became the latest Strictly contestant to get booted off the popular BBC dance competition, appeared all smiles as she strutted her stuff her the camera.
After landing in the bottom two alongside Adam Thomas, Zara was eliminated during Halloween week by the judges, having received the lowest score during the live show, being awarded just 25 points.
But the star, who first rose to fame after appearing on Love Island in 2018, later added that she "knew this day would come" as she opened up about how grateful she was for the Strictly experience.
Zara, 26, appeared to be moving on from her Strictly exit on Friday as she posted a selection of sexy snaps with her 1.8 million Instagram followers.
She captioned the photo, writing: "Autumnal London."
She looked classy and elegant in a stylish ensemble which included a satin cream dress with pretty black lace detailing which she paired with sheer black tights and pointed heels.
The star, who is loved up with her Made In Chelsea beau Sam Thompson, added a black blazer coat to complete her fashion statement.
Zara flashed her sultry pout and perfect smile for the mini photoshoot.
It comes just a week after she became the latest star to leave Strictly Come Dancing and Zara, who was partnered with pro Graziano Di Prima, spoke often of being completely new to dancing.
Her boyfriend Sam recently opened up about her Strictly exit.
Speaking on Hits Radio, Sam said: "So the week we have all been dreading – my girlfriend Zara McDermott, was sadly voted off Strictly Come Dancing this week. And look, if I'm honest and I'm always honest with you, we all knew it was coming pretty soon.
"It was her third dance off, and everyone else, and I know Zara won't mind me saying this, everyone else is a better dancer than her."
But Zara has continued to keep her head held high since her exit and even took to Instagram to share her disappointment, but also heap praise on partner Graziano, saying he has brought her "joy" and is her "best friend for life" in a lengthy post.
She said: "I first dreamt of dancing on Strictly when I was 7 years old, dancing round the living room wearing my little dress and wishing I could be one of the "princesses" that I saw on screen. Little did I know that it would one day become a reality, and I'd have got myself half way through the competition.
"I've never been a dancer, or a performer, I've always been self conscious, so I knew that this was going to be a huge challenge physically and mentally, yet it was a challenge I absolutely wanted to take on."
She continued: "However, from the day I met you Graz, you told me every day that I am strong, beautiful and confident. I believe that everything happens for a reason, and I know that we were meant to be friends for life. You have taught me so much about myself and our laughter every single day has brought me so much joy," Zara said.
"I never got bored of spending over 12 hours a day with you, and your work ethic has inspired me beyond words. You made me believe in myself in those moments that I absolutely didn't and the bond we have built is truly an unbreakable one."
She signed off her post by writing: "I am forever grateful to every single one of you who made my Strictly experience one that I will think about with a HUGE smile on my face every day for the rest of my life."
Source: Read Full Article