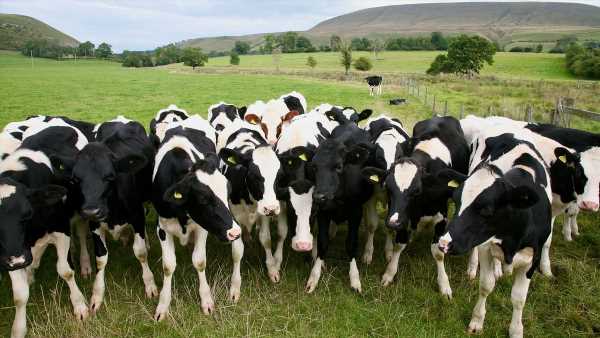 Woman trampled to death by stampeding cows while walking her dogs
September 13, 2023
Horror as woman is trampled to death by stampeding cows while walking her dogs through farmland
Woman was walking her dogs through the field of 40 cows when she was killed
The tragic incident took place near the village of Guilsfield, Welshpool, on Friday
A woman was trampled to death by a herd of stampeding cows while walking her dogs through a farmland field. 
Police said a woman was killed in the countryside near the village of Guilsfield, Welshpool, on Friday September 1.
She was walking her dogs on a public path through the field of 40 cows when she was killed, they added. 
Dyfed-Powys Police said the woman's family had been informed and the Health and Safety Executive were notified.
A HSE spokesperson added: 'We are aware of this incident and making enquiries.'
A woman was trampled to death by a herd of stampeding cows while walking her dog through a farmland field (stock image)
Police said a woman was killed in the countryside near the village of Guilsfield, Welshpool, on Friday September 1 (pictured countryside area near Guilsfield)
Source: Read Full Article