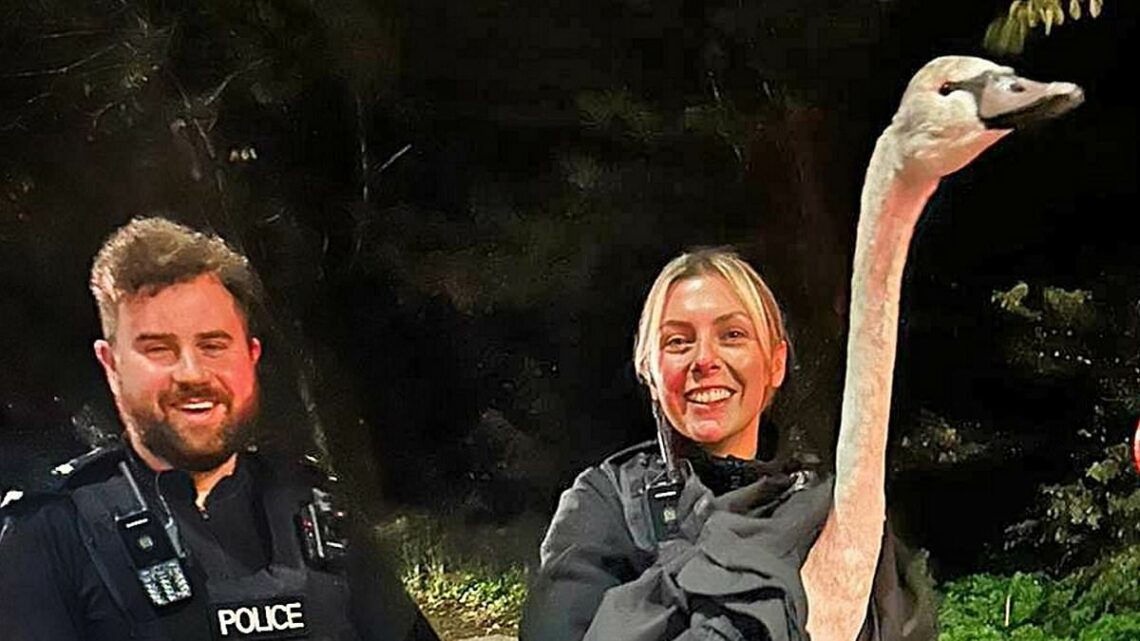 Police enjoy a real-life Hot Fuzz moment as they rescue runaway swan
November 15, 2023
The long neck of the law! Police enjoy a real-life Hot Fuzz moment as they rescue runaway swan
Two police officers grin as they have their very own Hot Fuzz moment – capturing a runaway swan.
One officer from Hampshire Constabulary can be seen smiling as she holds the large bird after retrieving it.
The swan must have caused a flap among locals as the officers were responding to a report about a swan in possible distress in Hampshire 
The swan was found on a busy road near a roundabout in Portsmouth.
The two officers even wrapped the swan in what appears to be a jacket as they safety returned the the big-footed bird to water. 
Two officers return the swan to the water and its family after responding to a report of concern for a swan that was in the middle of a road
The runaway swan returning to its family in the Hilsea Lido in the Portsmouth area of Hampshire
In a second picture, the runaway swan rejoins its five-strong family in the Hilsea Lido.
In classic British comedy movie Hot Fuzz, Nick Frost and Simon Pegg's police officer characters eventually capture a troublemaking swan.
They are famously asked, 'no luck catching them swans, then?' throughout the film by locals in the fictional town of Sandford as they struggle to track down the suspect with a 'long, slender neck' – a description the police in Portsmight were also given.
It didn't take the two officers from Hampshire Constabulary as long – they managed to catch the swan in one night. 
In a statement published on Facebook on Tuesday, 
They wrote: 'This evening the team responded to a report of a concern for welfare of an animal in the middle of the road.
'The following description was given…. "Its about two feet tall, long slender neck, kinda orange and black bill"
'Anything else?… "Well It's a Swan".'
'We are pleased to say we managed to locate and reunite the Swan with its family at the Hilsea Lido.'
Source: Read Full Article