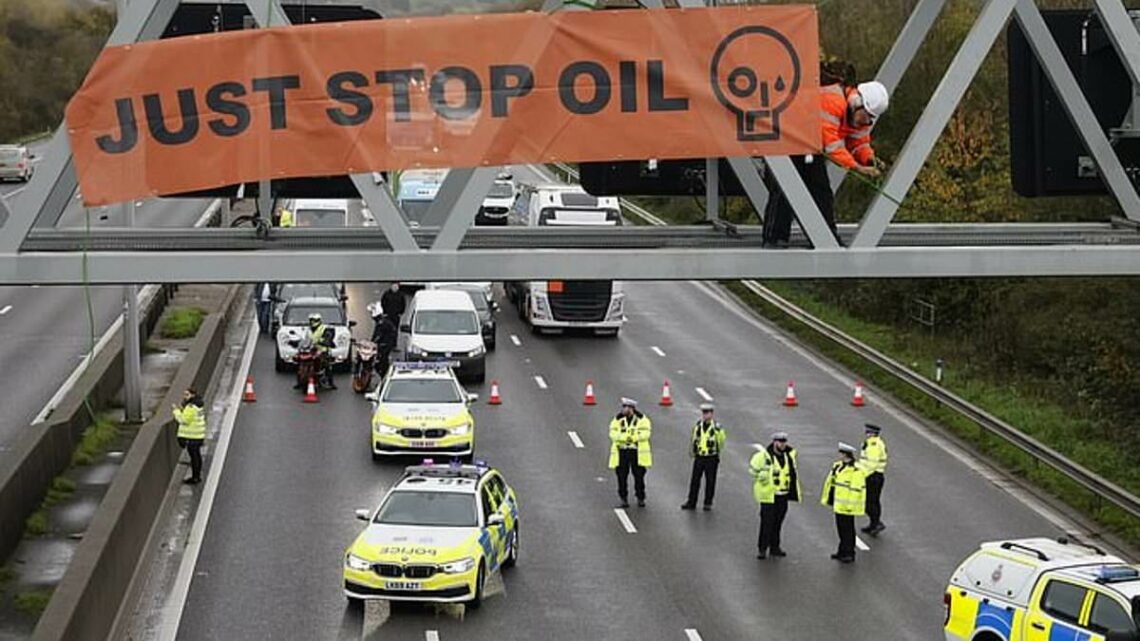 Just Stop Oil clowns who sparked chaos in M25 demo are spared jail
October 30, 2023
Just Stop Oil clowns who sparked chaos in M25 demo where activists scaled gantry are spared jail after eco-mob claimed they 'didn't know about injunction stopping them from doing motorway stunt'
Just Stop Oil activists who caused 'massive disruption' on the M25 in 'deliberate defiance' of an injunction have been spared jail by a High Court judge. 
National Highways had accused 12 people of taking part in M25 protests in November 2022, which led to police making 35 arrests after motorists were held up for five hours when protesters scaled a gantry on the M25.
Theresa Norton, 65, and Mair Bain, 36, were found to have breached the injunction when they protested on the M25 with 10 others in November 2022.
Delivering his ruling at the High Court in London on Monday, Mr Justice Soole said both defendants had crossed the custody threshold.
He decided not to impose any penalty against the remaining 10 defendants also found in contempt, including 76-year-old grandmother, Gaie Delap, who climbed on to an M25 gantry. 
Just Stop Oil activists who caused 'massive disruption' on the M25 in 'deliberate defiance' of an injunction have been spared jail by a High Court judge
The retired teacher from Bristol previously told the judge that her 'heart was breaking' for the future of her six grandchildren.
Mr Justice Soole found that she and nine of the others had not been made aware of the injunction by a Just Stop Oil mentor prior to the protest, describing the omission as a 'significant failure and breach of trust'.
He handed Bain a 40-day jail sentence suspended for two years and Norton an 80-day sentence, also suspended for two years, telling the court: 'Her (Bain) actions were deliberate and in defiance of the court.
'Her actions caused massive disruption to the M25 and members of the public.
'The mitigating factors include her apology and her statement explaining she would not breach court injunctions in the future.'
Police watch as traffic is held back as an activist from Just Stop Oil occupies a gantry over the M25 near Godstone in Surrey
The eco-group carried out an entire month of action over October last year and were planning daily action until Christmas
Police were called to deal with a protester, causing havoc between junctions 6 and 7 in Surrey
A Just Stop Oil protester was detained after they climbed a gantry on the M25, leading to the closure of the motorway
He described Norton's case as 'much more difficult' due to her previous conviction for being in contempt of an injunction and past comments by her explaining that she would continue to 'protest regardless and defy the court'.
Mr Justice Soole took into account her statement which explained she had 'no intention' of breaching court orders in the future.
Referring to the 10 defendants who had no knowledge of the injunction, he said: 'It would have been a significant failure and breach of trust for JSO not to have told the volunteers of the potential consequences (of breaching the order).
'Having listened to each of these defendants my conclusion is that each of them have told the honest truth.
'I do not accept that they have lied to the court.
Just Stop Oil sparked rush hour chaos after an activist scaled the motorway gantry on the M25
Specialist rope officers were deployed by Kent Police to remove the activists and limit disruption on the motorway
Members of the environmental protest group Just Stop Oil were detained after they tried to block the M25 in east London by climbing a gantry at Junction 25
National Highways had accused 12 people of taking part in M25 protests in November 2022, which led to police making 35 arrests
 The leader of Just Stop Oil, Roger Hallam, was arrested for reportedly planning large-scale blockades to bring traffic to a stand-still on the M25 (pictured: Hallam being arrested in 2019)
'It is surprising that the so-called legal brief did not give reference to existing injunctions but in my judgment it is not incredible.'
Outside court a spokesman for Just Stop Oil said: 'Today no-one was imprisoned or fined, but the fact that 12 people have spent over a week in court, facing the loss of their freedom for disobeying a 'private law', and now face criminal charges for the same action, demonstrates our courts are not protecting the ordinary people of this country, but defending those making profit by killing people.'
A spokesman for National Highways, which brought the case against the protesters, said: 'Our primary concern is always safety – protesting on the strategic road network is extremely dangerous to the protesters and motorists.
READ MORE: They're back! Moment van driver begs 'please let me by' as Just Stop Oil brings traffic to a halt in central London as eco activists kick off three weeks of disruption hell
'It's right that dangerous and reckless protesters who disrupt our strategic road network should face the necessary consequences; anyone intending to protest on these roads protected by an injunction should know that they run the risk of imprisonment and an unlimited fine.
'People rely on the strategic road network for so many things and they have a right to expect it to operate as it should.'
An ambulance was allegedly among the vehicles stranded by the stunts, which meant the emergency vehicle took 'ages and ages' to get through the blockage, according to another trapped motorist.
The protests took place despite a major Metropolitan Police operation to foil their plans, which saw a number of demonstrators, including leader Roger Hallam, arrested last year.
National Highways was also granted a court order which was meant to put an end to disruption on Britain's busiest motorway.
But the controversial campaigners, who carried out a full month of action in October last year, were back in force in November, much to the fury of frustrated drivers.
Earlier today, the eco-campaigners were back causing havoc on the of Central London, as campaigners began to slow march outside Parliament this morning.
A chorus of car horns could be heard being tooted as the traffic along the busy central London road ground to a halt. Police have since confirmed they have made 62 arrests.
A video which was filmed outside the Palace of Westminster shows a horde of activists opening up placards in the street and beginning to trudge down the road.
After begging with the protesters to leave the road and let him by, a van driver who works for a lighting company, is seen being approached and spoken to by a member of the group, who condescendingly tells him they have 'no choice' but to act.
Source: Read Full Article