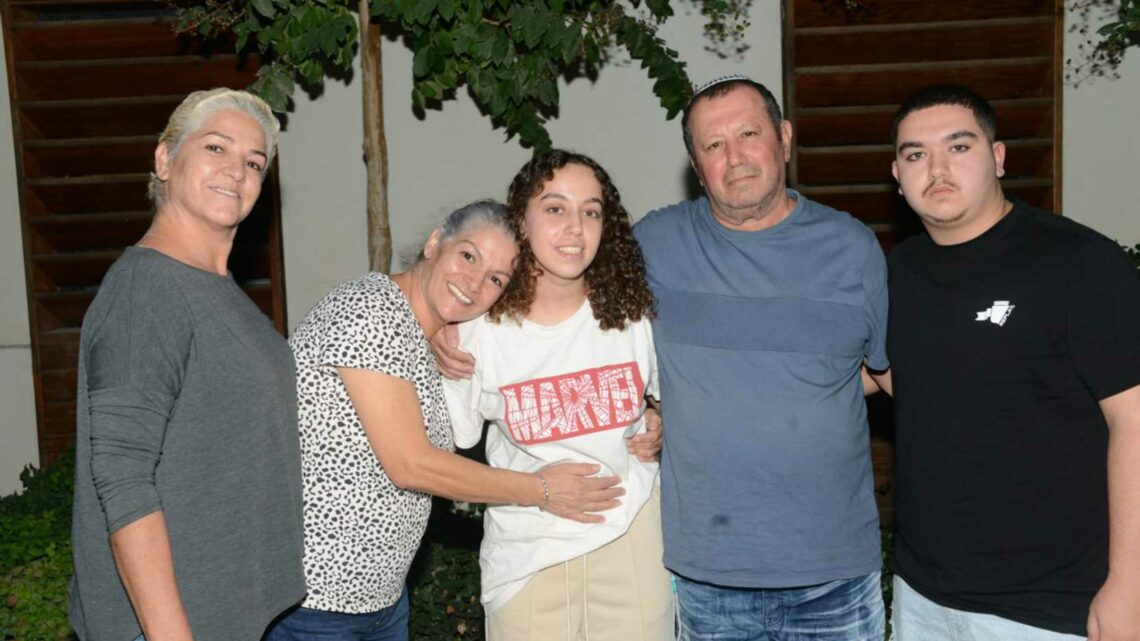 Israel rescues female IDF soldier Ori Megidish inside Gaza after she was taken hostage by Hamas terrorists | The Sun
October 30, 2023
ISRAEL have rescued a female soldier taken hostage by Hamas terrorists.
Soldier Ori Megidish was trapped inside Gaza for 23 days until her release today.
The Israel Defense Force (IDF) and Israel Securities Authority (ISA) released a joint statement announcing the rescue.
The statement said: "The soldier was medically checked, is doing well, and has met with her family.
"The IDF and ISA will continue to do everything it takes in order to release the hostages."
Private Megidish was freed during IDF ground operations overnight after being taken hostage on October 7.
read more in ISRAEL-GAZA
HAMAS HUNTERS
Israel launches 'second stage' of Gaza war to wipe out 'stronghold of evil'
BATTLE OF GAZA
Israel 'shakes earth' & says get out NOW ahead of another night of strikes
The military only gave a few details but did confirm Megidish is doing well and has been reunited with her family after routine checks.
She is the first hostage to be freed since Israel stepped up its ground war, according to reports.
President of Israel Isaac Herzog was quick react to the rescue operation on X, formerly known as Twitter.
He said: "I was moved to see the soldier Ori Megedish return home to her loving family after a daring operation by the IDF and Shin Bet."
Most read in The Sun
SHANI'S HELL
Shani Louk 'tortured & BEHEADED' by Hamas in 'unfathomable horror' Israel says
ANSWERS AT LAST?
Matthew Perry's cause of death updated by coroner in first statement
LAST MOMENTS
Frantic 911 call from Matthew Perry's assistant could reveal cause of death
booted out
Strictly fans shocked as star is axed from show just days afterrehearsal exit
Hundreds were killed and dozens taken hostage when Hamas gunmen burst across the border on paragliders and motorbikes on October 7.
Binyamin Netanyahu slammed Hamas a few days ago after they released a disturbing video with three Israeli hostages.
The women, seen under duress, were forced to slam the Israeli government and called for an urgent ceasefire.
Speaking in Hebrew, the trio also revealed they have been in captivity for 23 days.
Netanyahu condemned the video and called them "cruel psychological propaganda". 
The terrorist group claims to have up to 250 captives in Gaza and issued a chilling threat to execute one civilian for each Israeli airstrike unleashed without warning.
It's feared many of the hostages – both Israeli and non-Israeli citizens – are being held in Hamas' mysterious 311-mile maze of tunnels underground.
Earlier this month, a top Hamas leader had hinted they may attempt to use those it abducted as bargaining chips to secure the release of Palestinian prisoners.
Khaled Meshaal, head of Hamas' diaspora office, said the group "has what it needs" to free 6,000 Palestinians being held in Israeli jails.
Read More on The Sun
EYE OPENING
People are stunned when they see my pierced eye – then I tell them the truth
Window pain
Woman only realises she's flashed a school playground when she gets a NOTE
Friends and family of those kidnapped have been protesting and demanding a "prisoner deal now".
Source: Read Full Article