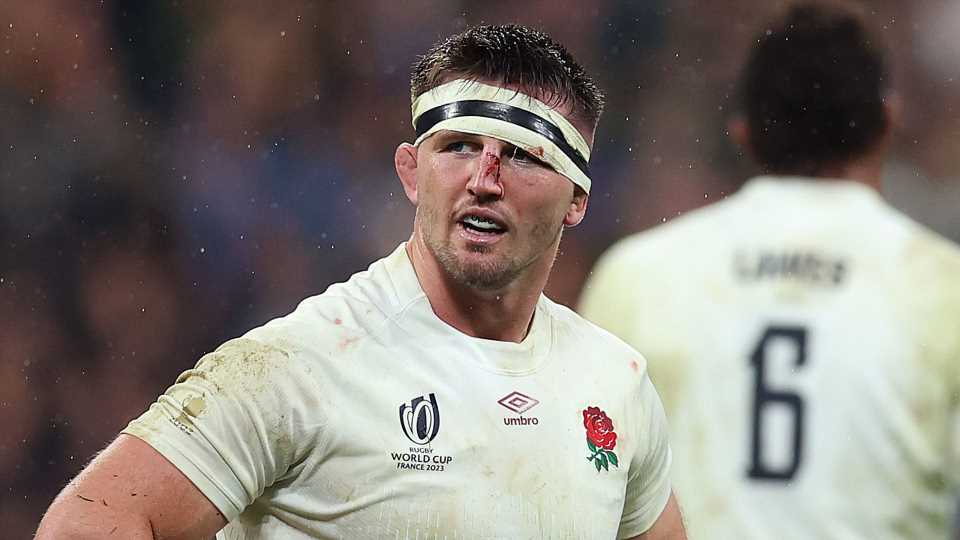 What did Tom Curry claim Bongi Mbonambi said at the Rugby World Cup? | The Sun
October 26, 2023
SOUTH Africa's Bongi Mbonambi was accused by England flanker Tom Curry of using a racial slur during the closely contested World Cup semi-final between the two nations.
The issue has been investigated by World Rugby and Bongi has been cleared due to "sufficient evidence" — here we take a look at the allegation made and what both sides have said in response.
What has Tom Curry claimed Bongi Mbonambi said to him?
Professional rugby union star Tom Curry has alleged that fellow player Mbongeni Mbonambi used a racial slur during England's semi-final defeat to South Africa on October 21, 2023.
During the nail-bitingly close game, Curry accused opponent Mbonambi of calling him a "white c**t".
But it has emerged that a potential defence could be that Curry misunderstood a comment made by Mbonambi in Afrikaans.
He could have used the term "wit kant" — meaning "white side" in Afrikaans — to tell team-mates that the ball was on the English side of the ruck.
Read More in Sport
RACISM ROW
World Rugby launch probe into South Africa star after Curry's racism allegations
NOT VER ME
Verstappen's girlfriend Kelly looks unimpressed as he is presented with trophy
Following the allegation, World Rugby chiefs launched a formal investigation.
They were under pressure to ban Mbonambi from the Rugby World Cup final, which will see defending champions South Africa take on rugby colossus New Zealand on Saturday, October 28, 2023 at 8pm.
But World Rugby has cleared the way for Mbonambi to start this weekend's final after saying there was "insufficient evidence" for Curry's claim.
However, it's noted the flanker made the allegation in good faith.
Most read in Rugby Union
FINAL CALL
World Rugby DISMISS Mbonambi racial abuse claims as he's free to START World Cup
RACISM ROW
Mbonambi FREE to play Rugby World Cup final despite racial slur accusations
LAY DOWN LAW
I work every Wednesday as lawyer… now I'm refereeing the Rugby World Cup final
ROUX RASCAL
New footage shows what caused Farrell brawl as fans fume at South Africa star
The Rugby Football Union has released a statement regarding their "deep disappointment" with the outcome of World Rugby's investigation: "The RFU fully support Tom Curry in raising the racially abusive behaviour he experienced whilst playing for England against South Africa. 
"During the match between England and South Africa on Saturday 21st October 2023, Tom Curry reported to the referee that he has been racially abused by Mbongeni Mbonambi. 
"The subsequent World Rugby investigation were informed by Tom Curry that he had also been the victim of the same abuse, from the same player, in the Autumn Test 2022.
"World Rugby have today announced their decision not to bring charges in respect of either incident. 
"The RFU are deeply disappointed by the decision taken by World Rugby.
"The decision not to put the evidence before an Independent Disciplinary Panel has denied the disciplinary process the opportunity to hear Tom Curry's voice and to independently assess his account of these serious events, together with the other available evidence. 
"In their continued full support of Tom, the RFU together with the England Squad, condemn the disgusting abuse he and his family has received on social media as a result of his having had the courage to put unacceptable behaviour that has no place in society or on the rugby field, in the public eye.
"Abuse of any kind is not acceptable and goes against the core values of rugby. 
"t is important that it is safe and acceptable for everyone involved in rugby union to raise concerns, and the RFU continue to encourage everyone to report any unacceptable behaviour in the game."
What did Tom Curry say?
Curry was furious, demanding action against the South African powerhouse.
He made the allegations directly to referee Ben O'Keeffe just before half-time at the Stade de France.
In the conversation, picked up by the "ref link" microphone, the Sale flanker went up to the official and said: "Sir, sir, if their hooker calls me a white c*** what can I do?"
O'Keeffe responded: "Nothing please. I'll be on it."
The alleged incident itself could not be heard on the television broadcast.
The back row star was still seething after the match, although he opted not to make a public denunciation of the South African.
When asked if Bongi Mbonambi had "said something he shouldn't have", Curry replied: "Yeah."
When probed on whether he would say what he had heard, Curry added: "No."
"It wasn't cleared up. It doesn't need to be talked about.
"Listen, I'm not talking about it now."
Has Bongi Mbonambi responded?
At the time of writing Mbonambi, who appeared to refuse to shake Curry's hand at the final whistle, has not directly responded to the allegation made — however, SA Rugby has issued a statement.
Read More on The Sun
BANK BOOST
One-off payment worth £185 set for thousands – check if you're getting one
STREWTH
Soap legend in talks to join I'm A Celebrity after 28 years on show
The statement read: ''We are aware of the allegation, which we take very seriously and are reviewing the available evidence.
''We will engage with Bongi if anything is found to substantiate the claim.''
Source: Read Full Article