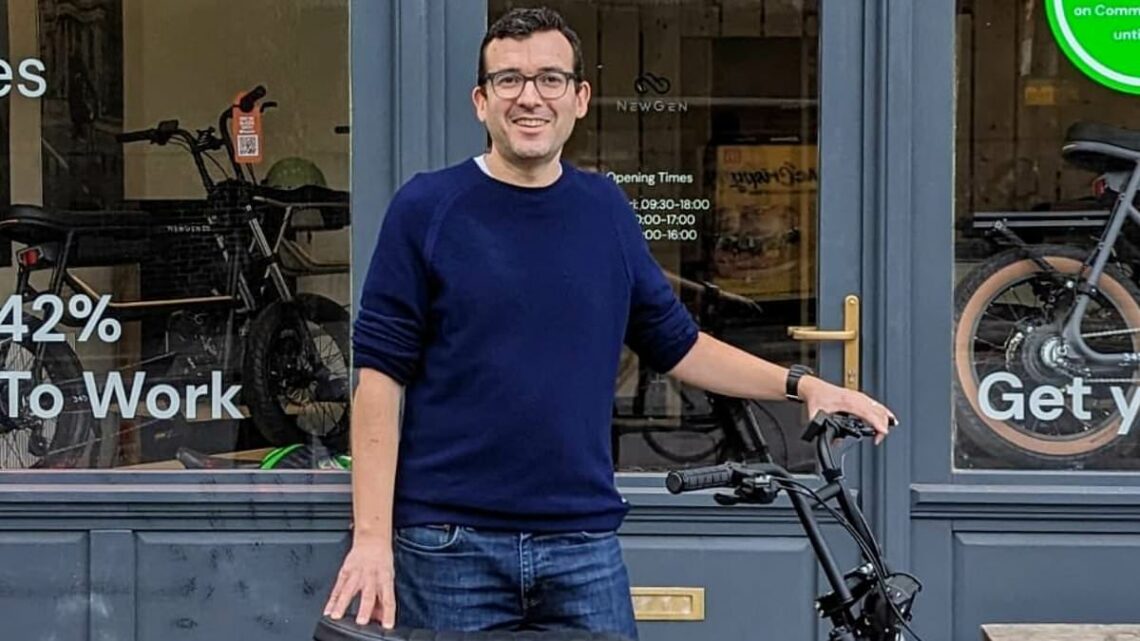 Sadiq Khan's biking tsar accused of 'distorting' London cycling stats
October 23, 2023
Sadiq Khan's cycling tsar is accused of 'distorting' statistics by 'cherry picking' data to triple percentage increase in cyclists and justify spending millions on new bike lanes
Sadiq Khan's cycling tsar has been accused of using 'distorting' data to suggest the number of cyclists in a busy part of London has tripled.
Will Norman, cycling commissioner working for the capital's mayor, is claimed to be 'cherry picking' statistics to justify spending millions on cycle lanes.
Critics say the rise in cyclists may be due to an upsurge in fast-food delivery riders on bikes. 
The criticism is the latest to face Mr Norman, who in April triggered outrage by using 10-year-old, out-of-date figures to back his claim controversial Low Traffic Neighbourhoods (LTNs) had boosted business in London by 40 per cent. 
The latest claim, which outraged anti-bike lane groups, was made in September when Transport for London (TfL) said it was extending the cycleways network across north-east of the capital to support a 'boost in cycling with a 38 per cent increase in cycling in Enfield… since 2019'.
The London Mayor's walking and cycling commissioner Will Norman (pictured) claimed that in areas made more walkable and cycleable 'you have a 40 per cent increase in footfall in shops and on trade'
The increase in cycling in Palmers Green, in Enfield borough, compares June 2023 with June 2019. There were 13,986 monthly bicycle journeys that month, compared with 10,110 in June 2019.
READ MORE: Small business owners slam Sadiq Khan's cycling tsar over claim that low traffic zones 'increase trade by 40%'… after it emerged he used 10-year-old data from BEFORE London's first ever LTN had been built
While this is indeed a 38 per cent rise, the boom across the first nine months of 2023 compared with 2019 told a different story.
On this basis the number of cyclists only rose by a more modest amount – 12.3 per cent, from 86,691 to 97,363.
One campaigner, Ann Jones, who opposes an LTN in Fox Lane, Enfield, said Mr Norman used statistics that 'distort the truth'.
She told the Telegraph: 'It matters when TfL and Will Norman distort the truth because it can be used to distort public funding priorities'.
She added: 'TfL have funded hundreds of traffic and cycle counts around the Fox Lane LTN and these show a consistent decline in cycle numbers. 
'To avoid highlighting this reality, Will Norman has chosen to use just one month's figures from one counter situated near the local fast-food cycle delivery hotspots.' 
In April, Mr Norman found himself facing similar criticism, when he appeared on a podcast bragging how business in the capital had boomed thanks to LTNs. 
LTNs prevent cars from driving down through roads, pushing them on to main roads instead
Tara Hawkins (pictured) said she was forced to close down her business, My Little Emporium, on Myddleton Road in Haringey and move it a few miles away to Crouch End after it 'devastated' her trade
READ MORE: Now £20k-a-year Oxford public school slams LTNs which 'spark resignations and job offer refusals from teachers due to longer commutes' – as locals lash out at council which says hated schemes will stay forever
Mr Norman's comments sparked fury among struggling shop and café owners whose businesses had been impacted by one of the hundreds of traffic-stopping measures.
He claimed footfall had ballooned by up to 40 per cent in parts of the capital where vehicles have now been shunned, but his figures were not only 10 years out of date, they were taken a year before the first LTN had even been built.
Alev Kotch, 31, who runs the Bowes Café in Myddleton Road, Haringey, North London, claimed the traffic filters had reduced her trade by up to 70 per cent and forced her into bankruptcy. She told MailOnline: 'I survived the pandemic, but I can't survive LTNs'.
Similarly, Alfonso D'Auria, 47, said his wholesale ice cream supplying business, which his family have run since 1979, is under threat after an LTN installed in Bounds Green, Enfield, in August.
He said: 'We have six companies saying they are not going to be delivering to us (because of the LTN). So we have a big, big problem.
'If our main suppliers don't supply to us, we are pretty much finished because we can't sell. And this business has been our family since 1979.' 
Speaking on The News Agents podcast he also claimed in areas where there are Low Traffic Neighbourhoods (LTNs) footfall and trade in businesses had increased by 40 per cent 
Mr Norman told the News Agents podcast: 'The studies that we have done in London show that where you have got areas that are more walkable, more cyclable, you had a 40 per cent increase in footfall in shops and on trade.
'There are streets now which previously had empty retail units that are now part of those Low Traffic Neighbourhoods that for the first time in living memory haven't had an empty retail outlet.'
Speaking of Mr Norman's comments about London's cycling levels, a TfL spokesman said: 'We use a range of data to measure cycling levels across London. This statistic for Enfield was based on automatic cycle counts from the most recent month for which the borough had available data not impacted by the school holiday period. 
'We are confident that the borough has seen increases in cycling over recent year' and we will continue to work with them to make the transport network safer, cleaner and more sustainable.' 
Source: Read Full Article