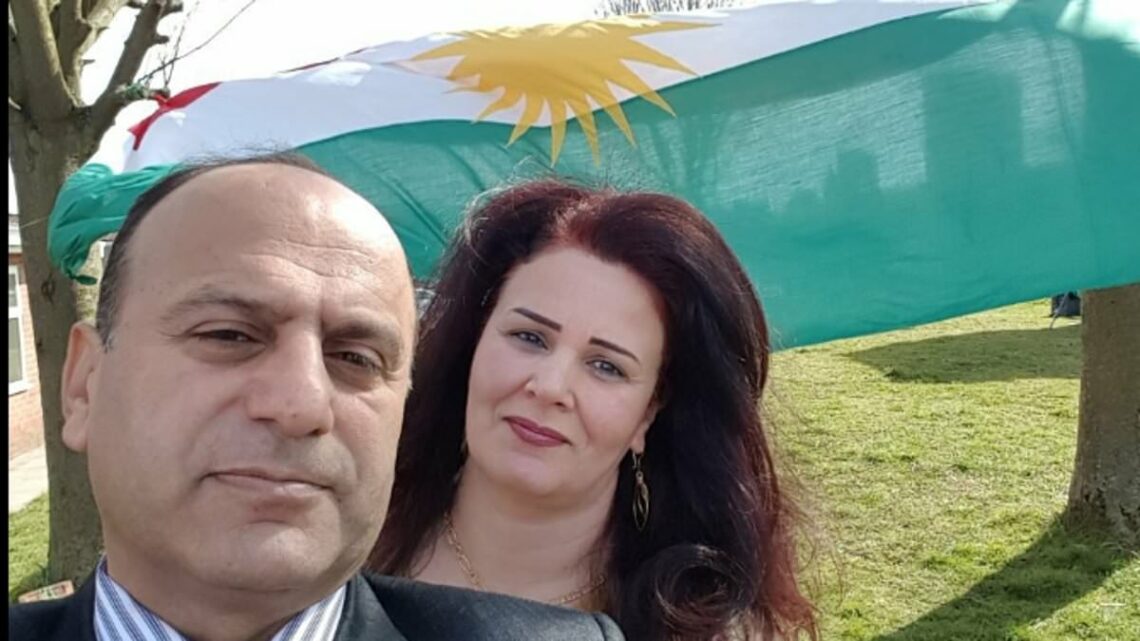 Pictured: Dentist who was stabbed to death on his front doorstep
November 14, 2023
Pictured: Dentist murdered on his doorstep by his son's father-in-law in row over wedding gift – after he fled war-torn Syria to the UK in search of a better life
First pictures emerged today of father who was murdered on his own doorstep
This is the dentist stabbed to death on his front doorstep by his son's father-in-law following a row over wedding gifts.
Mohammed Salem Ibrahim, 55, had escaped war-torn Syria for a life of safety in the UK.
But he was at home in Castle Vale, Birmingham, when he was repeatedly knifed with a Gino D'Acampo branded blade by Ahmad Alsino, 43.
Mr Ibrahim had invited him over as an olive branch following the rift over gold jewellery being given to their children.
During the frenzied attack Alsino also slashed his daughter's husband – Aram Ibrahim – who survived the attack but was left with serious injuries. 
The families had known each other while living in Syria, where Alsino was a patient of Mr Ibrahim.
Chilling doorbell footage caught the moments leading up to the murder, as a furious Alsino confronted his victim before knifing him to death. He was then captured on police bodyworn cameras being arrested after fleeing the scene. 
Mohammed Salem Ibrahim, 55, had escaped war-torn Syria for a life of safety in the UK
Mohamed Ibrahim with wife Nahla Ibrahim in happier times before the doorstep nightmare
This social media picture of the couple seems especially poignant after Mr Ibrahim's death
READ MORE HERE:  Father who stabbed his dentist to death with a Gino D'Acampo kitchen knife in row over gold jewellery wedding gifts for his daughter is jailed for life
Alsino's daughter Lylan, who was 15 weeks pregnant at the time, and her 20-year-old brother Bashar had accompanied their killer father, who was prepared for an attack with two knives.
Chilling footage released by police last night showed officers tracking Alsino's movements across Birmingham before arresting him at gunpoint 40 minutes after the murder. 
A helicopter was also used during the hunt.
The victim's daughter said her father had been the victim of a 'barbaric and brutal attack'. 
Paying tribute she said: 'He was a highly regarded dentist from the Kurdish community. 
'He was a pillar of the community. He was not only known for his profession but also for his generosity, kindness and wisdom to anybody who crossed his path.'
The brutal attack happened just before 1pm on March 13 this year, at Mr Ibrahim's home.
Mohammed Salem Ibrahim, 55, had been a dentist and had hoped for a new life in the UK
Ahmad Alsino was caught on doorbell footage kicking the door in before going on to murder his daughter's father-in-law
Footage showed Alsino kicked at the door of Mohammed Ibrahim's home after a falling out over wedding gifts. A second man who was also there was found guilty of charges relating to the incident
Alsino was jailed for life with a minimum term of 26 years after being convicted of murder, attempted murder and possession of a knife
Emergency services rushed to the bloody scene on Cadbury Drive but the father-of-five could not be saved.  
Following the brutal attack, Alsino fled but police were able to trace him after his family called 999. 
Dramatic footage shows officers trailing the vehicle's movements across the city before he was arrested by armed officers outside his home in Northfield.
When they searched the car, they found a plastic bag containing two knives – one later found to have Ibrahim's blood on it. 
Alsino was previously found guilty of murder, attempted murder and possession of a knife following a three week trial at Birmingham Crown Court.
Last week he was jailed for life and ordered to serve a minimum of 26 years after being sentenced at the same court.
The court was told Alsino had driven his pregnant daughter Lylan to the property where a bitter row broke out with her partner.
He had tried to kick the door down and when Mr Ibrahim came outside he was stabbed four times, with three wounds penetrating his chest.
Mr Ibrahim's wife, Nahla, spoke in court, relaying the horrific ordeal.
She said Lylan came into her home without saying hello to anyone before heading upstairs to the room she shared with her husband Aram, who was asleep.
Nahla heard 'noises' and went to her son's room, to find Lylan packing a suitcase, Birmingham Live reported. 
Lylan and her mother-in-law began to have an argument, with Nahla accusing Lylan of being 'the woman who wants to destroy our house'.
When they went downstairs the two fathers were arguing, with the fight being caught on doorbell footage. 
Nahla said: 'I was pulling Aram and his father inside telling them 'don't fight with them'.
'At that moment I heard Aram saying 'they are stabbing us with knives'. At that moment I saw the knife in his (Ahmad's) hand. The knife was like this on Aram's neck.
'Aram tried to grab it. At that moment he pulled it. After that Aram and his father pushed them and closed the door.'
Sentencing, Judge Simon Drew KC said 'You took your pregnant daughter to Cadbury Drive to collect some of her belongings from the house where she was living with her husband Aram and the Ibrahim family.
'When Lylan was in the house you waited by the car, angry and upset, but not seeking a confrontation.
'When Mohammed Ibrahim came out of the house he invited you in. That served to inflame matters, your anger increased and you refused his invitation.
'When Lylan subsequently phoned, claiming that she was being assaulted, you believed her and as a result you lost your temper and armed yourself with a knife.
'You went to the door to force your way in in order to get her out but you failed to open it.
The killer was caught driving away from the scene moments after brutally murdering Mr Ibrahim
Just 40 minutes later he was tracked down by armed police who surrounded his vehicle
The 43-year-old was arrested at gunpoint when he arrived back at his home in Northfield after the attack
Inside Alsino's car police found a plastic bag containing two knives, one of which was found to have Mr Ibrahim's blood on it
Mr Ibrahim was killed in the vicious attack, while his son was also seriously injured by the Alsino
'When the door was opened you saw Lylan, Mr Ibrahim and Aram in the front hallway.
'You then launched an unprovoked attack upon Mr Ibrahim and Aram, at first with fists and then using the knife on both of them in a violent frenzy, stabbing each a number of times.
READ MORE HERE:  Man, 43, stabbed his daughter's father-in-law, 55 – who was also his former dentist – to death with a kitchen knife in row over gold jewellery wedding gifts 
'I am satisfied that you must have intended to kill Mohammed when you were stabbing him.
'You knew that you had seriously injured two men but you offered them no assistance and left the scene failing to contact emergency services.
'I have listened to the victim personal statements in this case with care.
'The whole Ibrahim family, who came to this country to find sanctuary, have been severely affected by your actions on that day. '
Detective Inspector Damian Forrest, from West Midlands Police, said: 'Al Sino's decision to carry and use a knife has resulted in the loss of a father's life.
'His actions, which have rightly been brought to justice, underline the irreversible impact such dangerous decisions can have.
'We know that nothing will ever bring Mr Ibrahim back but we hope this sentence will provide some comfort to his family and friends.'
Source: Read Full Article