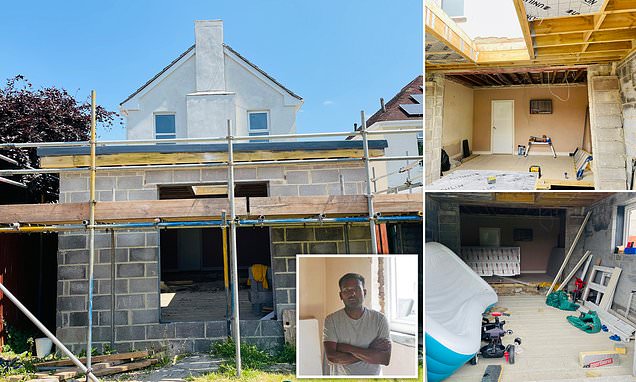 Couple are left £52,000 down claiming 'rogue traders' took money
September 8, 2023
Couple are left £52,000 out of pocket claiming 'rogue traders' took the money as payment for their 'dream kitchen' but left the project 'less than 20 per cent complete'
Jismon Varghese said he and his wife have been 'left with nothing' after 'scam'
A couple claim they have been left £52,000 out of pocket and without their 'dream' kitchen extension after rogue traders took their money and ran.
Jismon Varghese, 38, and his wife, who both work for the NHS, saved up for years to pay for major work on their £350,000 home in Poole, Dorset.
The pair, who have two young children, were told the job to extend the rear of their detached property would take four to six weeks.
But they have said it was left 'less than 20 per cent complete' after months of delays and excuses by builders Transform Dorset Ltd.
When the family pressed the company for answers they were shocked to discover it had gone into liquidation.
A couple claim they have been left £52,000 out of pocket when builders failed to complete a kitchen extension and 'took their money'
Jismon Varghese, pictured in the incomplete kitchen, said he was left shocked after rogue traders took his money
The extension was left 'less than 20 per cent complete' after months of delays and excuses by builders Transform Dorset Ltd
An independent surveyor has since inspected the firm's partial work and told the couple it will cost another £40,000 to complete the project.
Police fraud squad investigators and Dorset Council's Trading Standards are now investigating the matter, which Mr Varghese said has 'left his family with nothing'.
He said he had a number of builders quote for the work, with Transform Dorset's quote being 'a little bit higher' than the others.
But he was convinced to go with them when he was offered a 10 per cent discount as a Christmas offer.
Mr Varghese said he made sure to get references and a contract, including a full price with VAT and a completion date, signed before work commenced, to ensure that everything would go smoothly.
After being rushed into signing it, with the threat of having to wait for months due to 'other projects', he signed the contract and work began in January, he claims.
He said that at first the job went according to plan but after a few weeks the builders failed to turn up.
As the weeks and months went on Mr Varghese said he was given excuses about injuries and illness suffered by workers and a lack of staff.
Builders would come to the house every so often to do some work, charging Mr Varghese more money as it seemed progress was being made, he said.
But by May – three months after the project should have been completed – he contacted Citizens Advice.
After the extension was left 20 per cent complete, the couple were shocked to find out the company had gone into liquidation
Pictured is what was meant to be the couples 'dream kitchen extension'
He was advised to send Transform Dorset Ltd a letter on advice that it had breached the contract, to which there was no response.
He reported the company to CheckaTrade, the police, Trading Standards and Action Fraud.
CheckaTrade sent a surveyor to assess the work. He told Mr Varghese that just 20 per cent was completed and it would cost £40,000 to finish. The website revoked the business's membership.
He then received an email from the director saying the company had gone into liquidation.
Mr Varghese has been told that its warehouse had been cleared, including his brand new kitchen he had paid for, which was still being stored there.
He added that the day after he received an email that the business had gone into liquidation, he noticed on Companies House that the same directors had started a new business at the exact same address, called Blandford Plastics.
He said a police officer had told him there were 'a number' of similar cases relating to the same business.
Mr Varghese said: 'I didn't know that was a trap. We believed him, we trusted him.
'After a month, they went quiet.
'No phone calls, nobody turned up, nothing. So, I started chasing up, what's happening. You've got the money, you said four to six weeks completion time and it's a month gone.
'After all this, I was fed up, I was frustrated. Mentally we were down. It's been months, we've spent all the money. Me and my wife lost our peace.
'We worked hard and we lost all this money, for nothing.'
Dorset Council's Trading Standards team said it has received three complaints relating to Transform Dorset Ltd.
It said: 'These complaints allege that the company has taken large pre-payments for high-value building work and not completed the work as promised, and that any work that has been done has been sub-standard.
'Dorset Council Trading Standards is continuing to monitor the complaints against the companies and individuals named.
'If it is believed any criminal offences have been committed, the team will liaise with Dorset Police to ensure any relevant action is taken.'
Head of Action Fraud, Pauline Smith, said the case is being assessed by the National Fraud Intelligence Bureau at the City of London Police.
Transform Dorset Ltd has been approached for comment.
Source: Read Full Article