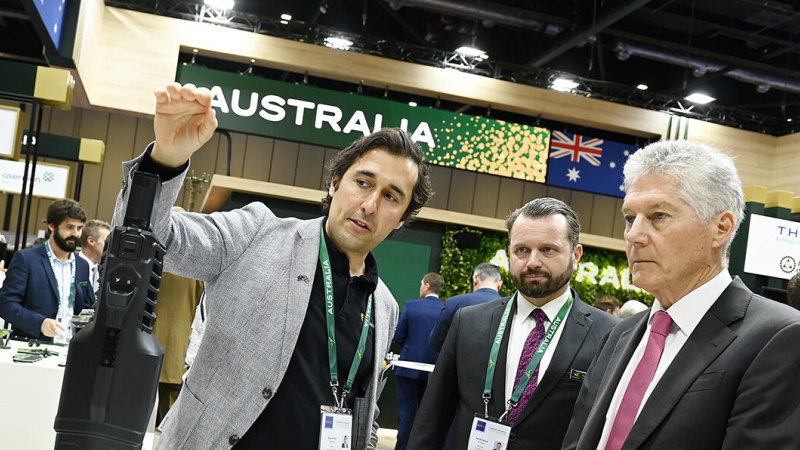 Born in Russia, Australia-based drone boss is proud to help Ukraine
September 25, 2023
Save articles for later
Add articles to your saved list and come back to them any time.
London: Oleg Vornik was 15 years old when Vladimir Putin began his rise to power and says even back then the writing was on the wall.
"It was obvious that Putin was a thug," he said during an interview in London. Vornik's family left Russia and moved to New Zealand in 1997, two years before Putin became prime minister, then president. He relocated to Australia as an adult.
DroneShield CEO Oleg Vornik, left, with Australia's High Commissioner to London Stephen Smith, right, at a defence exhibition in London earlier this month.
Now based in Sydney, Vornik is the chief executive of the Australian defence technology firm DroneShield, which supplies counter-done equipment to Ukraine to help fight his country of birth.
The 41-year-old still speaks fluent Russian but holds no love for his motherland. Anyone his family cared about left long ago. And being Jewish meant Russia never felt like a home because of its "hugely anti-Semitic" past and the prejudice that still exists today.
"I think my mum was keen to make sure I didn't get conscripted into the Russian army and be sent to Chechnya because when you're in the Russian army, the value of human life is not high," he said, speaking while attending the Defence and Security Equipment International exhibition (DSEI) in London earlier this month.
"In a weird way when I moved from Russia to New Zealand and Australia I felt more at home," he said.
Vornik said he was saddened but not surprised when Putin invaded Ukraine in February 2022.
"We've been supplying our equipment to the Ukrainian side right from the beginning through foreign military aid," he said.
His involvement meant Putin last year sanctioned Vornik for helping Ukrainians. He is nonplussed, saying he never planned to return to Russia and doesn't know what being sanctioned really means. He is, however, cautious not to fly airlines that use airspace close to Russia or Belarus.
Drones, first visibly used in war by the US in the Middle East, have dominated the war as both Russia and Ukraine have struggled to obtain or resupply heavier weaponry.
During the first year of the war, Russia launched missiles using Iranian-made drones to target infrastructure like electricity substations.
Ukraine has been equally innovative. It uses cheaper, smaller drones to scout for targets. More recently, it released footage showing unmanned vessels striking a Russian warship on the Black Sea. Kyiv is also widely believed to be behind anonymous drone attacks inside Russia.
The use of drones is so rampant, the London think tank RUSI estimates Ukraine loses around 10,000 per month. Britain's Chief of the General Staff, General Patrick Sanders, said that in the war's "evolving drone campaign", 40 per cent of drones are lost, usually to pilot error.
"We're finding that Russians do innovate and they change their tactics, in terms of what kind of drones they send, how they fly, all of those things tend to evolve, there's always that cat and mouse situation," Vornik said.
The company's 70 engineers are using an artificial intelligence platform to predict the next iteration of Russian drones and simulate the associated disabling instructions before they exist.
"It can detect the drone even if it's never seen the drone before, that's already working today," Vornik said.
The company designs and manufactures in Australia, but about 80 per cent of orders come from the US. A $33 million order in July set the ASX-listed company on course to report a profit for the first time in its eight-year history.
Despite the higher costs of manufacturing in Australia – the cheapest DroneShield costs as much as a small car –he says supplier trust is important.
"We heard a story of the Chinese inserting Trojan firmware sitting between the layers of circuit boards so you'll never know it's even there," he said.
"You have to make stuff locally or in Western countries, but it's easier for us to make everything ourselves in Australia because otherwise, you don't know what might end up inside of it."
DroneShield is on the munitions list and cannot sell to sanctioned countries including Iran and Russia. However, it could, if it chose to, sell to China, but Vornik says he won't sell to Beijing.
"Living in the Western world you make a decision which side we choose to be on, and you stick to that side," he said.
It is not the only Australian company supplying drone technology to Ukraine. Melbourne-based engineering company SYPAQ has been providing lightweight cardboard drones.
Get a note directly from our foreign correspondents on what's making headlines around the world. Sign up for the weekly What in the World newsletter here.
Most Viewed in World
From our partners
Source: Read Full Article