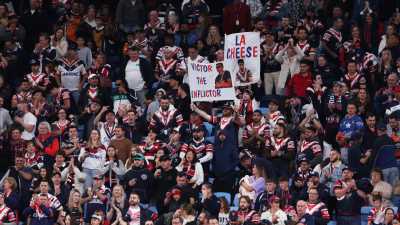 Tribalism in rugby league now means those who gamble and those who don't
September 8, 2023
Save articles for later
Add articles to your saved list and come back to them any time.
Three point six million bodies have passed through the NRL turnstiles this year, and I have been seven of them. Nothing beats sitting in the cheap seats or standing on the cheap grass. You hear, see and smell the vital essence that doesn't come through the TV set.
Those seven games were the Greatest Game of All at its unchallengeable greatest-est. In March, I was at the hottest NRL game in memory, and they still blasted us with those sideline flamethrowers as the teams ran on. Then, when we were well done on one side, they repeated it at the start of the second half.
In August, I was at the coldest NRL game in memory, and the flames didn't throw hard or often enough.
I'm only running with the herd. The 3.6 million is an all-time season record, with a month of finals to come. Fans surmounted obstacles to make it so. It's not as if attending games is a walk in (or to, or from) the park. Entering full suburban grounds, buying food and drink, using the toilet and getting home again can be a bit of an odyssey.
At one game, my mate went to buy a beer at kick-off and only got back to our spot as the half-time siren blew. But who cares? There's nothing like a footy ground completely unprepared for a capacity crowd to make you feel like you're at an event that matters.
Another thing to note about NRL crowds is their diversity, as opposed to, for example, cricket in England where the man of the family is the only member permitted to buy a scarce ticket at a ruinous price. NRL grounds are packed with families, the young and the old, male and female, every cultural stripe, the halt and the lame, evacuees from rugby union and other parts of the non-rugby league universe. League crowds' behaviour puts a low gin joint like the Lord's Long Room to shame.
NRL fans have been split into two groups.Credit: Getty
This is the number one point to be made in any review of the 2023 season, and it shouldn't be obscured by such pressing kitchen-sink dramas as how long Latrell Mitchell hogged the Redfern massage table: rugby league is enjoying a golden age of popularity.
This success has many parents, and Peter V'landys can claim his share of the paternity. By being so pragmatic about the rules of the game, changing them ad hoc for entertainment value, the sovereign has prioritised speed and daring in a way that puts the stars of rugby league on a pedestal. It is sensible rule-making from the top that provides the space for Kalyn Ponga or Reece Walsh to perform their magic. If V'landys ran World Rugby, imagine what that code could be. (Hint: it would be rugby league.)
Even as so many of the league greats have retired, star after star pops out of the nursery. Unlike codes where Australia's best-known names are the coaches while the players remain anonymous, rugby league generates virtuoso artists and gives them their canvas. Coaches also deserve credit: the NRL is in a phase where teams can only win by scoring tries, more tries, a flood of tries, and the best defence is one that can keep the opposition down to two or three tries a match.
Yes, rugby league has hit a sweet spot.
So, will this be V'landys' legacy when he goes? Or will he hang around for an Alan Joyce exit, where saving the silverware from COVID-19 and the production of dizzying numbers will be overshadowed by their flipside? What is the balanced view?
When it comes to future threats, concussion is the NRL's iceberg. Wally Lewis's moving revelations about his post-career impairment are an alarm bell, but maybe not the type of bell that can turn the ship around, only the signal that it's already sinking. Sadly, you only need to listen to match-day commentary from ex-league heroes to feel the shiver of cognitive decline.
A landmark Senate report released this week, making 13 recommendations on protecting participants' fragile brains, can help save rugby league from itself. So far, league has been conservative on brain health reforms, watching other codes and tiptoeing behind. In adopting all 13 of the report's recommendations, league can become a leader.
The neglect of a functional salary cap will also be a blot on the V'landys years. The NRL boasts of its upsets and its 'even' competition, until you realise that the bottom six – Wests Tigers, the Bulldogs, the Dragons, the Titans, the Dolphins and Manly – were the widely predicted bottom six back in February.
Racing NSW boss and Australian Rugby League chairman Peter V'landys.Credit: Getty
The fans of half-a-dozen clubs started the season with forlorn hopes of making the finals and ended the season with their gloom confirmed.
Meanwhile, a team with the Roosters' roster can have a miserable year, beating only one opponent when it was in the top eight, and still make the finals. Go figure. Maybe the V'landys administration will only get truly motivated about spreading the talent via an effective salary cap after his fellow Kytheran Nick Politis has won another premiership.
Concussion and the salary sombrero aren't going to be V'landys' most enduring legacies, however.
When you go to an NRL game, the one thing that really stands out is how the gambling and non-gambling segments of the community do not speak each other's language.
'V'landys' ambition of turning rugby league into a version of horse racing has been realised.′
It's not just the saturation of gambling inducements. It's not just the iPad-wielding hawkers marauding the stands offering bets. It's not just the theft of community space by private gambling interests.
It's the onslaught of conversations you hear between young men over odds and bets. The unholy alliance of league, alcohol and gambling has targeted and ensnared young males. It gets them in, it gets them drunk, and it gets them punting. They watch a little of the game. Then they place another bet.
To see it happening in the seats around you is quite an eye-opener. V'landys' ambition of turning rugby league into a version of horse racing has been fully realised.
For the rest of the community, disgusted or indifferent, there is no communicating to this captured generation. Just as a young punter can't sell his product to a sober mother, the abstainer can't sell their message without sounding like a wowser.
The Knights can expect another bumper crowd as they continue their unlikely finals push.Credit: Getty
So, we have two parallel worlds at our rugby league temples, those who gamble and those who do not, neither capable of understanding or addressing the other. One is buying tickets for Las Vegas; the other will be holding its nose.
V'landys has ways of justifying selling rugby league out to gambling, as past administrators had ways of justifying the Winfield Cup. The game needs money to provide its thrills, and, back in the day, the kings of rugby league said that you could smoke cigarettes at healthy levels.
Now you can gamble responsibly and tell yourself that if you didn't donate to the sponsor's product, we wouldn't have Nathan Cleary, Cameron Munster, Ponga, James Tedesco, Daly Cherry-Evans and all the others. Tell yourself that gambling can be done responsibly if it suits you now, but it's not what history will say about you.
No matter how wise, an off-field leader won't steal the performers' credit. He won't be remembered for the great shows the players put on, for the heights that the game rose to during his tenure. He will be judged on how those performers were protected from brain injuries.
He will be judged on whether he sold the game out to exploiters. He will be judged on how the off-field culture changed in his time. Inevitably, his farewell gift is the mixed bag. The crowds are up, the game is booming, but something in its heart is poorer, and he'll have to reckon with that.
Stream the NRL Premiership 2023 live and free on 9Now.
Sports news, results and expert commentary. Sign up for our Sport newsletter.
Most Viewed in Sport
From our partners
Source: Read Full Article