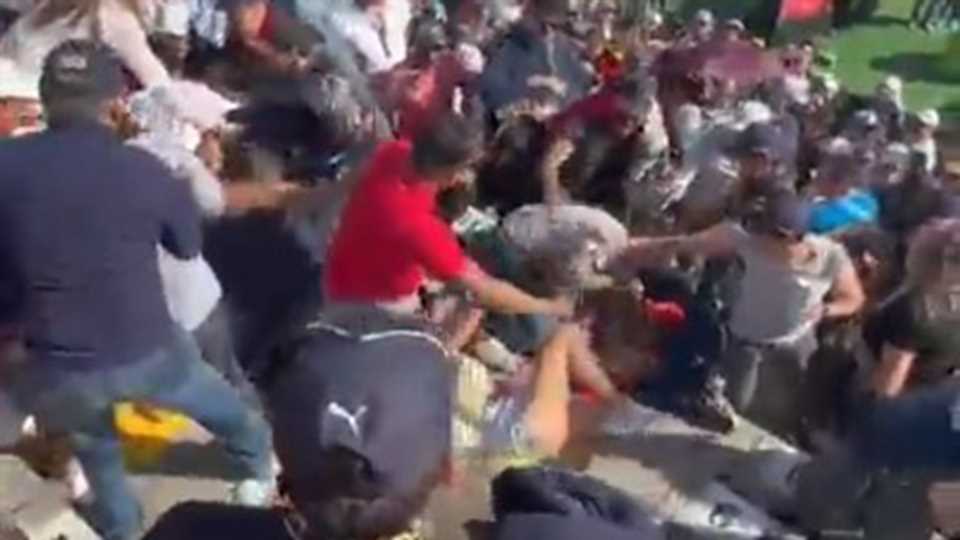 Huge fight breaks out in stands at Mexican Grand Prix as organisers confirm man was 'removed from circuit' | The Sun
October 30, 2023
THIS is the horrifying moment a huge fight breaks out in the stands at the Mexican Grand Prix.
The incident occurred during Sunday's race, which was won by Red Bull star and Formula One world champion Max Verstappen.
A dramatic day saw the race suspended at one stage after Kevin Magnussen's car burst into flames.
But there was plenty of drama unfolding in the stands too.
Fans had been enjoying the incredible spectacle, with many turning out to support local lad Sergio Perez, when the fight broke out.
Video footage showed a man in a white shirt attacking two supporters wearing red, possibly indicating their support for Ferrari.
READ MORE ON F1
F1 crash
Mexico GP SUSPENDED after Magnussen's car bursts into flames
FAB £30
Get £30 in FREE BETS when you place any amount on any sports market with Sky Bet
People screamed for the man in white to stop as he went on a rampage in the stands.
Some bystanders even attempted to intervene as two of the brawlers crashed down several flights of benches.
But the fight was ended when one man in a navy shirt grabbed the white-shirted man in a headlock from behind.
It's unclear whether the hero was a member of security or simply another fan.
Most read in Motorsport
LEWK WHO'S BACK
Hamilton bounces back from US GP DQ to finish second in Mexico
MEXICO GP
Magnussen car on FIRE after 140mph crash, Hamilton seals SECOND in Mexico City
F1 crash
Mexico GP SUSPENDED after Magnussen's car bursts into flames
Crash horror
Racer rushed to hospital after horror smash on F1 understudy Lawson's return
CASINO SPECIAL – BEST CASINO WELCOME OFFERS
But the instigator of the fight quickly held his hands up as he was bundled to the floor.
The Mexican Grand Prix's official Twitter account later said the man had been "removed from the circuit."
And F1 journalist Chris Medland added: "Im told by F1 that the fan who attacked the Ferrari fans was ejected and given a life ban."
Fans reacted to the fight online, with one saying: "Nah man this is F1. Violence is NEVER acceptable."
Another declared: "F1 getting more toxic by the year."
One noted: "What a shame this happens in this beautiful sport."
Another added: "Unsportsmanlike conduct."
Source: Read Full Article