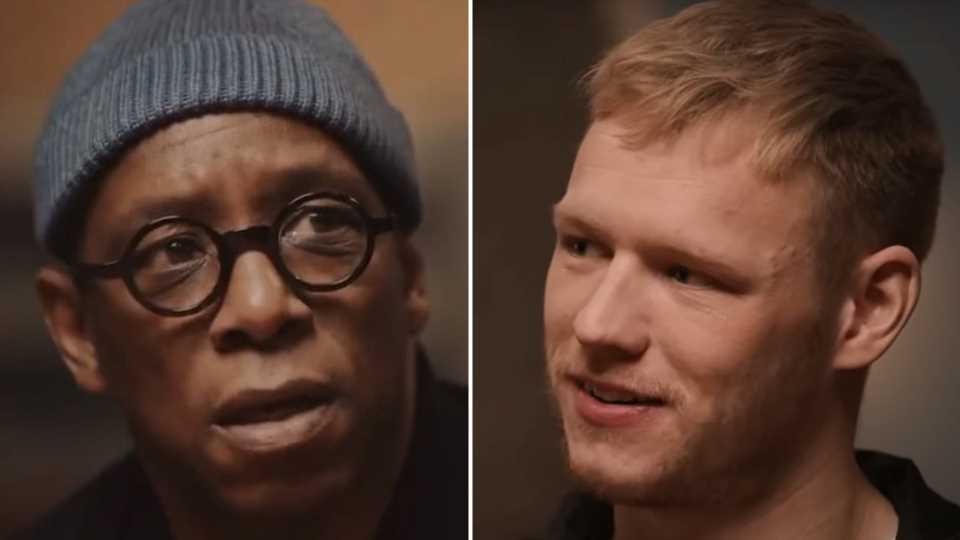 Fans say 'Ramsdale's days were numbered' after interview with Ian Wright that left Arsenal legend looking shocked | The Sun
November 15, 2023
SUPPORTERS have claimed that "Aaron Ramsdale's days were numbered" after watching a clip of him leaving Arsenal legend Ian Wright looking shocked emerged.
Ex-Sheffield United and Bournemouth stopper Ramsdale, 25, arrived at the Emirates in 2021.
He instantly became No1 at the club and held that spot until September this year.
Spaniard Raya arrived on an initial loan from Brentford during the summer transfer window and the 28-year-old was preferred to the England international for the win at Everton in September.
The star has continued to be picked since by Arsenal boss Mikel Arteta, with Ramsdale's only outings since coming in the Carabao Cup.
Back in the summer, Ramsdale joined Gunners icon Wright, 60, for an interview on the Behind The Game podcast.
READ MORE ON ARSENAL
POWER UP
Premier League: Get £40 in free bets when you stake £10 with Paddy Power
'THEATRE OF CHIPS'
Inside abandoned football stadium where Arsenal and Chelsea once played
During it he spoke about his concentration levels and his interactions with fans during the matches.
He said: "If you ask me to concentrate on a game of football for 90 minutes I'm finished. I can't do it.
"So that's why I get involved with the fans and I'll sing along with the songs."
Ramsdale continued: "If someone's giving me abuse I'll turn around and I'll give them a bit back."
Most read in Football
SKUBA DIVER
Ex-Prem boss takes charge at Lincoln as he looks to lead Imps to Championship
TIM TO GO
Werner set for Leipzig exit with German side to allow Premier League return
GOODBYE BOBBY
William lead stars at Sir Bobby funeral as coffin passes Old Trafford
FAMILY AGONY
Mum of footballer who was killed on night out dies after cancer battle
FREE BETS – BEST BETTING OFFERS AND BONUSES NEW CUSTOMERS
Wright looked stunned at Ramsdale's revelation, before the goalie continued: "I've had my two/three minutes of sort of madness in my head, straight back to the football.
"I've got 10/15 minutes of total concentration again – next thing you know half time is around."
The clip of the keeper's admission has now re-emerged on social media, and it was shared by one fan along with several crying with laughter emojis and the caption: "Ramsdales days were numbered after he dropped this bombshell.
"He should've kept it to himself."
A fellow Gooner shared a screenshot of Wright's face during the interview and wrote: "This reaction from Ian says it all."
Another agreed, writing: "Ian Wright's reaction and facial expression says it all."
Posting the same shot of Wright, another wrote: "He wish he could stop him, but the words just kept coming out."
However, not everybody was upset by Ramsdale's remarks, with a host of fans backing him.
One replied: "People are taking this out of context. Obviously this is in a game when we are leading comfortably."
Read More on The Sun
BAD MUMS
I'm a secret school teacher – the shock mum we hate – it's NOT who you're thinking
NOT FINE
Motorists face £100 fines next month with new parking law introduced
Another said: "TBF, that's like >90% of all people no matter their job."
As another commented: "Ramsdale is still our best GK by some distance."
Source: Read Full Article