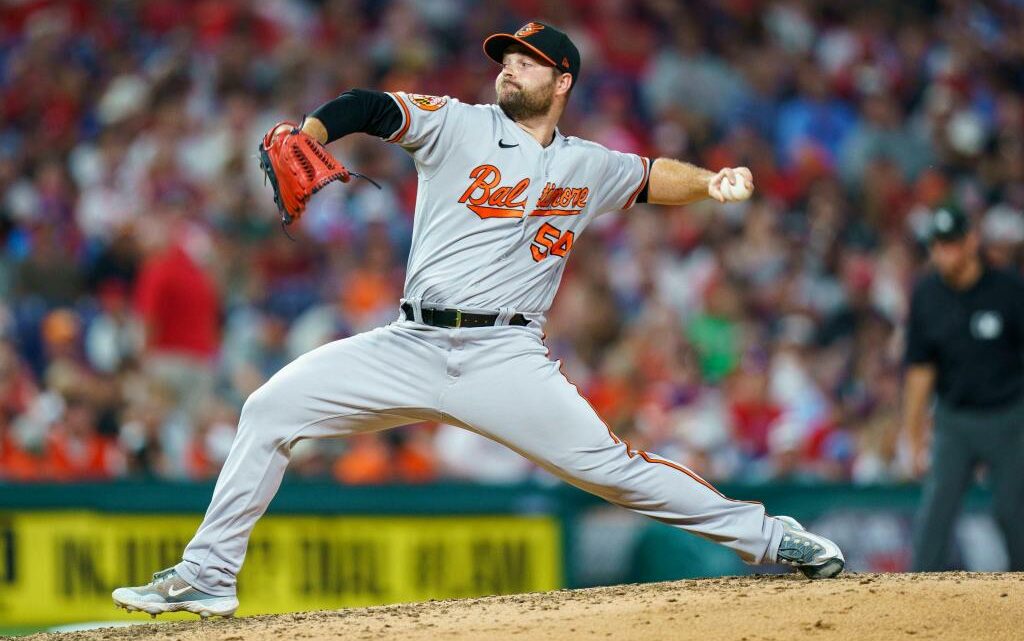 As John Means returns, Orioles pitchers who had Tommy John surgery detail the recovery: 'You just have to trust it' – The Denver Post
September 9, 2023
Danny Coulombe flashed the inside of his left elbow proudly.
The scar across his pitching elbow represents his membership over a decade ago into the fraternity of pitchers who have gotten Tommy John elbow reconstruction surgery.
"Webby's got one, too," Coulombe said, motioning to the pitcher sitting to his right in the Orioles' clubhouse at Angel Stadium.
Jacob Webb, as Coulombe had just done, showed off the scar on his pitching elbow.
The two relievers are among the many across the majors — and the few in the Orioles' clubhouse — to have the surgery that's saved the careers of hundreds of professional pitchers. Another will soon join their ranks.
John Means, the Orioles' ace during the rebuild, is expected to be activated off the injured list this weekend after missing the past 16 months recovering from the surgery.
"Ooh, John's got a nice one," Coulombe said about Means' scar.
The procedure, whose namesake had his MLB career saved by it and surgeon Dr. Frank Jobe in 1974, is now one of the more common surgeries pitchers undergo. Despite its commonality and success rate, the road back to the mound, Orioles pitchers who don the scar say, is often a windy one that includes pain, mental and physical hurdles and self doubt.
"The physical side is tough, but I think there's way more to the mental side of it," said Kyle Gibson, who had the surgery in 2011. "Just getting over the thought of, 'Is this going to hold? When I go out here my first outing or my next outing or the next outing, is it going to go?'"
It's still unclear what role Means will fill in Baltimore, whether that's rejoining the rotation he headlined to open the 2021 and 2022 seasons or pitching as a long reliever out of the bullpen. Either way, Means' road back from Tommy John will soon end, and the next pitch he throws in a big league game will be his first since he blew out his elbow April 13, 2022.
He posted a 3.74 ERA with 22 strikeouts in 21 2/3 innings during his minor league rehabilitation assignment, which cannot extend past Friday. He topped out at 86 pitches in his penultimate start and averaged about 91 mph on his fastball — just a tick below his pre-Tommy John average.
"I think the stuff has been good," manager Brandon Hyde said. "He's continuing to get better. The next step is really getting major league hitters out. [Means] has been in the big leagues for a few years, and he understands what the process is, but he's going to have a lot of nerves and be super excited whenever that day comes."
Coulombe, a veteran reliever in his first season with the Orioles, also had the surgery in 2011 as a junior at Texas Tech. The natural progression of any recovery, but especially from Tommy John, is having "good days and bad days," Coulombe said. The first several months after the procedure include no throwing. Instead, rehab exercises are done to recover the strength in the muscles surrounding the elbow and regain the range of motion in it.
"I think the key to Tommy John was just not riding the waves," he said. "It's going to be OK. You know it's fixed. Ultimately, you just have to trust it."
Coulombe returned the next year to pitch for the Red Raiders and was drafted by the Los Angeles Dodgers. He's journeyed to five other big league organizations since, landing in Baltimore this spring for the best season of his nine-year career.
"Honestly, I think the data is so good on Tommy John now that you really get what you put into it," the left-hander said. "If you want to come back, you'll come back."
The surgery replaces the ulnar collateral ligament — a tiny band of tissue that secures the elbow joint — with another ligament from somewhere else in the pitcher's body. Coulombe's came from his forearm, Gibson's from his hamstring.
"I was super fortunate. I didn't have a setback," Gibson said. "My elbow never bothered me. The hamstring was really the worst part, wherever they took the new ligament from."
The UCL binds the ulna in the forearm to the humerus in the upper arm — two bones that torque against one another during the pitching motion, causing stress on the ligament that's sometimes enough to tear it.
Gibson was about two and a half years removed from the Minnesota Twins drafting him in the first round when he had the surgery. Two years later, he was pitching in the big leagues. But given the timing of getting the surgery in November, the right-hander spent about nine months recovering, was back in minor league games to end the 2012 season, pitched in the Arizona Fall League and then barely got an offseason to gear up for the following campaign.
"I had been rehabbing or throwing for two years straight. I think this will be really good timing for John," Gibson said about Means, who had the surgery in late April 2022. "He'll finish up his rehab, he'll get into a few games here and however long we play and then take a normal offseason and take a break because he's been going for a long time."
Gibson and Coulombe, two soft-tossers relative to the high-velocity hurlers who mostly populate pitching staffs, said a finesse pitcher regaining his form after Tommy John might be harder than for a power pitcher.
"If you're a guy that relies on feel, then I think it might take a little bit more time," Gibson said. "But if you're a guy that's just letting it eat, it might be a little bit easier for you because maybe you're not trying to feel this change-up grip out, tinker with this cutter."
Coulombe said his stuff and velocity were back to normal — or even better than before — within about a year, but it took him an extra six months to regain his command.
"Everybody's different, too. John's never had issues throwing strikes," Coulombe said, referencing Means' elite 5% career walk rate. "You've seen in his minor league outings, he's thrown a lot of strikes and he's looked good and his command's been good."
The two veterans both talked about getting over a "hump" in their recoveries. For Gibson, it was the first time he pitched in a game again. For Coulombe, it was the first time his elbow was sore and he got through it. The left-hander was convinced he had re-torn the ligament after he had scar tissue buildup in his elbow after an outing.
That aspect — learning to deal with normal soreness again — is one that Coulombe said was the toughest to relearn after the surgery. But over time, he learned to have faith in his elbow again.
"It's just a matter of getting over the hump, trusting your body and trusting the process," he said.
()
Source: Read Full Article