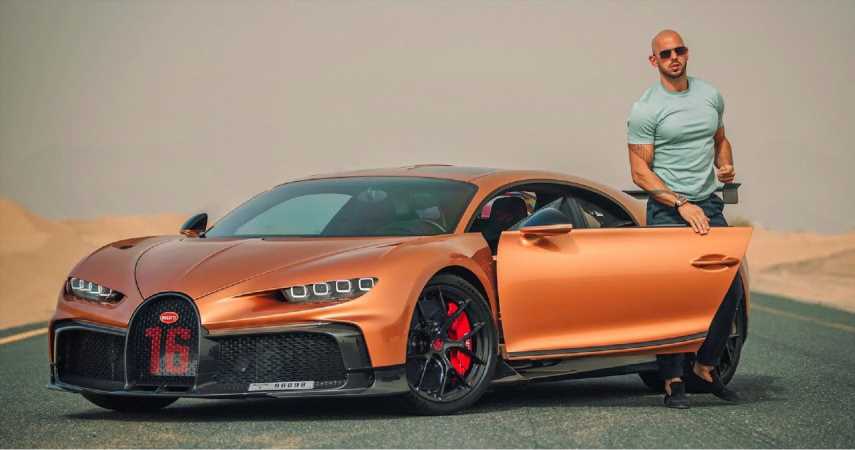 The Tate Way: Here's How Internet Sensation Andrew Tate Earns And Spends His Fortune
September 4, 2023
Better known as Emory Andrew Tate III is an internet personality and an influencer known for having harmful content. Considered a misogynist and known for his violent statements and opinions lurking around the internet, he is one of the most famous and wealthiest influencers on social media. Before hate hit him on the internet, he was a former professional kickboxer, and he guested in the seventeenth season of UK's Big Brother in 2016.
Aside from the other side of his fame, he is now dealing with serious responsibility in the internet's dark corners. Amidst his fame, his actions on the web made it more complicated. Twitter suspended three of his accounts at different times for offensive content harmful to viewers and significantly younger audiences.
On the contrary, Tate created a new account to evade his previous actions, but any other account created by him seems subsequently denied by Twitter. Despite much of his restricted efforts on social media platforms, he found an alternate way to earn massive amounts of cash.
RELATED: 10 Ways Ariana Grande Spends And Earns Her Fortune
9

Earns: Professional Kickboxer

A post shared by Andrew Tate (@andrew_tate_2)

Andrew Tate began his career in 2008 and 2009 and earned a title. He fought several times before gaining his first title. Tate fought Paul Randle for the International Sport Karate Association English Light Cruiserweight Title. Later on, he continued his kickboxing career and won several times, including championships like International Kickboxing Federation British Cruiserweight Title.

In 2012, Andrew lost a match that disappointed him. And the same year, he lost in an 85kg category in Enfusion 3 to determine the best kickboxer in the world. Tate made his losses his fuel, returned more robust, and finally grabbed the title in 2014.
8

Spends: Car Collection

Andrew Tate owns quite a handful of cars. Tate's car collection includes Lamborghini Huracan Evo Spyder, McLaren 65LT, Bugatti Chiron, Mercedes-Maybach V-Class, and many more.

Among his car collection, the $3 million Bugatti Chiron is his favorite. It has an 8.0L quad-turbocharged W16 engine and can reach 260.9 MPH. It has a 7-speed automatic transmission, and its potent 1479 HP and 1600 NM torque. He also owns a $365,000 Ferrari 812 matching his Lambo's performance; it can reach a high speed of 211 MPH and accelerate to 60 MPH in just 3.0 seconds.
7

Earns: Endorsing Sidekick Boxing

A post shared by CHAMPION IN LIFE (@andrew__tate______)

Throughout his boxing career, Sidekick Boxing sponsored him with the best gear, including boxing gloves and other equipment to help him in his training. As for his loud and strong personality, he made the people around him believe that he was the owner of the kickboxing organization to promote its brand.

This how good Andrew Tate is at marketing as Daniel Knight solely owns the company.
6

Spends: Mansion in Bucharest, Romania

A post shared by CHAMPION IN LIFE (@andrew__tate______)

Andrew moved to Bucharest, Romania, for some reason and bought a beautiful compound he had renovated. He purchased the house at a low cost in the country where the Dracula's castle was located, but the renovations and add-ons made it a high price. Tate even bought a neighbor's home for private purposes, including a garage filled with hot cars, a pool with a gym, and countless amenities, and it all cost $30 million.

Andrew's home, where he currently resides, cost $3 million, only the house itself. Andrew lived with his brother Tristan when they decided to leave England and move to the capital of Romania.
5

Earns: TateSpeech YouTube Channel

A post shared by Andrew Tate (@andrewtatefan)

Andrew Tate started his YouTube channel in 2018, where he posted his debut video with his brother discussing gun control and their target against the passage of legislation. But recently, on August 2022, Tate deleted his channel. Many believed this was an attempt to bypass an impending ban that would stop him on all platforms.

Andrew Tate's channel had 744,000 subscribers, and YouTube finally revealed the real reason for his missing channel. YouTube spokesperson removed the track following their community guidelines on hate speech policy.
4

Spends: Private Jet, the Embraer Phenom 300

Wealthy people always travel in style, just like how Jeff Bezos travels with his $150 Private jet. Aside from hot cars and a private mansion, Andrew Tate owns an Embraer Phenom 300, which cost him around $10 million, and it is one of the finest light private jets in the industry. He was broadcasting himself hitting the two most popular personalities on YouTube while on board his luxurious jet for his Rumble announcement video.

After a few days, his Rumble account pulled 362,000 followers and millions of views. No wonder it drew many people while boasting the million-dollar craft's great looks.
3

Earns: Webcam Business

A post shared by Andrew Tate (@andrewtatefan)

He started his webcam enterprise in 2012. His webcam business made about $ 600,000 a month with the help of his two girlfriends. Initially, there were five of them that he texted to live and work with him, but the 3 left him. Tate managed to grow his webcam business, where they had four branches with seventy-five women working for him.

Tate is taking twenty to thirty percent of his friend's business income and has little involvement in the webcam business.
2

Spends: Bugatti W16 Watch

After purchasing his favorite car, the five-million-dollar Bugatti Chiron, he matched it with a $ 380,000 Jacob & Co. Bugatti Chiron Tourbillon watch. The watch's design mirrors the car's W16 engine, compact inside an 18k rose gold case. The watch from the manufacturer of the fastest roadster perfectly goes with his car and compliments the red bronze paint job on his Bugatti.

Andrew is in the habit of ordering customized watches from Jacob and diamond-fitted watches. This expensive timepiece will surely add to Tate's collection splattered on his Instagram account, where he shows all his million-dollar jewelry collection.
1

Earns: Hustler's University

A post shared by Piers Morgan Uncensored (@piersmorganuncensored)

Andrew created an organization that teaches people how to make money. It is a community where dozens of multi-millionaires share the truth of their success and teach those who enroll how to do the same to become successful. The community offers training for stock analysis, option plays, crypto analysis, and Decentralized Financing.

One can enroll and renew it monthly by paying $50. Andrew pays $ 10,000 to $ 500,000 a month to the community professor; he verified them, and the community has a growing member of 100,000 on Discord.

READ NEXT: 10 Ways Tom Brady Earns And Spends His Fortune

Sources: Side Kickboxing, Auto Bizz, What's On The Star

Source: Read Full Article