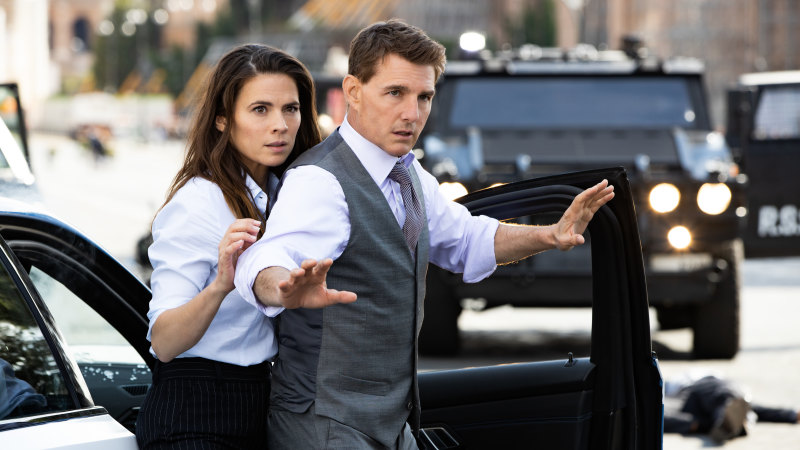 The strike is over, so when will blockbusters come back to cinemas?
November 15, 2023
Save articles for later
Add articles to your saved list and come back to them any time.
Heralding the agreement forged after 118 days of industrial action, both sides of the long-running, financially damaging actors' strike were enthusiastic. It was a "historic deal", actors' union boss Fran Drescher said. "A new paradigm," the studios said in reply.
But the accounting is far from over, and the impact of the stoppage – the longest strike by actors in Hollywood history – will be felt for some time yet. Film and television productions that were stopped mid-scene must resume. And the film and TV pipeline, effectively stoppered for a third of a year, has to be reopened.
Pedro Pascal walks the picket line with striking SAG-AFTRA members.Credit: Getty Images
In the short term, there is still a procedural dance to be danced. The guild's negotiating committee will send the tentative agreement to SAG-AFTRA's national board of directors for their approval this week. And the board will then send it to SAG-AFTRA's 160,000-person membership, who must vote to ratify it.
But as early as this morning, with those formalities still a few days away, Los Angeles was buzzing as studios moved quickly to establish which productions in America's $US134 billion ($210 billion) business could resume immediately and which would have to wait until 2024. Complicating things is the imminent holiday season: Thanksgiving in just under two weeks, and Christmas four weeks after that.
Films such as Deadpool 3, Gladiator 2, Wicked and the Beetlejuice and Venom sequels will likely resume some filming quickly before the break. Others, already in post-production, such as Paramount's Mission: Impossible and Disney's remake of Snow White, have already been shifted to a 2025 release and will likely remain there.
Finished films whose release was delayed, such as Dune: Part Two, may also remain in their reprogrammed slots. The Dune sequel was expected on October 20, but was shifted to a March 15, 2024, release date as the strike rolled on. Given the general uncertainty in Hollywood, that is unlikely to change.
Cinematographer Greig Fraser (with camera) films a scene with Timothy Chalamet (left) on the set of Dune. The release of the sequel has been shifted to March next year.Credit: Warner Bros
Television productions, operating on more manageable scales, will resume with greater speed and agility. The new seasons of the Star Wars prequel series Andor, Abbott Elementary, the hit comedy Hacks and Yellowjackets, which ground to a halt when the strike was called, will likely resume quickly.
Meanwhile, free-to-air network shows, which normally produce up to 22 episodes a year of their marquee series, have effectively lost half the season. Even if they resume production by the end of this month, shows such as NCIS, 9-1-1, and the Law & Order and Chicago franchises will likely only be able to deliver 13-episode seasons before next year's summer production hiatus.
Earlier this week, The White Lotus creator Mike White confirmed production on the show's highly-anticipated third season would start "at the beginning of the year", pending a positive resolution to the strike. "It's going to be longer, bigger, crazier," he said.
Streaming is likely to have more long-term problems. Even as production resumes, the strike will have created pipeline gaps that will be felt throughout next year. This means larger periods of white noise between major releases, with unpredictable results for a business built on no-contract subscriptions. If the gaps trigger an expected rise in subscriber churn, streaming balance sheets will take a hiding.
Hayley Atwell and Tom Cruise in Mission: Impossible Dead Reckoning – Part One. The release of Part Two has been pushed to 2025.
Los Angeles mayor Karen Bass hailed the end of the strike by urging a speedy return for local production, "to ensure that our entertainment industry rebounds stronger than ever and our economy is able to get back on its feet." The strike is estimated to have cost California's economy over $US6.5 billion ($10.1 billion).
Perhaps unsurprisingly for a business built on illusions, the optics of both sides cheering the resolution is a little misleading. The general chatter in Los Angeles is that SAG-AFTRA did not quite hit the hardline targets they were holding out for, while, at the same time, the studios conceded far more ground than they ever intended to.
SAG-AFTRA certainly held the leading edge to the last, fuelled by a reasonable perception that the existing agreements did not quite hold up to the adage of a fair dollar for a fair dollar's work. "They've got a 2023 business model for streaming with a 1970 business model for paying performers and writers," SAG-AFTRA executive director Duncan Crabtree-Ireland said.
Los Angeles Times columnist Mary McNamara declared back in August that the studios had lost. "Whatever short-term financial gain the studios represented by the Alliance of Motion Picture and Television Producers hoped to gain by forcing the first dual strike of writers and actors in 40 years has long since been overshadowed by all that they are losing," she wrote.
"They've got a 2023 business model for streaming with a 1970 business model": SAG-AFTRA executive director Duncan Crabtree-Ireland.Credit: Reuters
The cost? "Public support, brand loyalty, individual reputations and group unity, not to mention, as the strikes threaten the fall TV line-up, theatrical release calendar, film festivals and the Oscar race, months' – perhaps an entire year's – worth of profit and prestige," McNamara wrote.
And what remains unclear is where, on the balance sheet, SAG-AFTRA's windfall will come from, if not directly from the studios' potentially thinning profits. Speaking to media about diminished earnings this week, a number of studio executives – using phrases like "cost control" and "negative financial impact" – hinted that the SAG-AFTRA win might still be met with across-the-board cuts to operating costs in other areas.
Sony chief executive Hiroki Totoki said "it will take time for business activities to normalise due to the concentration of productions and theatrical releases, so we expect this to have a negative impact on next fiscal year's results; however, we plan to engage in cost control and other measures to try to reduce the impact."
Warner Bros Discovery CFO Gunnar Wiedenfels echoed the sentiment. The strikes impacted "the production and delivery of TV content as TV revenues declined significantly, offsetting strong films and games performance," Wiedenfels said. "There should be an eventual tailwind from the end of the work stoppage [but] this is an evolving process and there is a real risk at this point that some negative financial impact of the strike will extend into 2024."
Find out the next TV, streaming series and movies to add to your must-sees. Get The Watchlist delivered every Thursday.
Most Viewed in Culture
From our partners
Source: Read Full Article