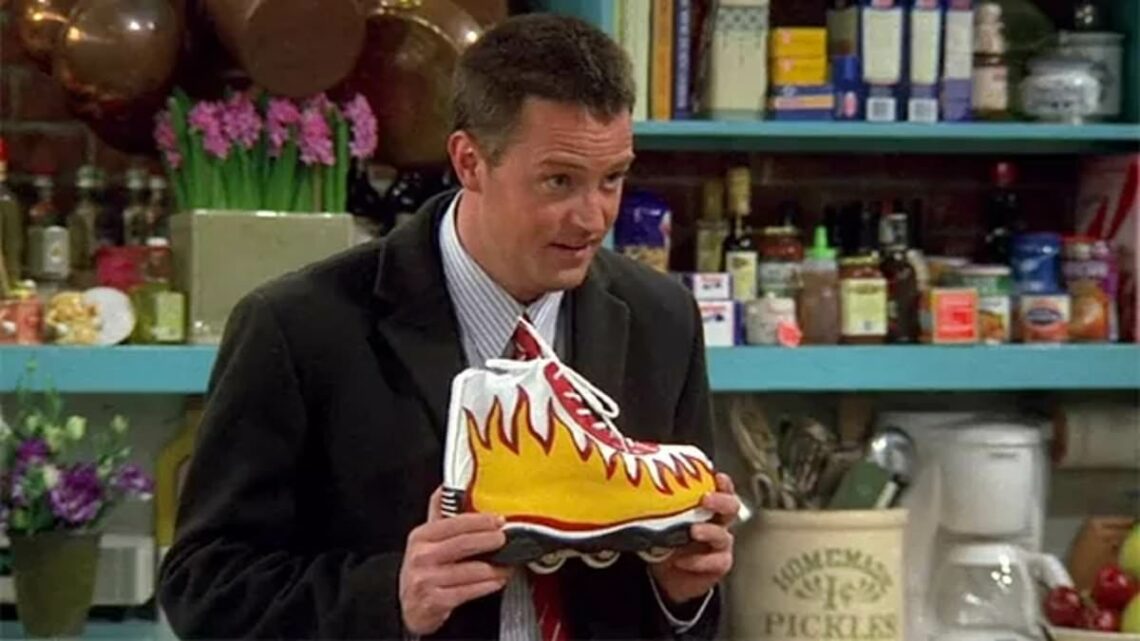 Friends fans share Matthew Perry's 10 funniest moments from hit sitcom
October 29, 2023
Could Chandler Bing BE any funnier! Devastated Friends fans share Matthew Perry's 10 funniest moments from hit sitcom after actor's shock death at the age of 54
Matthew Perry played wise-cracking Chandler Bing for 236 episodes

He became a firm fan favorite thanks to his iconic one liners and deadpan delivery 

Perry was found dead at his Los Angeles home on Saturday
With his iconic one-liners and note-perfect comedic timing, Matthew Perry gave Friends some of its best moments over the years.
And since news of his tragic passing at the age of 54 broke, fans from across the world have been reminiscing his best bits.
Season One  – The One with the Blackout
Victoria Secret model Jill Goodacre starred opposite Perry in a hilarious episode from the show's first season
https://youtube.com/watch?v=Ewx4RYgl_OQ%3Frel%3D0
From his first appearance on the hit sitcom, Perry established the mannerisms and line delivery that would come to be Chandler Bing's trademark.
And never was his awkward charm more apparent than when faced with a beautiful woman.
In this episode Perry manages to pack in the laughs not much more than a piece of gum and some voiceover, which narrates his state of mind while trapped in an ATM with Victoria's Secret model Jill Goodacre following a power outage.
When the gorgeous actress offers him some gum, Perry makes a meal out of the situation – accidentally spitting it across the room. 
Whilst surreptitiously trying to hide the fact, he picks up another person's old gum and begins chewing before realizing his mistake and starting to choke.
By this point any pretense at cool is lost and Goodacre performs a Heimlich maneuver sending the gum flying.
But it breaks the ice and the two pass the rest of the time playing games until the lights come back on and Goodacre plants a kiss on Chandler's cheek. 
As Perry quips in his voiceover: 'Mental note – if Jill Goodacre offers you gum, you take it. If she offers you mangled animal carcass, you take it!'
The episode was also reportedly Perry's favorite to film. 
Season Two – The One with the Super Bowl: Part Two
Julia Roberts' cameo as Susy 'Underpants' Moss in Season Two was a highlight of the season
https://youtube.com/watch?v=ABYu0vjhBns%3Frel%3D0
As the show grew in popularity, it attracted increasingly more high profile cameos.
 But once again Perry proved his acting chops as he went toe-to-tow with Rom Com heavyweight Julia Roberts.
In the episode Roberts, in her role as Chandler's scorned classmate Susy 'Underpants' Moss, exacted her revenge for the unflattering nickname bestowed by Chandler to hilarious effect.
After exposing her underwear as a schoolboy, Chandler finally got his comeuppance decades later when Roberts' character went on a date with him only to leave him trapped in a toilet cubicle wearing nothing but her panties.
It is another masterclass in Perry's ability to convey humor even when most of his body is obscured.
 Season Three – The One with the Hypnosis Tape
Hilarity ensued when Chandler began listening to a hypnosis tape in a bid to give up smoking without realizing it was targeted towards women
https://youtube.com/watch?v=LJl1nwZIrh8%3Frel%3D0
 Both Perry and his onscreen persona had their vices, but in this episode Chandler tries desperately to kick his smoking habit.
He enlists the help of an hypnosis audio tape, without realizing it is designed for women.
Over the course of the episode he begins to absorb more and more of its messages of feminine empowerment, becoming a 'strong, confident woman'.
This then bleeds into his waking life with laugh-out-loud results.
Season Four – The One with all the Rugby
Before there was Chandler and Monica, there was Chandler and Janice, the character's nasal-voiced ex-girlfriend played by Maggie Wheeler
https://youtube.com/watch?v=ImN2ze6opHE%3Frel%3D0
Some of Perry's most memorable moments take place opposite Maggie Wheeler, the actress behind annoying ex-girlfriend Janice.
In this episode she is at her most nasal, prompting Chandler to come up with an elaborate lie to explain why they can't be together – he is moving to Yemen.
A clueless Janice then helps him pack for the impending trip and Perry notches up Chandler's panic until he finds himself at the airport having bought a ticket and pretending to board a flight.
The episode delivers one of the show's most laugh-out-loud lines as ditzy Janice fails to pick up on the absurdity and promises to write to him at '15 Yemen Road, Yemen'.
Season Five – The One with the Cop
A simple sequence involving attempting to transport a sofa up a flight of stairs became of the show's most iconic in the hands of Perry and co-stars David Schwimmer and Jennifer Aniston
https://youtube.com/watch?v=8w3wmQAMoxQ%3Frel%3D0
 A sofa. A staircase. Five minutes of comedy gold.
The iconic scene where Perry alongside co-stars David Schwimmer and Jennifer Aniston in their roles as Ross and Rachel attempt to shift a couch up a stairwell has become one of the most iconic moments of the show.
While most remember Ross' inane shouts of 'Pivot, pivot, pivot' many forget the hilarious moment Chandler becomes pinned under the massive weight of the furniture.
His frustration also affords Perry the chance to really let loose, retorting: 'Shut up! Shut up! Shut up!'
Season Six – The One with the Last Night 
Many of Chandler's best bits involve his on-screen best friend Matt LeBlanc
https://youtube.com/watch?v=jxGKOE_BWiI%3Frel%3D0
 While the emotional proposal between Monica and Chandler is a firm fan favorite, the night before the couple move in provides some of the season's biggest laughs.
Concerned about his best friend Joey's finances, Chandler makes up fictional game 'Cups' as a way to give him money.
He ends up 'losing' $1,500 to Joey – who in turn loses the cash to Ross when he plays him at the made up game.
The episode not only showcases Perry's comedy skills, but the sweet dynamic between him and on screen best friend Joey Tribbiani. 
Season 7 -The One With Phoebe's Cookies
Much of Chandler's humor stemmed from the awkward scenarios he seemed to end up in and Perry's masterful use of physical comedy
https://youtube.com/watch?v=iZK8WiF0kAU%3Frel%3D0
 Much of Chandler's humor is tied up with the awkwardness Perry manages to imbue his character with.
And it doesn't get more awkward than accidentally sitting on your in-laws lap butt naked.
After a game of racquetball with Monica's dad Jack, played by Elliott Gould, the two decide to go for a post match steam room visit.
However the heat makes Chandler's glasses fog up prompting him remove them. He then stumbles onto Jack's lap in the confusion to mortifying results.
 Season 8 – The One where Chandler takes a Bath
Perry was committed to packing in the laughs and admitted he felt he would 'die' if audiences didn't laugh
https://youtube.com/watch?v=pn6PPv_Y6Mc%3Frel%3D0
While Chandler Bing often gets in touch with his feminine side, he is not always able to admit it.
So it is no surprise that when he becomes addicted to taking bubble baths, he feels the need to hide it.
But it doesn't last long and he is soon busted by the entire Friends cast who catch him mid-soak, complete with candles and bubble bath. 
The episode also features the touching moment where Ross and Rachel reveal they are expecting a girl.  
 Season 9 – The One With the Mugging
Matthew Perry died at the age of 54 at his Los Angeles home on Saturday
https://youtube.com/watch?v=URfD44fgv_0%3Frel%3D0
Desperate for a career change, Chandler gets an internship at an ad agency but quickly realizes he is among the oldest of his new colleagues.
However, he manages to use his trademark wit to transcend the generations and comes up with the only good idea for one of his company's garish shoes – adding roller blades.
The episode is also a nod to a long-standing joke throughout the series about the fact nobody really knows what Chandler's job is. 
When simple-minded Joey offers $500 for the shoes he realizes who his target market should be – children. 
Perry once revealed the enormous pressure he felt to pack in the laughs.
 'I felt like I was gonna die if the live audience didn't laugh,' he admitted on the reunion show in 2021. 
'And I would sweat and just, like, go into convulsions. I felt like that every night.'
Season 10 – The One With Ross's Grant
Season 10 saw Perry don a sparkly blue lipstick in another classic example of the visual comedy he became so well known for
https://youtube.com/watch?v=zqLQm1rSmwg%3Frel%3D0
The friendship between Chandler and Matt LeBlanc's Joey is among the most charming in the show.
But when Chandler lies about having watched his actor friend's commercial for a Japanese men's lipstick, he is punished in a hilarious way.
Joey forces him to wear the product, called Ichiban, and call himself a 'pretty little girl'. 
The episode is a firm fan favorite and regularly appears on top ten lists.
Source: Read Full Article