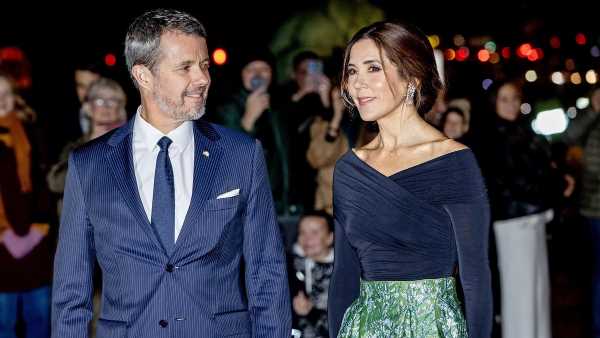 Danish royal family is reacts to Prince Frederik's 'affair' scandal
November 16, 2023
Danish royal family breaks their silence on Prince Frederik's 'affair' scandal – as the palace is slammed by furious 'fans' online
 Royal family break silence over affair rumours
 READ MORE: Prince Frederik and Genoveva Casanova meet 'several times a year'
The Danish royal family has broken its silence on Crown Prince Frederik's alleged affair as furious fans speak out for his Australian-born wife Princess Mary.
A week after Spanish magazine Lecturas published explosive photos of Frederik on a night out in Madrid with Mexican socialite Genoveva Casanova, the royal family told Danish publication B.T they 'do not comment on rumours or insinuations'.
Both Frederik, who is fourth cousin of King Charles, and his wife Mary are yet to comment on the alleged affair. 
It is just the latest scandal to engulf the royal family, with royalists taking to the palace's official Instagram account to voice their anger. 
'Respect and admiration for Princess Mary and a big "shame, shame, shame on you" Crown Prince Frederik…for your alleged affair/friendship with a certain Mexican Socialite,' one woman commented.
'Sadly, this undermines the integrity of the Danish royal family.'
Another commenter lauded Princess Mary for carrying out her duties with 'dignity, enthusiasm and discretion' amid the controversy.
'She gave the royal family a more prominent presence in the world which came with admiration and respect from around the world,' they wrote.
'I hope Prince Frederik does not destroy that and thinks about his role as husband, father and heir to the throne with wisdoms and insight.' 
Other fans noted that Prince Frederik and Princess Mary appeared to be acting differently in public – despite putting on a united front at official engagements.
Spanish magazine Lecturas claims pictured Crown Prince Frederik and Mexican socialite Genoveva Casanova watched a flamenco performance at a Spanish restaurant, El Corral de la Moreria, which finished at midnight (pictured outside the venue)
A portrait released by the Danish royals, which was shared via the family's Instagram account, shows (pictured L-R) Prince Christian, Queen Margrethe, Crown Prince Frederik, and Princess Mary
TIMELINE OF FREDERIK'S NIGHT, ACCORDING TO MAGAZINE
The magazine claims the following timeline of events took place.
October 25, afternoon: Frederik and Genoveva walk around El Retiro Park
7pm: Frederik and Genoveva go to her apartment separately 
9pm: They emerge from the building separately, having changed clothes, and get into the same white car
9pm-12am: Pair travel to El Corral de la Moreria restaurant for dinner and to watch flamenco
1am: The pair leave the restaurant and get into a car
8.30am: Frederik leaves Genoveva;s apartment 
'They don't hold hands anymore,' one woman posted.
'No this marriage is broken for long time ago. And now they can show it,' commented another. 
'They look very tired,' added a third.
Lecturas reported that, during their night out, Prince Frederik and Ms Casanova visited a Pablo Picasso exhibition, walked through El Retiro Park and later went out for dinner.
At around 7pm, Lecturas claimed both Frederik and Genoveva went to her apartment building separately, and both re-emerged at around 9pm, two hours later, both having changed their clothes into evening wear.
In the photos, Genoveva has ditched her chic camel coat with a tie belt in favour of a white shirt, black wide-leg trousers and a black jacket worn on her shoulders.
Meanwhile Frederik appeared to have changed from a navy jacket and brown trousers into a white shirt and dark trousers with a smart dark jacket. Again, they are reported to have emerged from the building separately, but got into the same white car.
The magazine claimed the pair watched a flamenco performance at a Spanish restaurant, El Corral de la Moreria, which finished at midnight.
It also claimed they remained at their table, which had been flanked by two of the Danish Prince's bodyguards, while other customers left, waiters finished up their shifts and the lights were being switched off.
Lecturas claimed the pair did not emerge from the restaurant until 1am, when they walked out onto the street and got in a car. In a 'gesture of courtesy', Lecturas reports Crown Prince Frederik opened the car door for his dinner companion.
Next day, the magazine claims the heir to the Danish throne was taken to the airport via car where he flew home to Denmark.
Soon after the photos were published, Ms Casanova slammed the 'malicious' rumours of an affair as false and misleading.
In a legal letter posted on Instagram, she threatened legal action against the magazine.
Crown Prince Frederik and Princess Mary have refused to comment on the images or rumours 
Spain's King Felipe and Queen Letizia, and Denmark's Crown Prince Frederik and Crown Princess Mary are pictured together in Copenhagen, Denmark on November 8,  just days after the rumours of an affair were made public 
Daily Mail Australia spoke to Amber Petty, Princess Mary's best friend and bridesmaid who refused to comment on or 'go anywhere near' the scandal. 
Daily Mail Australia also reached out to the royal palace but did not get a response before publication.
A communications expert told B.T the palace didn't appear to be concerned by the rumours and likely considered them a 'breeze' rather than a storm.
The alleged affair comes after the Danish royal family was rocked by the Queen's decision strip titles from a number of family members. 
In September last year, the monarch announced her decision to remove prince and princess titles from four of her grandchildren.
It also follow Prince Christian, 16, being pulled out of the elite Herlufsholm Boarding School in June after allegations of sexual and physical abuse surfaced in a documentary.
His sister Isabella, 15, was also due to attend, but her parents pulled her out too. 
The allegations did not involve the young royals. 
READ MORE: Prince Frederik pictured on 'night out' with Genoveva Casanova  
Divorcee Genoveva Casanova – the former daughter-in-law of the billionaire Duchess of Alba – was pictured by a Spanish gossip magazine enjoying a night out with Crown Prince Frederik in Madrid  
Source: Read Full Article