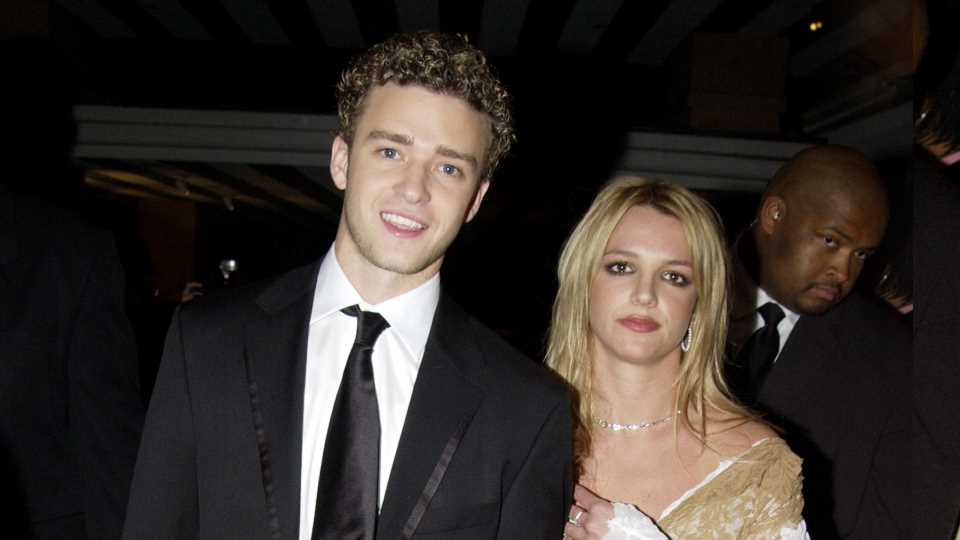 Britney Spears had 'unresolved issues with Justin Timberlake and stared at him on TV', ex Adnan Ghalib reveals | The Sun
October 24, 2023
BRITNEY Spears was left "mesmerized" when the love of her life Justin Timberlake came up on TV, her ex-boyfriend Adnan Ghalib has revealed. 
Last week it emerged that the Gimme More star, 41, had an abortion with her ex Justin Timberlake in 2000 when the pair were 19. 
The shocking revelation was leaked ahead of the publication of her memoir The Woman in Me, which is released today.
In the book, Britney also admits for the first time ever that she cheated on Justin with choreographer Wade Robson.
She claims they made out during a wild night at a Spanish bar but only after she found out that Justin had slept around behind her back. 
Rumors had swirled for years that Britney split up with Justin in 2002 after getting with Wade.
Security consultant Adnan, 50, dated Britney in the months leading up to her being placed in a mental health conservatorship under her father Jamie in 2008. 
Speaking exclusively to The U.S. Sun, he explained that Justin, 42, was the only former flame Britney ever spoke to him about and that she never mentioned the father of her kids Kevin Federline.  
Adnan, who is originally from Birmingham, England, but currently lives in California, said: "We never talked in depth about any relationship she had prior to me. 
"If there was a time that she ever inadvertently, and I use that word selectively, mentioned anybody prior to me, it was only ever Justin.
Most read in Entertainment
DEAR DEIDRE
I thought swinging was a great idea until the sad reality set in…
PURE TERROR
Israel forced to release footage that PROVES Hamas slaughtered civilians
last dance
Strictly star QUITS after missing a week and 'feud' with co-star
it's over
Geordie Shore star splits from wife and mother of his two kids
"So there was an exclusivity, which made me understand that there was something deeper or unresolved about that relationship. 
"Because when you have five relationships, but you only mention one in any given instance, then you have to ask yourself why.
"I never pushed about anything in their relationship, but there were times where she did mention him and him only.
"She never talked about Kevin, even when it came to picking up the kids, dropping the kids off late or whatever.
"She never talked as if he existed. She only ever mentioned Justin."
'STOPPING AND STARING'
It is clear in the new memoir that the decision to abort Justin's baby still haunts Britney. 
The pair were cast mates on Disney's Mickey Mouse Club before dating between 1999 and 2002.
After they split Britney went on to have her sons Sean Preston in 2005 and Jayden James in 2006 with her second husband Federline.  
Meanwhile, Can't Stop the Feeling singer Justin married The Illusionist actress Jessica Biel, 41, and the couple share sons Silas, eight, and Phineas, three. 
A source told The U.S. Sun last week that Britney's revelations in the memoir will have left Justin and his family reeling. 
Recalling one telling moment while they were dating which highlighted how much Justin still meant to Britney, Adnan explained: "I saw her catch sight of the TV, where a show, playing on mute, showed pictures of her and him at a red carpet event
"I just remember her stopping and staring at the TV.
"She didn't want to know what was being said but it mesmerized her, like it was just something she needed to see.
"And I held back on asking anything as a matter of respect."
'NOSTALGIA'
Adnan told The U.S. Sun last week that Britney never mentioned her abortion with Justin when they were going out.
He also said that at one point she thought she was pregnant with Adnan's baby but her "heart sank" when the test came back negative. 
Now he says he feels that the conversations they had about family were linked to her relationship with Justin.
Adnan explained: "She would ask me questions that make more sense today – like she was having questions answered by the new guy to make sense of the relationship she had with Justin.
"One time she asked me if I would have had kids with someone if I was in my twenties. 
"I said there's no timeline on when you have kids, there's no right or wrong time.
"I think she was asking me, subtly, whether it was right for him not to want to have kids at that time."
Britney discusses her relationship with Adnan in her new memoir, although she never mentions him by name.
She tells how he had previously worked as a paparazzi photographer but she liked him because he was "chivalrous and helped me out when the others got too aggressive".  
The book reveals how their relationship was brought to an abrupt end at the start of the conservatorship, which lasted until November 2021.
Adnan added that it was clear at the time that Britney saw her relationship with Justin with rose-tinted glasses. 
He explained: "Britney looked back at that time with nostalgia. 
"Your first love is the first love. You look back as an adult to reflect on what could have been aside from the failures – and Justin was special.
"Maybe she missed parts of herself in that relationship, when they were young and had so much fun. 
"He has gone onto be very successful and from what people say, Justin is a terrific guy.
Read More on The Sun
under cover
Big Brother shock as two housemates have secret snog after lights go out
LITTLE BRIT SPECIAL
I spent £100k to become Britney…it takes £400 of lotions every month
"There seemed to be a purity in Britney's eyes about him and their relationship.
"Justin has never said anything bad about Britney and he seemed to respect the privacy of that relationship."

Source: Read Full Article