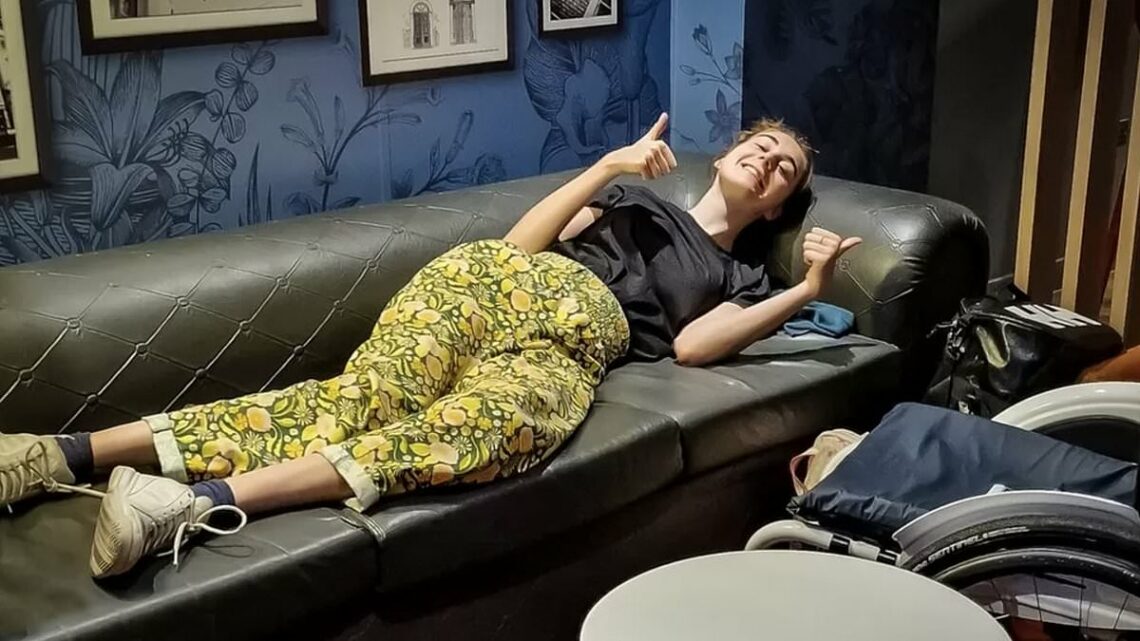 Travelodge left me sleeping on a sofa after booking an accessible room
October 3, 2023
Travelodge staff made me feel like I was a problem for using a wheelchair – I was forced to sleep on a café sofa despite booking an accessible room'
Bethany Handley, 24, requested an adapted room so she could access the toilet
Staff at the hotel in Farringdon were unable to accommodate the writer's needs
Hotel group Travelodge has apologised to a young disabled woman after she was left sleeping on a cafe sofa because staff were unable to accommodate her wheelchair.
Bethany Handley, 24, informed hotel staff that she required an accessible hotel room in order to be able to access the toilet.
But she claims she was told that 'it doesn't matter', and was left without a room and lying on the sofa in the hotel cafe instead.
Travelodge said a travel agent had booked the wrong room and an accessible room was not available.
Ms Handley, from Monmouth, was booked into the hotel in Farringdon, London on September 26.
Bethany Handley was left sleeping on a sofa while staying at a Travelodge in London, after staff didn't accommodate her wheelchair
Ms Handley, 24, had requested an accessible room in order that she could use the toilet but ended up on a couch in the hotel cafe after being given a standard room
The writer and poet was staying at the group's hotel in Farringdon, London (pictured) having travelled to the capital for a hospital appointment the following day
She said: 'The hotel made me feel like I was the problem for being a wheelchair user.
'I'm not disabled by having to use a wheelchair. I'm disabled by Travelodge not having a safe place for me to stay.'
Ms Handley, a writer and poet, had checked into the hotel in the capital ahead of a hospital appointment the following day.
But she was told the adapted room she had asked for was not available and was offered a regular room instead.
She said: 'I couldn't get through the bathroom door.'
Her mum eventually found her a different hotel on the other side of London.
Ms Handley said: 'Travelodge showed complete disregard to disabled people. Access should be a right, but in this case it seems to be an afterthought.
'Everyone should have a right to safe accommodation. Our rights are being violated.
'Staff need disability awareness training so they don't blame customers who have access requirements and offer better service to disabled people.'
Ms Handley said that Travelodge had shown 'complete disregard' to her accessibility requirements which she said were an 'afterthought' for staff
Travelodge apologised to Bethany, saying the wrong room had been booked by a travel agent and insisted that the hotel did 'everything possible to accommodate her needs'.
A spokesman added: 'While we were not able to provide an accessible room in this hotel for the first night of the booking, we were able to allocate an accessible room for the second night of Ms Handley's stay.
'We understand this room did not meet her specific requirements and have offered Ms Handley a full refund which she has accepted.'
Source: Read Full Article