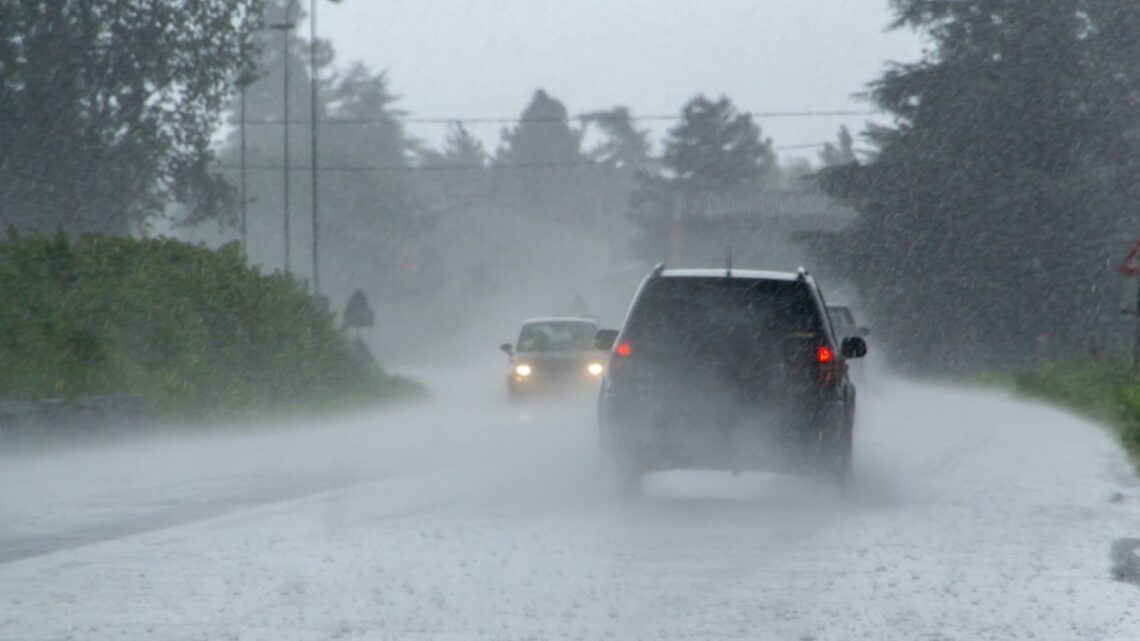 Storm Agnes updates — Met Office issues yellow weather warning as UK to be battered by 80mph winds and heavy rain | The Sun
September 27, 2023
STORM AGNES is set to batter the UK with high winds and heavy rain as the Met Office issues a yellow weather warning across much of the country.
Set to last for the next 48 hours, the yellow weather warning covers much of England, Scotland, Northern Ireland and Wales.
Brits in affected areas can expect high winds of up to 80mph on the coast and heavy rain over the next two days. Transport disruption is expected, with some roads and bridges likely to close.
Met Office Chief Meteorologist Steve Ramsdale said: "While the precise track and depth of Storm Agnes is still being determined, there's a high likelihood of wind gusts around 50 to 60mph for some inland areas.
"Exposed coastal areas could see gusts of 65-75 mph with a small chance of a few places seeing around 80mph."
Read our Storm Agnes live blog below for the latest news and updates…
By Henry Moore




Flood risks in Scotland as Storm Agnes hits

The Scottish Environment Protection Agency has warned of potential flooding as Storm Agnes approaches the UK.

"Flooding impacts are possible, particularly in south-west and central areas (of Scotland). Along the south-west coast, we may see waves overtopping and flooding of causeways, promenades, properties and roads," the agency said.

"Impacts are expected to be localised and around high tide. We may also see minor flooding impacts from surface water and rivers. Flood alerts and warnings are being issued as necessary and we continue to work with the Met Office to monitor the situation 24/7."

By Henry Moore




How to stay safe while driving in high winds

There are a number of tips to keep in mind in order to stay safe when driving in high and strong winds.

Drivers are advised to keep both hands on the wheel firmly to provide extra control and to prepare for any stronger winds that may be on the way.

Motorists should also pay attention to the speed when driving in high or strong winds.

The AA advises drivers to keep their speed down to minimise the impact of wind gusts, to take care and to leave extra room for motorcyclists and cyclists – it's important to not only keep yourself safe, but also other road users.

Other tips to stay safe when driving in high and strong winds include the following:

Avoid overtaking
Keep your distance from other vehicles – especially high-sided vehicles and caravans
Avoid towing
Don't take your roof box with you – leave it at home as this can increase the impact of crosswinds on your vehicle
Be vigilant and look out for debris in the road – if you spot twigs or small branches on your journey, this could indicate that a tree or branch may be in the way around the next bend
Plan ahead
Keep an eye out for hanging trees
Keep to main roads
Park safely to avoid damage and danger – try not to park near or under trees, telephone wires or poles that could be at risk of falling on your car
If your vehicle is susceptible to strong wind conditions, consider delaying your journey until weather conditions improve if you can

'Damaging winds' to hit UK today

The Met Office has warned of "damaging winds" expected to hit the UK today.

Met Office meteorologist Tom Morgan said: "We are likely to potentially see some damaging winds, the possibility of some brief power interruptions, particularly in Irish sea coastal areas."

He added: "In addition to the winds, there's going to be some large waves as well, so some big stormy seas, and therefore there might well be some coastal flooding where the waves break on to promenades and on to coastal roads."

By Henry Moore




More on today's yellow weather warning

A string of Met Office alerts will activate in the coming hours, with a yellow wind weather warning from midday on Wednesday to 7am on Thursday stretching across a large area of the UK.

There are also two yellow rain warnings covering areas of Scotland from 3pm on Wednesday to midnight.

Storm Agnes was described as "intensifying quickly" in the Atlantic during Tuesday evening.

It is expected to generate winds of up to 80mph and cause dangerous conditions along coastlines, especially Irish Sea coastlines.

By Henry Moore




Infrastructure could be impacted amid 80mph winds

Forecasters are warning of the potential for some damage to buildings from strong winds.

There is also a threat of power cuts for some.

Transport disruption is expected, with some roads and bridges likely to close.

By Henry Moore




What time will Storm Agnes hit the UK?

Britain is set to be battered by Storm Agnes today, but what time will the weather worsen?

Northern Ireland is already experiencing rain and high winds this morning.

Meanwhile, the Northeast of England will see the weather change in the coming hour.

By Henry Moore




What has the Met Office said?

The Met Office has issued a yellow weather warning for today and tomorrow as Storm Agnes hits the UK.

Met Office Chief Meteorologist Steve Ramsdale said: "While the precise track and depth of Storm Agnes is still being determined, there's a high likelihood of wind gusts around 50 to 60mph for some inland areas.

"Exposed coastal areas could see gusts of 65-75 mph with a small chance of a few places seeing around 80mph.

"As well as some very strong winds for many, Storm Agnes will also bring some heavy rain, with the highest totals more likely in Scotland, northern England, Wales and Northern Ireland.

"Around 60mm of rain is possible in a few places over high ground in Scotland."

By Henry Moore




What is Storm Agnes?

Storm Agnes is a deep area of low pressure developed in the Atlantic.

Today, the storm is set to arrive in the UK, battering the country with winds of up to 80mph in some areas.

It is expected the storm will weaken on Thursday.

By Henry Moore




Storm Agnes set to batter the UK

Storm Agnes is set to arrive in UK, as the Met Office issues a yellow weather warning across much of the country.

Met Office Chief Meteorologist Matthew Lehnert said: "Storm Agnes will approach southwest Ireland early on Wednesday and track northeast across Northern Ireland and Scotland before clearing on Thursday morning. Gusts of 45-55 mph are expected widely inland and 50-60 mph over hills and around coasts.

"The strongest winds are expected to affect Northern Ireland, southwest Scotland, west and northwest Wales, Cumbria and Lancashire where some places inland may see gusts of 60 mph and 65-75 mph over hills and around coasts. These are most likely during the second half of Wednesday afternoon and through the evening."

Source: Read Full Article