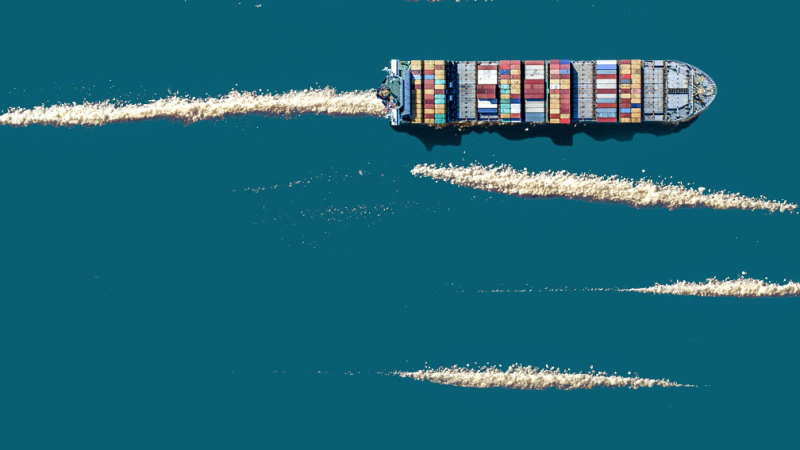 Scuba divers, sea chests and secret stashes of cocaine: Parasite smugglers target cargo ships
September 30, 2023
By Tom Cowie
Save articles for later
Add articles to your saved list and come back to them any time.
A cargo ship, bound for Australia, lies at anchor. It might be in a port somewhere in South America or queuing up with other carriers to pass through the Panama Canal.
While the hulking vessel sits idle in the water, its vast size presents an opportunity. Scuba divers wearing bubble-free breathing gear plunge below the surface at night, battling currents and the ship's propellers to get access to something called the sea chest without detection.
Protected by grilles, sea chests are opening points in the ship's hull to take on seawater for ballast and to cool its engines.
Drug smugglers are targeting cargo ships to traffic cocaine.Credit: The Age
They have also become favoured hiding places to smuggle cocaine across the world, especially to Australia, where astronomical prices paid by users in the cocaine-hungry cities of Sydney and Melbourne have made it a prized market for traffickers.
As the ship plugs its way across the ocean, the crew is often unaware they have newly acquired illicit cargo. Commercial ship tracking websites allow the crime syndicate to watch and wait until the drugs reach a marketplace where customers want their product.
It's known as parasite smuggling.
"Because these are large commercial vessels, you can literally just track them on the internet, and find out where they're next going," says Australian Border Force Commander Clint Sims, who oversees maritime enforcement.
"Quite often, [the smugglers] don't even have a buyer, they just put the drugs on. And then when it goes to a particular port, through their devices and networks, they send out a request saying, 'if you want to buy this then it can be retrieved'."
Melbourne's port is the busiest in the country for commercial shipping, processing an average of 8850 containers each day. A seemingly endless stream of ships enter Port Phillip Bay, bound for a city with a strong appetite for recreational drugs such as cocaine.
In August, 200 kilograms of cocaine was found on board the Chemstar Sapphire cargo ship at the Port of Melbourne after it sailed thousands of kilometres from Argentina via New Zealand.
A large haul cocaine was seized from the sea chest of a cargo ship that arrived in Melbourne in August.
The ship's origin in Necochea, south of Buenos Aires, raised suspicions, leading Australian Border Force officers to use remotely operated vehicles to discover the stash of drugs in the ship's sea chest.
So far, there have been no arrests, with the ship allowed to continue to Western Australia and South Australia. Investigators are now trying to piece together who sent the drugs and where they were going. Questioning the crew may not get them very far. Watertight packages of drugs are often placed on board without the crew's knowledge, says Sims.
Australians pay some of the highest prices in the world for cocaine.Credit: iStock
"Sometimes there is complicit crew, and we always do some checks in relation to crews and screen the crews when they arrive," says Sims. "But certainly, in those sorts of circumstances, the crew are often unaware."
Australians pay some of the highest prices for cocaine in the word, with street prices of $250 to $400 a gram. Despite the exorbitant cost, cocaine remains one of the nation's most popular stimulants.
Brazilian diver Bruno Borges.
Sydneysiders have a particular fondness for the white powder. The NSW capital has the highest consumption rate of cocaine in the country, with an estimated 13 doses of cocaine ingested per 1000 people each day – dwarfing all other Australian cities.
Taking a slice of these huge profits brings great risk. Scuba diving crews hired to secretly retrieve drugs from a ship are sometimes brought in specifically for the job. But that doesn't mean they don't run into trouble.
The body of Brazilian professional scuba diver Bruno Borges, 31, was found in May last year washed up on the shore of the Hunter River in Newcastle after a fatal attempt to pull cocaine from a sea chest.
Floating with his body was more than 100 kilograms of cocaine that was transported on board the Areti, a 200-metre-long cargo ship which travelled from Argentina to the Port of Newcastle.
Police believe some cocaine transported by the ship had already made its way into the community before the plot was uncovered. Cairns superyacht operator James Blake Blee was later arrested in connection with the smuggling operation, involving millions of dollars worth of cocaine.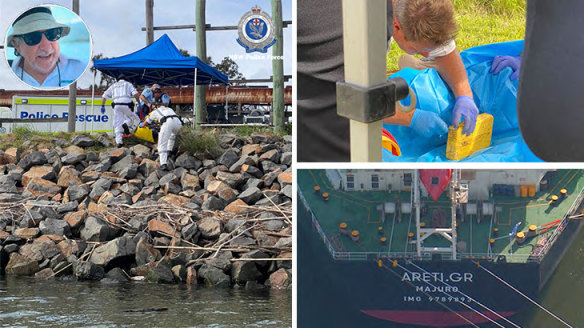 Queensland super yacht tour operator James Blake Blee (inset) was arrested during an alleged attempt to flee the country, after an allegedly failed cocaine drug drop left a diver dead in Newcastle.Credit: NSW Police Media, Supplied
He was charged with several offences including importing a commercial quantity of a border controlled drug, supplying a large commercial quantity of a prohibited drug and people smuggling.
Police issued a warrant for the arrest of Jhoni Fernandes Da Silva, another diver believed to have been brought into the country with Borges to recover the drugs.
Sims says that cargo ships are vulnerable to these kind of smuggling attempts as they spend long stretches of time not moving. "The Panama Canal is quite prone to that because vessels have to wait in a queue for their slot to come up [to pass through], which means there is that potential for access to those ships," he says.
The parasite smuggling method is just one of many ways that crime groups are trying to bring drugs to Australia, with authorities seizing twice as much cocaine as they have in previous years.
Other techniques include stashing drugs in shipping containers, sending it through the mail in small amounts and the more retro approach of using human couriers to bring it in via Australian airports.
"We're actually seeing that again [drug mules on planes]," says Sims. "We hadn't seen that for a while." Technology has become key for smugglers looking to stay one step ahead, with a focus on concealment to beat X-rays and sniffer dogs.
Everyday items such as Apple AirTags are being used to ping smugglers' phones when they get close to drugs stashed inside shipping containers. Crime groups are also using "mother-daughter" ships to make drug drops, where a larger vessel throws a package of narcotics overboard with a GPS tracker attached.
Some drug smugglers are using Apple AirTags to help locate stashes.Credit: Alamy
A smuggler on shore then takes a boat, often a civilian pleasure craft or fishing boat, out to that location to pick up the loot.
"These syndicates are not always the most apt mariners," says Sims. "We've had occasions where they're not even keen to do on-water tests. Who buys a $200,000 boat without even taking it for a test?"
Enforcement agencies are regularly making huge busts of hundreds of kilograms, which would have been headline news in years gone past but have become seemingly routine. "These groups seek profit, and that's what they're driven by. They do see us paying high prices," says border force's Sims.
Criminals are targeting commercial shipping to move large amounts of cocaine.Credit: Glenn Hunt
"South American organised crime groups, in particular, are seeing us as very attractive area to try and increase their stake in the market. We're really starting to be flooded with drugs from that region."
Start the day with a summary of the day's most important and interesting stories, analysis and insights. Sign up for our Morning Edition newsletter.
Most Viewed in National
Source: Read Full Article