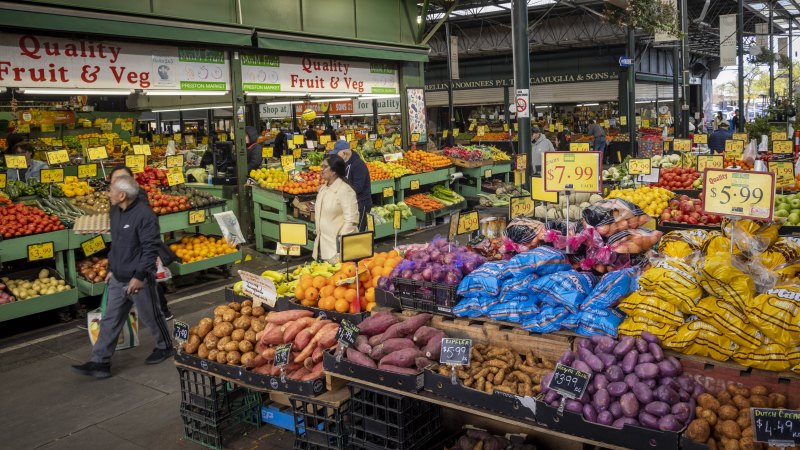 Preston Market traders win five-year leases after 'stampede of stress'
November 16, 2023
Save articles for later
Add articles to your saved list and come back to them any time.
Preston Market traders will be offered five-year leases to bring an end to uncertainty about their future after a longstanding feud over a proposed residential development in Melbourne's northern suburbs.
But the letter issued to stallholders on Tuesday suggested traders could be charged a higher rate for their leases in future, warning that operating costs had escalated at a rapid rate due to insurance for new heritage protections, state government taxes and the need to redesign the new site again.
Stalls at the Preston Market.Credit: Wayne Taylor
Stallholders in May were told their leases would not be renewed because of development rules proposed by Planning Minister Sonya Kilkenny that private owners Salta Properties and Medich Corporation claimed would make investment in the market unviable.
The long-running dispute became a political headache for Labor during the state election. The new local member, Nathan Lambert, suffered a 19.2 per cent swing against the party after preferences following a well-organised campaign to "save" the market.
Planning controls were formalised in August after a years-long process, and owners on Tuesday confirmed that stallholders would be offered five-year leases.
"At all times during this process, the joint owners sought to ensure the future of the Preston Market and protect your businesses by seeking permission to replace a majority of the old market buildings with new, state-of-the-art buildings that would secure the future of the market for the next 50 years," the letter from director Sam Tarascio said.
He said the developer-owners wanted to construct new markets because the old buildings were "expensive to maintain, operate and insure – costs which inevitably flow into your business".
"As with the economy generally, the operating costs of the market are escalating at a rapid rate. This requires exhaustive and ongoing management," Tarascio said.
"A key cost that has escalated over the past five years has been insurance and government taxes. This is an unavoidable cost, and one that now with less ability to reconfigure the market buildings as needed, we need to work through how best to resolve."
The new leases will be finalised in coming weeks. The owners have started redrawing a masterplan to fit within the new planning scheme and heritage controls and told traders there may be some temporary reconfiguration of tenancy spaces.
Preston Market trader Kristian Gandolfo in June.Credit: Paul Jeffers
Planning controls introduced by Kilkenny in August include a heritage overlay for stall sheds at the 53-year-old market, while allowing about 1200 apartments across the site of up to 14 storeys, but effectively blocking the owner's plans of adding up to 2200 apartments up to 19 storeys high.
Stallholder Kristian Gandolfo, who runs the Mariluci deli, said it was a huge relief that the government and owners had worked to get a resolution that would keep them open for the long term.
"It was touch and go there for a while," Gandolfo said. "There's been a stampede of stress and anxiety this year about what's going to happen with our future … It feels like it's almost finally over."
Gandolfo said he expected a small rental increase but with a freeze during any disruption from construction.
Chris Legge, a stallholder at Contraband Coffee and part of the We Are Preston Market traders group, was relieved and said getting at least five years of certainty was key. He looked forward to seeing the detail of the leases that have previously included a 4 per cent annual increase.
"Hopefully, they don't bump the rents up too much because I think they're aware as well that the redevelopment process will be a disruptive one," Legge said. "There's been talk of rental rebates and support from the landlords to offset some of that interruption."
The owners have always maintained that the viability of the site was dependent on adequate residential development to warrant necessary investment in the ageing market.
Under their scuppered proposal, most of the market would have been progressively moved onsite though stalls with local heritage protection would have remained. They argued that all traders could have to close for years to allow for development if stalls had to stay where they are.
"New buildings could provide your business a far more efficient operational environment providing benefits to the overall market offering and sustainability," Tarascio's Tuesday letter said.
An advisory committee from the Victorian Planning Authority found some development was appropriate to relieve housing shortages, particularly at a well-connected site neighbouring the Preston railway station, but that heritage had not been adequately protected under the former rules.
Get the day's breaking news, entertainment ideas and a long read to enjoy. Sign up to receive our Evening Edition newsletter.
Most Viewed in National
From our partners
Source: Read Full Article