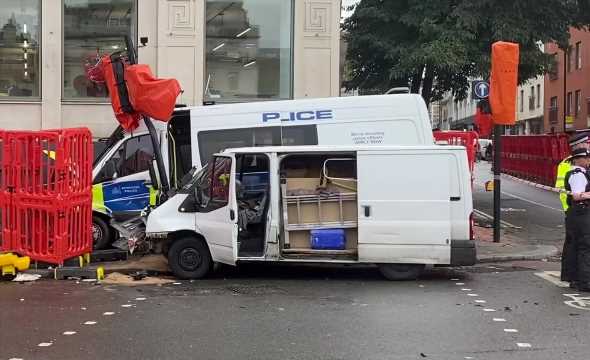 Pedestrian hurt after police car crashes with van in Farringdon | The Sun
November 2, 2023
A PEDESTRIAN has been injured after a police van was involved in a crash in central London.
The police vehicle collided with another van in the busy area of Farringdon.
One pedestrian was hit but their injuries are said to be non-life-threatening.
Footage shows the aftermath of the incident where the area has been cordoned off and both vehicles damaged close to the pavement.
A witness, who wished to remain anonymous, said: "At first, I saw a police car blocking the road and I wondered what had happened.
"When I walked towards Farringdon Road, I saw the horrible crash. A policewoman was preventing pedestrians from getting near the crash.
"I hope everyone's okay."
Met Police said: "At around 10.30am on Thursday, 2 November a police vehicle was in collision with a van on the A201 Farringdon Road, at the junction of Clerkenwell Road.
"A pedestrian was injured during the collision; their injuries are not life threatening.
"Road closures remain in place."
Most read in The Sun
M&S REMOVES Xmas ad post & apologises for 'unintentional hurt' – but star hits back
Carabao Cup draw 'rigged' blast Newcastle fans after yet another nightmare tie
Storm Ciarán winds leaves 'disaster zone' as 'golf ball' hailstones batter UK
Walkers discontinues ANOTHER hugely popular crisp flavour & Brits are 'in tears'
Source: Read Full Article