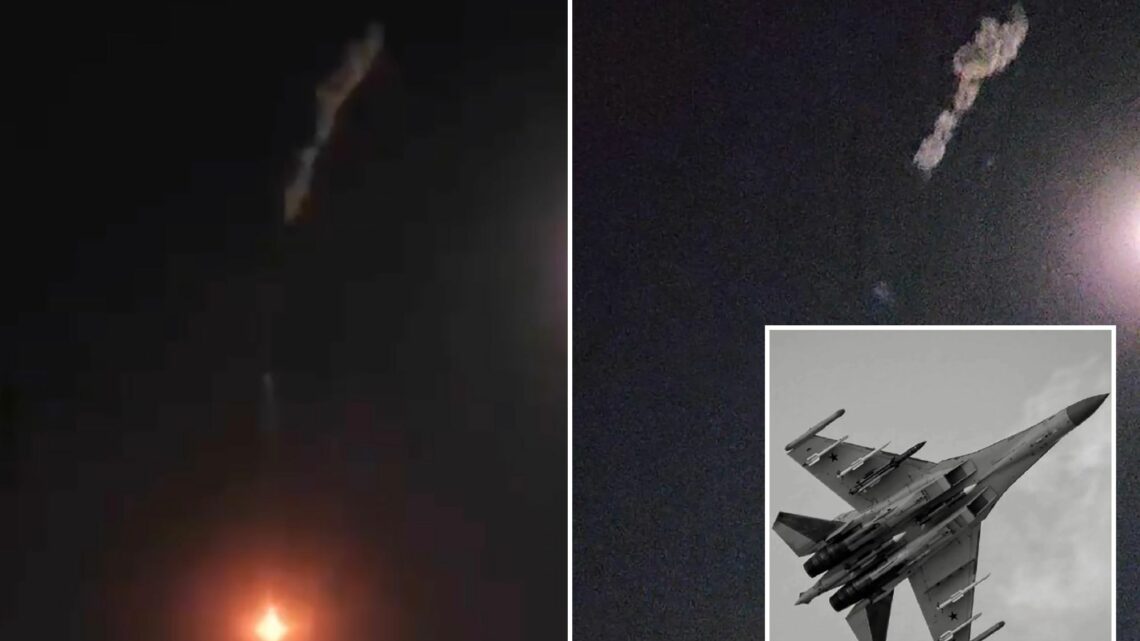 Moment Putin's forces 'shoot down their OWN fighter jet' as £82m Su-35 falls out of the sky in 'friendly fire' blast | The Sun
September 29, 2023
ONE of Putin's prized £82million fighter jets was blown out of the sky by his OWN troops, reports claim.
Pro-war Telegram channels said the high-tech Su-35 was downed by a Russian S-300 air defence missile over the Zaporizhzhia region of Ukraine.
Video appears to show the moment the single seat war jet exploded in the sky and burst into orange flames. 
It was not clear if the pilot was able to eject.
But Russian aviation Z-blogger "Fighterbomber" indicated he did not survive in a post acknowledging the loss of the valuable plane.
He posted a photo of an Su-35 with the message: "Eternal flight, brother."
READ MORE IN WORLD NEWS
CONCORDE RIVER CRUISE
Concorde takes FIRST journey in 20 years and sails down Hudson River
MID-AIR THREAT
'Russian jets intercept two US supersonic nuke bombers over Black Sea'
Meanwhile Ukrainian channel "Crimean Wind" posted the video footage and said: "Russian air defence vs Russian Su-35 1:0. 
"Russian soldiers used an S-300 missile to shoot down their own plane near Tokmak. Work, brothers! Do not stop!"
The loss of the war jet, if confirmed, would mark a new setback for Putin's forces in the invasion of Ukraine.
In April, a bomb accidentally dropped by a Russian Su-34 fighter jet blasted a 70ft crater in the city of Belgorod, 25 miles inside Russia's border wthe Ukrainian border.
Most read in The Sun
LONE SICKO
Neo-nazi gunman kills 3 including girl, 14, & mum after opening fire at hospital
CHAMP CLEARED
Ex-World boxing champ cleared of sex assault after 'calling waitress "pet"'
CON-STABLE
Top cop faces probe after wearing Falklands medal despite being 15 during war
ON THE COBBLES
TV legend joins Corrie and you might recognise him from classic sitcom
Journalist Dmitry Kolezev said at the time: "It was miraculous no one died – at least according to official figures."
In another expensive blunder, a "drunk" Russian soldier rolled a £400million missile launcher into a ditch.
Photos of the giant eight-wheeler lying helplessly on its side added further humiliated Putin's flailing army.
And a recent succession of strikes by Ukraine resulted in the loss of their Black Sea Fleet headquarters one week ago. 
Putin's hand-picked admiral was said to be among scores of officers killed by Storm Shadow missiles in Sevastopol.
Only days ago it was revealed Putin's own officers may have handed over intelligence to Ukraine which allowed it to launch an attack that wiped out the Black Sea Fleet headquarters.
Anti-Putin partisan group ATESH told the Kyiv Post they paid the soldiers who passed on the military intel leading to the deadly Black Sea strike as an "additional incentive".
Ukraine now claims that Russia suffered 62 "irreversible losses" when the Minsk was hit in the crippling early morning blitz.
Russia has failed to gain air superiority since the invasion, even though Ukraine's air force is relatively tiny.
READ MORE SUN STORIES
TAKE NOTE
I'm a cleaner, 5 things I'd never put in my house – including a kitchen handle
Back to normality
Paris Fury shares sleepy selfie & baby update after day of 'normal life'
Putin has already lost approximately 90 planes since the start of the war, according to an assessment by the British MoD.
And the "viability" of the Russian Aerospace Forces' long-term tactical air power is likely to degrade as the war goes on, said the MoD.

Source: Read Full Article