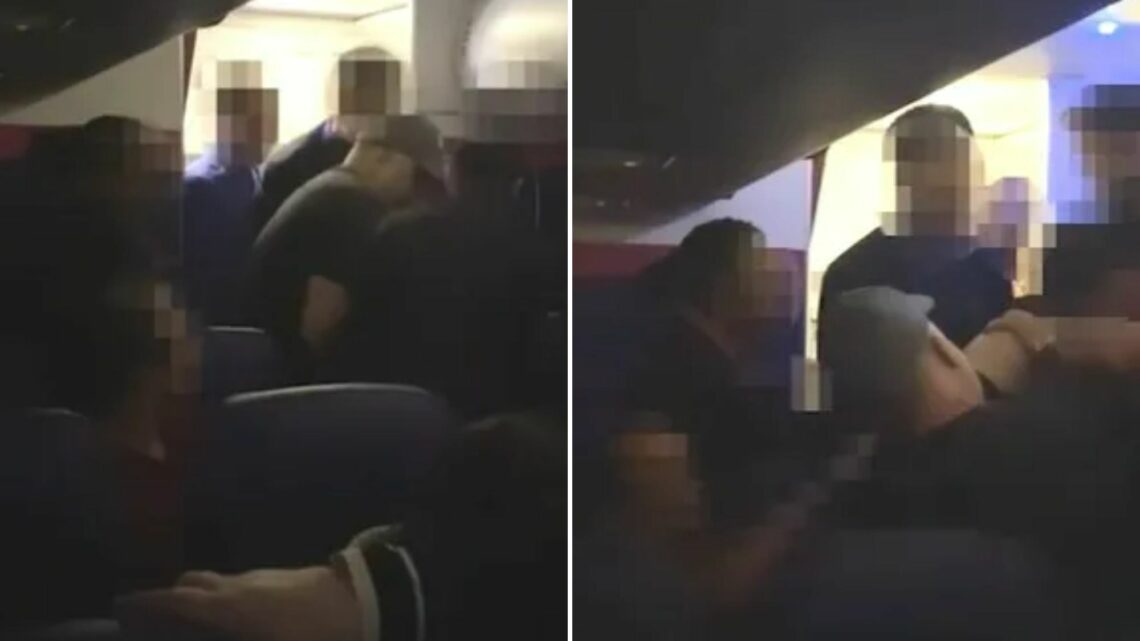 I tackled a crazed passenger as he tried to open DOOR on UK-bound flight – I had to headlock him as he was hogtied | The Sun
September 7, 2023
A HEROIC passenger has told how he bravely tackled a man on a flight who attacked a crew member and tried to open the emergency door at 30,000ft.
The flight, heading from Tel Aviv to Luton airport in London on Monday, was forced to make an emergency landing in Belgrade.
Victor Troboloni, 45, tackled the man after he tried to force open the emergency door and went to punch a male flight attendant, placing him in a headlock.
Chilling footage shows the man screaming as Victor bravely takes him to the ground on board the Wizz Air jet.
He said: "He tried to open the fire exit, he was sitting at the back and it's easy to open a fire exit, just pull the handle and that's it".
"I got the guy down. He was very heavyweight… I headlocked him and the stewardesses tied his hands with plastic cable ties… I had to do it".
Read More in World news
Massive explosion near Putin's war HQ as kamikaze drones blast city
Inside the abandoned £1.6bn giant 'Hotel of Doom' that's NEVER had a guest
"I held him for 10 minutes, he got out of breath, he got tired, he was tied up for 45 minutes to 1 hour before we landed in Belgrade."
In the tense clip Victor can be seen wearing a baseball cap and holding the attacker down in the aisle of the cabin.
With the help of several others, they appear to restrain him until the stewardess can secure what Victor described as cable ties, so he can let go of the attacker.
A brave group of crew and passengers then appear to shift the man to the side of the gangway for the remainder of the flight.
Most read in The Sun
baby panic
Kourtney reveals terrifying details of hospital dash for surgery to save baby
TERRY'S AL GOLD
John Terry to join Saudi Pro League as he makes managerial breakthrough
FAMILY FEUD
Jade's mum brands Jeff Brazier a 'c**k' after sneaking in to see Bobby win NTA
BRUTAL ATTACK
Woman dies after two Rottweiler dogs savaged her when she tried to pet them
Someone can be heard shouting "shut up" during the struggle, and in part of the footage screaming from the attacker can be heard.
Victor also claimed the attacker screamed "Allahu Akbar" repeatedly throughout the ordeal.
He described seeing the man behaving oddly earlier on the flight, pacing up and down the gangway from the entrance by the pilot's cabin to the emergency exit at the other end.
The plane engineer, who was travelling alone, was sitting just a few rows away and said he knew something was wrong.
He added: "I saw him going up and down, maybe looking for weak points on the aircraft… checking seat numbers".
"I'm a plane engineer myself, I used to work in maintenance," he said.
"So I know what's going on mid-air, in flight at 3,000ft, 11km above sea level, you've got no escape.
"It was a very scary situation."
The brave passenger went on to describe two other men who helped him, Usama, 65, and Jose, travelling with his wife and children from Manchester.
After the unhinged man was restrained, passengers remained on the plane for about an hour before it made an emergency landing in Belgrade.
Victor, originally from Albania but living in Zurich, was on his way to visit his sick mother in St Albans.
He said: "I was lucky to catch that flight because I was in transit from Istanbul to Tel Aviv then I was coming back to the UK to see my mum in St Albans".
He recalled thinking "I might never see my mother again," during the terrifying ordeal.
Victor explained that many of the people on board were women and children, who were left visibly shaken and upset.
After the attacker was tied down, several of them thanked Victor for his heroic act.
A Wizz Air spokesperson told Sun Online: "The safety and security of passengers and crew are the company's top priority.
"The company regrets the inconvenience caused by this unexpected incident."
It's not the first time a heroic passenger has tackled someone behaving dangerously on a flight.
A brave Brit told how he tackled a man screaming "I'm going to blow the f***ing plane up" on a panicked Malaysia Airlines flight.
Flight MH128 to Kuala Lumpur was forced to turn back to Melbourne just moments after taking off when a Sri Lankan national began shouting at staff on board the plane.
Read More on The Sun
Jack Whitehall shares first snap of newborn in hospital with Roxy Horner
Mum's heartbreaking warning after twin girls, 4, suffocate to death inside toy box
The incident sparked fears he was carrying a suspected detonator as witnesses claimed an "electronic frequency" device was in his hand.
Thankfully brave passengers stood up to the disruptive man – including the fearless Brit Robert MacDonald.

Source: Read Full Article