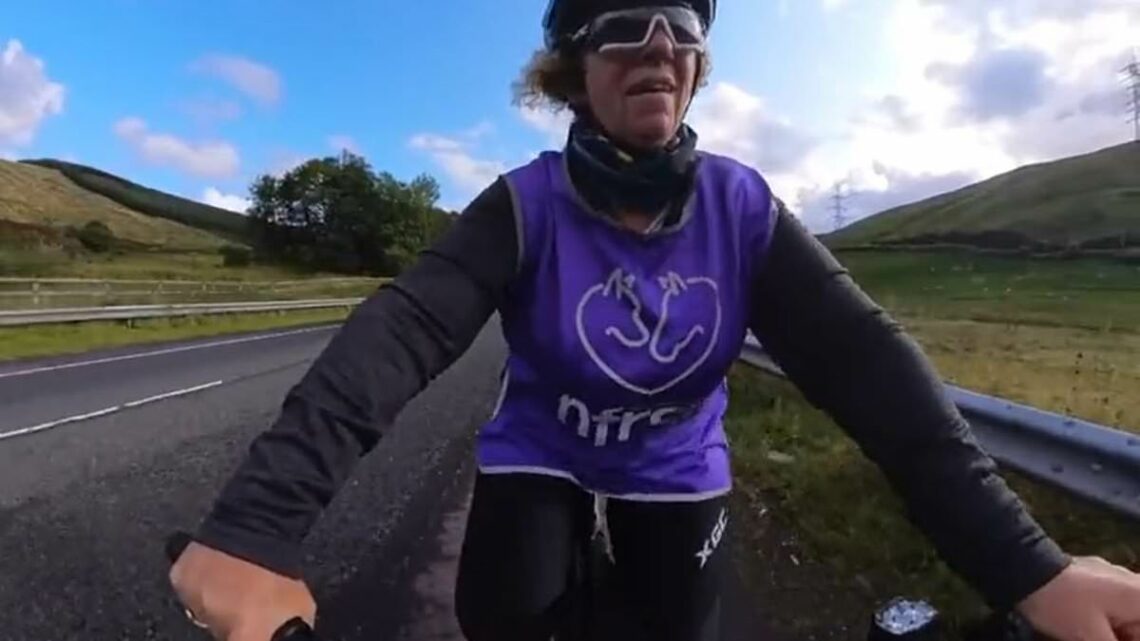 Heart-stopping moment Countess Bathurst is almost hit by car
September 28, 2023
Heart-stopping moment Countess Bathurst is almost hit by car overtaking a lorry while she cycled along main road on her £10,000 Porsche e-bike during charity ride
The 58-year-old was doing a 1,022 mile ride from Land's End to John O'Groats

Her organisation issued a warning to drivers overtaking on country roads
Lady Bathurst's charity bike ride nearly ended in disaster after she was almost run over by a car overtaking a lorry.
She was nearly knocked off her £10,000 Porsche e-bike while riding over the Scottish border.
The 58-year-old was cycling from Land's End to John O'Groats to raise money for the National Foundation for Retired Service Animals (NFRSA), which she chairs.
Her organisation issued a warning to drivers overtaking on country roads following the incident, which also caused her support car to swerve.
Video footage shared by NFRSA showed the former High Sheriff of Gloucestershire waving her arms while in the cycle lane before being taken by surprise by a red vehicle overtaking the large lorry.
Lady Bathurst was almost run over by a vehicle overtaking a lorry while on her charity bike ride
The 58-year-old was almost knocked off her Porsche e-bike while cycling over the Scottish border
The countess was caught by surprise by the red vehicle as she swerved in the bike lane
She then placed her hand on her heart before coming to a stop and swore moments later, before saying: 'My knees are actually shaking.'
She continued: 'It was literally inches away.
'I was waving until the bloke was going 'it's that way', and I laughed and just wobbled out.'  
Referring to herself, she said: 'She very nearly was a dead countess, not a cycling countess.' 
Lady Bathurst wrote later on X, formerly Twitter: 'I was riding alone yesterday afternoon, in beautiful Scotland on the NFRSA Charity Bike Ride, when this happened.
'It was unbelievably frightening and shook me up.
'Please, when overtaking on country roads, be aware of what might be on the other side of the road. Thank you.'
However some users commented that the charity cyclist should have stayed more focussed on the road.
One wrote: 'Having a noble cause doesn't absolve you from fault, or prevent you from being killed. 
'She's doing a great job & a great thing. Hopefully she makes it through unscathed, but… she was distracted & swerved almost onto the road. Use it as a learning experience to be on the ball.'
Others suggested that the countess should have worn bright yellow rather than the purple charity vest she donned for the ride.
But the NFRSA defended Lady Bathurst and hit back at 'armchair experts' criticising her for not taking the right precautions.
Lady Bathurst is raising money for the National Foundation for Retired Service Animals (NFRSA), an organisation she chairs
She reacted to her near miss on X, formerly Twitter, warning drivers to be aware while ovetaking on country roads
The Former High Sheriff was in the middle of a three-week, 1,022-mile charity cycle challenge from Land's End to John O'Groats.
In a further post, it said: 'Whatever the wrongs or rights, Lady B is doing this ride, out of her comfort zone, for no other reason than raising funds and awareness for our retired service animals. 
'She was wearing a tabard with reflective edges, & the day was bright and sunny. 
'Cyclists from across the road waved and said hello, Lady B did the automatic thing anyone with good manners would do, which is to respond in kind. 
'She did not see the car coming the other way simply because it was going so fast. One second it wasn't there, the next it was.. Right. There. 
'She was in the recommended cycle lane (it even had pictures of cycles in it for those who claimed it to be a hard shoulder.) 
'It was an unfortunate and frightening experience for her and therefore kindness is needed here, not armchair judges who have not taken on such a challenge before.'
The organisation urged people to get behind her, adding that she was 'tired and exhausted', having to ride through Storm Agnes, which battered parts of Scotland and northern England.
Source: Read Full Article