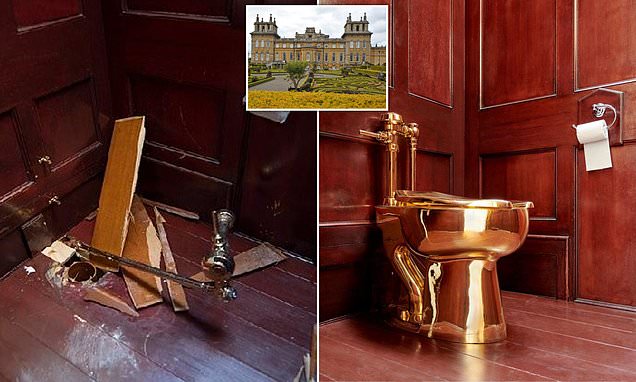 Breakthrough in hunt for gang who stole £5million solid gold toilet
August 29, 2023
Breakthrough in hunt for gang who stole £5million solid gold toilet in raid on Blenheim Palace as CPS consider charges against seven suspects
 The Crown Prosecution Service may soon formally charge up to seven people 
Police investigators are hopeful that they will finally be able to charge suspects implicated in the grand theft of a £5million gold toilet stolen from Blenheim Palace.
The 18-carat gold toilet designed as part of an exhibition by Italian artist Maurizio Cattelan was taken in a raid at the Oxfordshire stately home on September 14 2019 – just a day after it had been unveiled.
And despite four years passing and police arresting seven suspects in that time, investigators are still yet to formally charge anyone in connection with the burglary. 
However police have reportedly now sent files over to prosecutors raising the chances of charges being applied, reports the Sun. 
It is up to the Crown Prosecution Service to now decide whether to charge any of the seven suspects – six men aged 36 to 68 and a woman, 38- previously arrested.
The 18-carat gold toilet was unveiled at Blenheim Palace, Oxfordshire, as part of an exhibition by Italian artist Maurizio Cattelan, before it was stolen
The thieves ripped the expensive appliance from the fittings and made off with it
The statement toilet, valued at £4.8million and entitled 'America' by its artist Maurizio Cattelan, was fitted in at the Guggenheim Museum in New York in 2016 and 100,000 people queued to use it.
It was moved to Blenheim and into a chamber opposite the room where Winston Churchill was born for Cattelan's first solo UK show in more than 20 years.
Speaking at the time of the theft, artist Cattelan said he hoped the theft was a prank and asked 'who's so stupid to steal a toilet? [The work titled] America was the one per cent for the 99 per cent'.
The palace's chief executive Dominic Hare said he hoped the 'pointless' act of stealing would 'immortalise' the work and defended the home's 'sophisticated security system' at the time it went missing. 
The theft was carried out at Blenheim Palace in September 2019 
He said it was 'deeply ironic' for the work 'portraying the American Dream' and the elite object made available to all was 'instantly snatched away and hidden from view'.
It is thought that the loo was melted down following the theft and used to create jewellery.  
A Thames Valley Police spokesman said: 'A number of individuals remain released under investigation in relation to this case.
'A file of evidence is with the CPS for a decision to be made on any charges.'
Source: Read Full Article