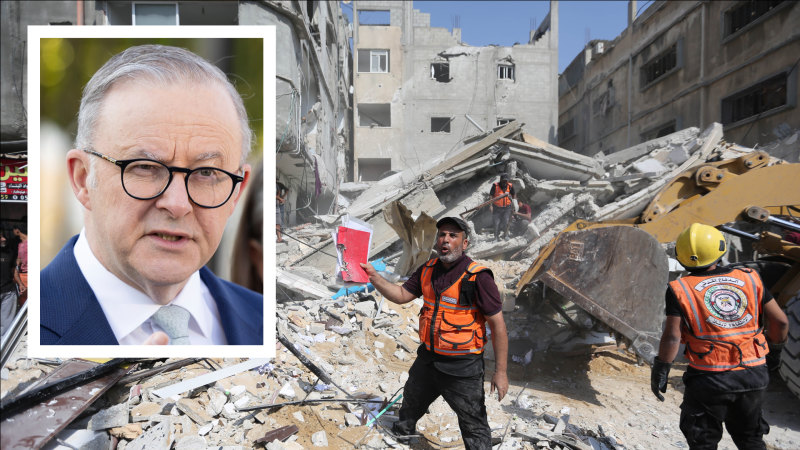 Albanese cool on French call for international coalition to fight Hamas
October 24, 2023
Save articles for later
Add articles to your saved list and come back to them any time.
A call for a global coalition to fight Hamas terrorists in Gaza has triggered Australian concerns about the risk of a "spillover" into wider conflict in the Middle East, with Prime Minister Anthony Albanese urging humanitarian help instead.
Albanese said his priority was to work with allies including the United States to help innocent civilians in the wake of the Hamas terror attack on Israeli civilians earlier this month, as the Israel Defence Force prepares to invade Gaza.
Prime Minister Anthony Albanese and Minister for Resources Madeleine King during a press conference in Washington DC on Tuesday.Credit: Alex Ellinghausen
His comments came after French President Emmanuel Macron raised the idea of extending an international coalition that is fighting Islamic State in Iraq and Syria and turning it against the Palestinian terrorist group in Gaza.
Macron made the remarks while standing alongside Israeli Prime Minister Benjamin Netanyahu in Jerusalem but gave no details of the way the coalition might work.
While Australia is a member of the international coalition against IS, Albanese responded with caution when asked about the French proposal at a press conference in front of the White House during his four-day visit to the US capital.
"It is important, and certainly we agree with the United States, that it's important that we avoid spillover on this issue, which would be bad for Israel, bad for the region," Albanese said.
Palestinian emergency services and local citizens search for victims in buildings destroyed during Israeli air raids in the southern Gaza Strip.Credit: Getty Images
"We want to see the people of Gaza have access to water and essentials. It's really important that innocent civilians be provided with that support. And our priority as well is providing support for Australians who are wanting to leave."
European Commission President Ursula von der Leyen also warned of the risk to the region in comments last Thursday during a visit to the US.
"We have seen the Arab streets fill with rage all across the region. So the risk of a regional spillover is real," she said.
European Union leaders are later this week expected to endorse a call for a "humanitarian pause" in hostilities to let more water, food and medicine into Gaza and to give more time for negotiations mediated by Qatar to secure the release of hostages.
Macron said that countries fighting IS in Iraq and Syria "should also fight against Hamas" and that France was ready to do so.
"This fight against terror is a matter of existence for Israel, but it is a matter of existence for all of us," he said, adding that Israel's security "cannot be sustainable without a decisive relaunch of the political process with the Palestinians."
He stressed that Hamas "does not carry the Palestinian cause" and called it "a terrorist group whose very objective is the destruction of the State of Israel."
Hamas "must be fought with force," he said. "And the Palestinian cause must be heard with reason."
The Biden administration responded to Macron's remarks by emphasising its bilateral support for Israel including the supply of military equipment.
"Our focus right now is making sure Israel has what it needs to defend itself and to go after Hamas, particularly leadership," said the US National Security Council coordinator for strategic communications, John Kirby, when asked about Macron's remarks.
"We have almost daily now provided security assistance to Israel.
"So our focus is really on helping Israel from a bilateral perspective, be able to beat back the terrorists, and then also, obviously, to work on the humanitarian situation, to get hostages home, of course, and take the necessary force protection measures we need for our troops in the region."
Kirby, speaking to reporters in a briefing at the Australian embassy in Washington DC, said the US was "deeply concerned" about the danger of the conflict spreading to other countries in the region and added there was "no question" that Iran was supplying weapons to militias that were firing on US forces.
"One of the reasons why the President has added additional force posture in the region, to include two carrier strike groups, is to try to prevent that from happening," he said of the risk of conflict spreading.
Foreign Minister Penny Wong pledged $10 million in aid to the people of Gaza on October 14, but the main corridor for supplies has been cut at the Rafah crossing between Gaza and Egypt, a key barrier also in Australian efforts to help 46 Australians who are seeking to flee the conflict.
Albanese said the government was talking to the Egyptian government to try to move the Australians to safety.
"Our priority has been getting both people in Israel, but also people in Gaza, who want to leave, who are Australian citizens, out," he said in Washington.
"We've also continued to emphasise the importance of humanitarian support for people in Gaza.
"We have engaged with Egypt as well, very directly, because Australian citizens need that protection.
"I continue to emphasise that Australia's position is for the protection of innocent lives. We mourn as a nation every innocent life which has been lost in this conflict, whether it be Israeli or Palestinian. Every innocent life is valued. And there is a need to make sure that international law is respected and upheld."
More coverage of the Hamas-Israel conflict
Cascading violence: Tremors from the Hamas attacks and Israel's response have reached far beyond the border. But what would all-out war in the Middle East look like?
The human cost: Hamas' massacre in Israel has traumatised – and hardened – survivors. And in Gaza, neighbourhoods have become ghost cities.
'Hamas metro': Inside the labyrinthine network of underground tunnels, which the Palestinian militant group has commanded beneath war-ravaged Gaza for 16 years. The covert corridors have long provided essential channels for the movement of weapons and armed combatants.
What is Hezbollah?: As fears of the conflict expanding beyond Israel and Hamas steadily rise, all eyes are on the militant group and political party that controls southern Lebanon and has been designated internationally as a terrorist group. How did it form and what does Iran have to do with it?
Get a note directly from our foreign correspondents on what's making headlines around the world. Sign up for the weekly What in the World newsletter here.
Most Viewed in World
From our partners
Source: Read Full Article