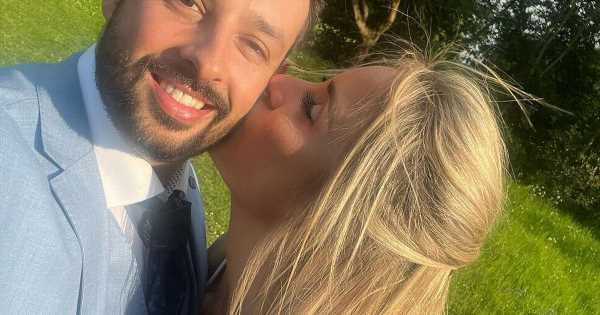 MAFS' Peggy proudly shows off wedding vow renewal pics with delighted groom Georges
November 16, 2023
Married At First Sight star Peggy Rose has given fans a behind-the-scenes glimpse into her wedding vow renewal with husband Georges, as she shared a carousel of sweet images on Instagram.
The pair have had their fair share of ups and downs, with Peggy dramatically announcing that she was leaving the experiment just a few weeks ago. But now they appear to be loved up as ever, with Peggy recently calling Georges her "Prince Charming".
One day after the reunion episode aired on E4, Peggy shared some adorable snaps, looking as loved up as ever with her husband. In one of the selfies of the pair, Peggy can be seen planting a kiss on Georges' cheek, and in another, they are romantically kissing each other on the lips.
The reality star captioned the snap: "EXCLUSIVE preview of our first selfies after our wedding vow renewals! Thank you again for all your support at the start, beginning and especially the end!"
She continued: "P.S. Apologies for adding music to all my posts, George's hates it but I love it haha – to me, music touches emotions that words can't describe and this was definitely one of these moments!!"
Fans flooded to the comments to gush over the couple, as one fan said: "All the love to you two love birds", while another added: "Just look at you two all loved up together x."
A third chimed in: "Congratulations to you both and Peggy your an absolute lady", while another added: "Wishing you both all the Happiness in the world ! I've loved watching your story ! Much love to you Both xx".
Although Peggy has faced some negative comments throughout her time on the reality show, she recently revealed toOK! that the public has generally been "supportive" of her and her husband Georges.
"It's been so lovely, it's mad and just so surreal," she said. "I'm grateful for being matches with Georges – we've had our ups and downs, but I feel like every relationship goes through that."
Peggy's latest post followed after she reportedly confirmed she will be taking a surprise new career role in an adult pantomime.
Peggy will take a new role as Fairly Barbie in The Entertainment Providers' Jack and His Giant Beanstalk,Digital Spyreports. The adult pantomime will arrive at London's Prince of Wales Theatre next month from December 8 – December 22.
Source: Read Full Article