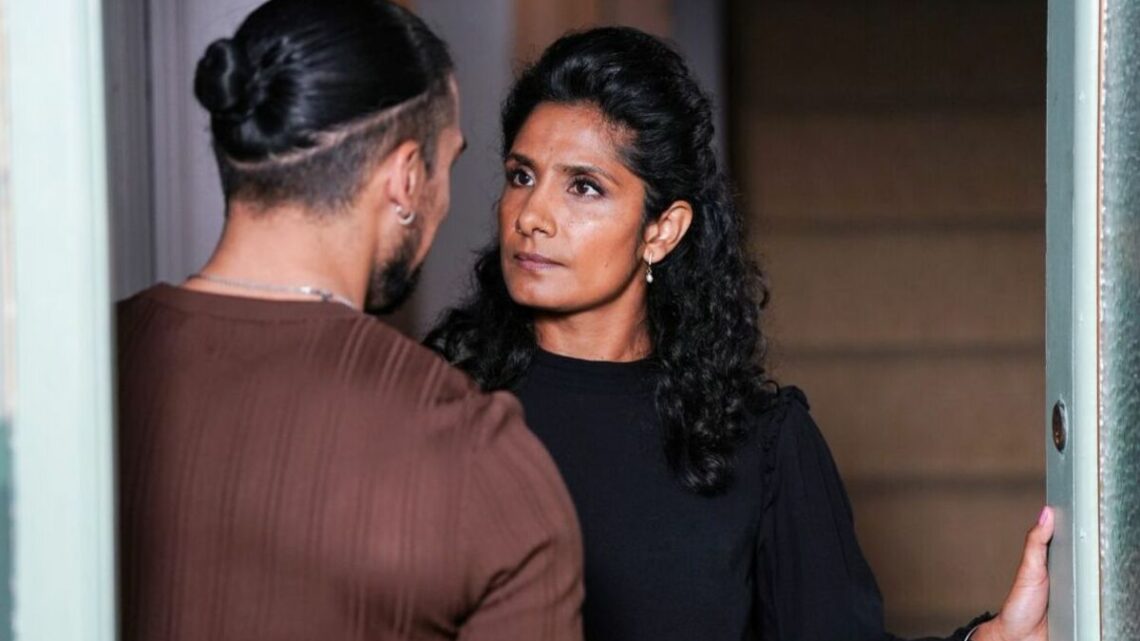 EastEnders' Suki Panesar puts herself in danger as she plots to expose Ravi
September 13, 2023
EastEnders: Ranveer pressures Suki over their business contract
EastEnders' Suki Panesar (played by Balvinder Sopal) takes a huge risk in upcoming episodes as she finds out the truth about Ravi Gulati (Aaron Thiara).
Viewers of the BBC soap know that Ravi killed Ranveer Gulati (Anil Goutam) last year, but because Suki had also launched a blow to his head in self-defence, Ravi led her to believe she had killed him.
It seems she will find out the truth in upcoming episodes, and official spoilers reveal she is out for revenge because her innocent son Kheerat Panesar (Jaz Deol) is currently serving a prison sentence for her.
In scenes yet to air, Suki convinces Denise Fox (Diane Parish) to give a statement on the incriminating video of Ravi against Jack Branning (Scott Maslen) and Chelsea Fox's (Zaraah Abrahams) wishes, but due to their lack of physical evidence and Suki's previous failed statement, the police dismiss them both.
Denise tries to cut her ties with the Panesars, but later Suki arrives and reveals a new plan – she's going to secretly record Ravi's confession.
READ MORE Bobby Brazier hopes Strictly 2023 partner 'doesn't see' his 2am video
Later, Suki meets Ravi in The Albert to secretly record his confession, but an ill-timed phone call from the prison forces her to stop.
Ravi then threatens more harm to her family if she doesn't keep quiet.
Suki pleads with Denise to help put Ravi away once and for all but she refuses, fearing for her family's safety.
Suki later regrets having told Davinder "Nugget" Gulati (Juhaim Rasul Choudhury) some details about his father.
Don't miss…
Inside star-studded care home where Jean Boht died along with EastEnders stars[LATEST]
EastEnders' Brian Conley shuts down 'feud' rumours as he confirms exit[INTERVIEW]
EastEnders star Danielle Harold addresses I'm a Celeb rumours[VIDEO]
We use your sign-up to provide content in ways you've consented to and to improve our understanding of you. This may include adverts from us and 3rd parties based on our understanding. You can unsubscribe at any time. More info
Ravi can sense something is up with his son, but after a heart-to-heart with Zack Hudson, (James Farrar) he wrongly puts his behaviour down to typical adolescent angst.
Elsewhere, Nugget tries to convince Denzel Danes (Jaden Ladega) to skip school, which he refuses before Suki finds Denzel.
He heads to Walford East to confront his dad about Suki's claims.
Nugget takes refuge at No.41 but soon Ravi arrives in search of his son.
Suki is already in danger as Ravi isn't someone to be crossed, but with her turning his son against him, it's even more likely he will try to silence her.
Is Suki at risk as she plots against the dangerous man?
EastEnders continues on Wednesday at 7.30pm.
Source: Read Full Article