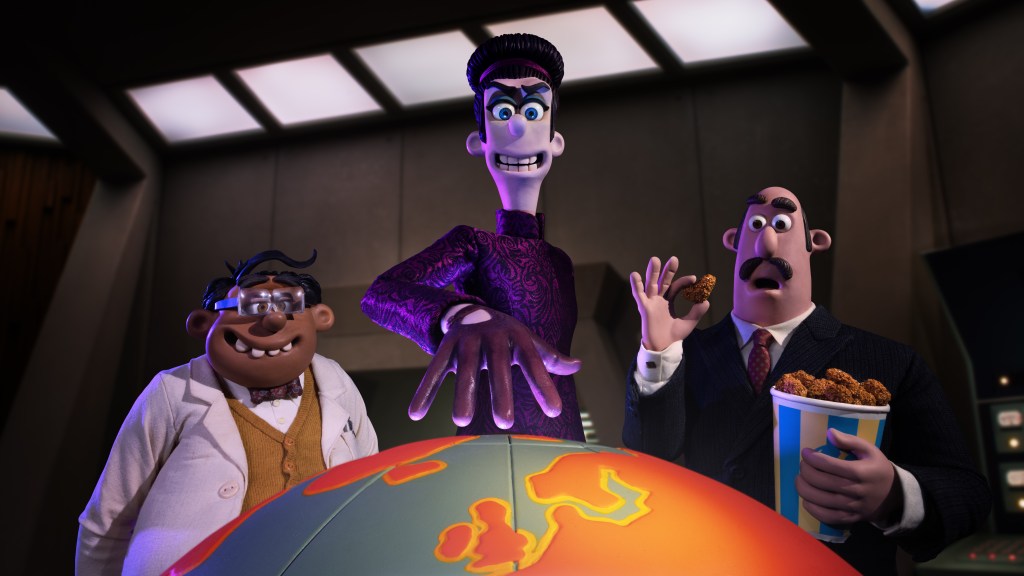 'Chicken Run: Dawn Of The Nugget': Netflix Unveils More Cast, Trailer & Images
September 5, 2023
Netflix has unveiled more cast, trailer (see below) and first-looks for its highly-anticipated Chicken Run sequel.
UK comic actor Peter Serafinowicz will play Reginald Smith in Dawn of the Nugget, while Miranda Richardson is reprising her role as archvillain Mrs Tweedy.
From multi-Academy and BAFTA-winning Aardman, Dawn of the Nugget comes more than 20 years after its hugely-popular predecessor. A trailer today gives more of a flavor of what viewers can expect when it launches on December 15. The movie follows Ginger, who, having pulled off a death-defying escape from Tweedy's farm, has finally found her dream – a peaceful island sanctuary for the whole flock, far from the dangers of the human world. When she and Rocky hatch a little girl called Molly, Ginger's happy ending seems complete, but back on the mainland the whole of chicken-kind faces a new and terrible threat.
Related Stories
Breaking News
Netflix Unveils Mandla Dube Feature 'Heart Of The Hunter' & Rom-Com 'Soweto Love Story' On South African Content Slate
News
'The Crown' Teaser: Final Season Will Feature Prince Charles' Second Royal Wedding
Dawn of the Nugget features huge stars including Thandiwe Newton (Ginger), Zachary Levi (Rocky), Bella Ramsey (Molly) and Imelda Staunton (Bunty), along with Lynn Ferguson (Mac), David Bradley (Fowler), Jane Horrocks (Babs), Romesh Ranganathan (Nick), Daniel Mays (Fetcher), Josie Sedgwick-Davies (Frizzle), Serafinowicz (Reginald Smith), Nick Mohammed (Dr Fry) and Richardson (Mrs Tweedy).
Staunton, Ferguson and Horrocks are all reprising roles alongside Richardson. The voice of Ginger has been recast to Newton, which Julia Sawalha, who played the character in Chicken Run, has previously said she was "devastated and furious" about.
Sam Fell is director, Steve Pegram and Leyla Hobart are producers and screenplay is by Karey Kirkpatrick, John O'Farrell and Rachel Tunnard. EPs are Peter Lord, Nick Park, Carla Shelley, Fell, Paul Kewley and Kirkpatrick.
Dawn of the Nugget will debut at next month's London Film Festival.
https://youtube.com/watch?v=icfv_T5pkdI%3Fversion%3D3%26%23038%3Benablejsapi%3D1%26%23038%3Borigin%3Dhttps%3A
Must Read Stories
WB Discovery Expects Earnings Hit Of Up To $500M From Strikes This Year
Linklater; Woody Allen Applause & Protest; Hamaguchi; 'Priscilla'; More
WGA's Labor Day Message: Companies "Wrestling Amongst Themselves" For Deal
ITV Confirms 'Love Island: All Stars'; Classic UK Contestants To Return
Read More About:
Source: Read Full Article