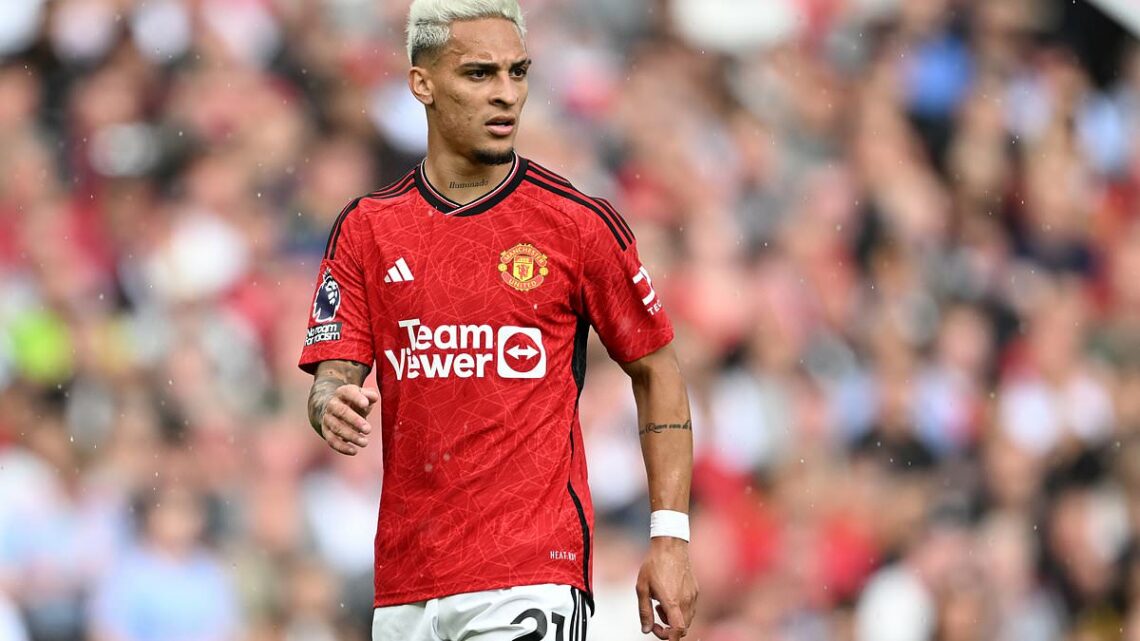 Man United break their silence on Antony's domestic abuse allegations
September 6, 2023
Man United FINALLY break their silence on Antony's domestic abuse allegations as they insist they're 'taking the matter seriously' amid claims he threatened his ex while she was pregnant, damaged her breast implants and sliced her finger
Man United winger Antony is the latest high-profile star to face accusations 

Antony has denied the allegations made by his former partner Gabriela Cavallin

Man United stressed they are 'taking the matter seriously' in a statement
Manchester United have broken their silence following domestic abuse allegations made against Antony, with the forward subject to police enquiries.
The 23-year-old winger was dropped from the Brazil squad on Monday night, just days after Mason Greenwood left United on loan for Getafe following a six-month club investigation.
Antony has denied claims by his ex-girlfriend Gabriela Cavallin that he attacked her while she was pregnant, damaged her breast implant, cut her finger with a glass and threatened to throw her out of a speeding car.
United issued a statement to confirm the club are aware of the allegations against the 23-year-old.
'Manchester United acknowledges the allegations made against Antony and notes that the Police are conducting enquiries,' a club statement read.
Man United stressed that the club are taking the allegations made against Antony seriously
The DJ and influencer Gabriela Cavallin made the allegations against Antony with investigations ongoing
'Pending further information, the club will be making no further comments.
'As a club, we are taking this matter seriously, with consideration of the impact of these allegations and subsequent reporting will have on survivors of abuse.'
Antony had released a statement in June saying he had been falsely accused by his former girlfriend of domestic violence. 
The Brazilian accepted in a recent statement that his relationship with his former partner was 'tumultuous' but insisted he 'never committed any physical aggression'. 
Man United faced pressure to act after being dragged into another domestic violence storm in the wake of Greenwood's departure.
The club decided that the 21-year-old can no longer player for them after he was suspended for 18 months following allegations of attempted rape and assault, even though the Crown Prosecution Service dropped all charges in February. Greenwood denies the claims.
Female Fans Against Greenwood's Return, set up to campaign against the possibility of him wearing the United shirt again, responded to the accusations made against Antony by his former partner and called for clubs to do more to tackle the problem.
'The allegations against Antony are horrific and show that clubs and football authorities need to step their game up in how they respond to these issues, because they're going to keep happening,' the group stated.
'There need to be protocols in place that take decisions out of club hands as we know clubs are incapable of being objective and acting in the wider best interest in these cases.'
Antony said their relationship was 'tumultuous' but insisted he 'never committed any physical aggression'
Cavallin filed a police report in Brazil in June and then spoke out during a television interview
The allegations against Antony come days after Mason Greenwood left Man United on loan 
Cavallin has filed a complaint against Antony to Greater Manchester Police having originally alleged four incidents of domestic violence, bodily injury and threat to authorities in Sao Paulo in June.
She went into further detail with Brazilian website UOL on Monday, revealing WhatsApp screenshots and pictures of her injuries.
Cavallin accused Antony of attacking her in a car in June of last year when they were on holiday in Brazil and threatening to push her out of the vehicle at high speed.
She followed the player to Manchester when he joined United from Ajax for £81.3million and claims she was the victim of another assault in January which dislodged a breast implant and left her with a cut head.
The final attack, she claims, happened in May when Antony threatened her with a glass and she cut a finger trying to defend herself.
'I was really scared that I wouldn't be able to get out of the house,' she said. 'Antony locked the door and wouldn't let me go out. I had my finger open, all hurt. He broke my things, took my passport.'
Antony issued a statement on Monday night denying the allegations from Cavallin. 'I can say with confidence that the accusations are false,' he wrote on social media.
'My relationship with Ms Gabriela was tumultuous, with verbal offenses from both sides, but I never practiced any physical aggression.
'I trust the ongoing police investigations will reveal the truth about my innocence.'

Source: Read Full Article