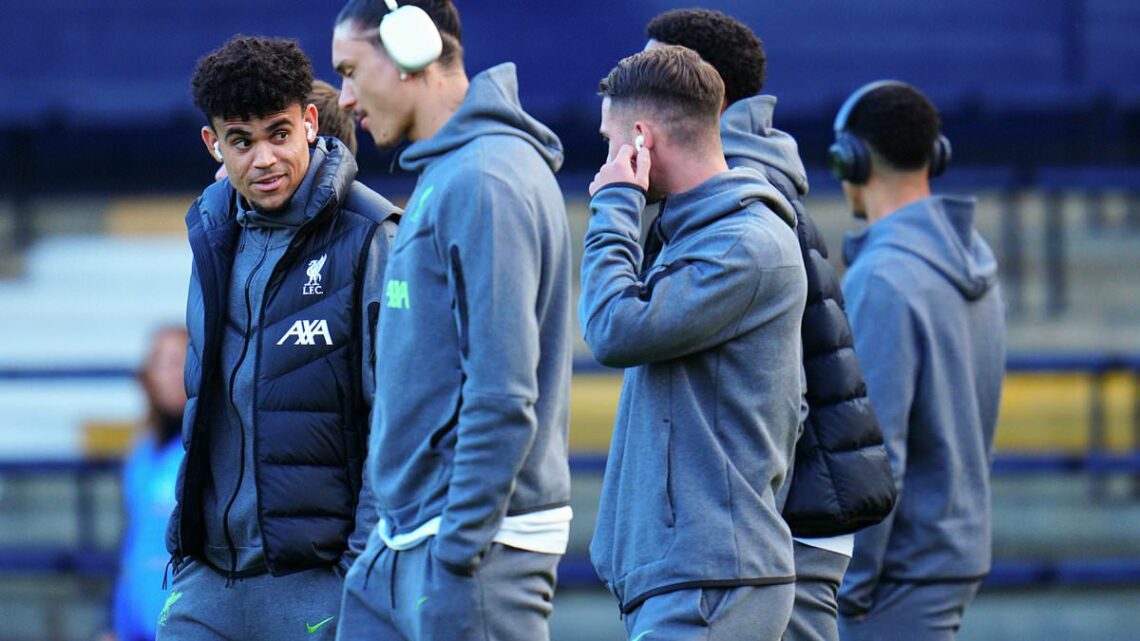 Luton vs Liverpool – Premier League: Latest scores and updates
November 5, 2023
Luton vs Liverpool – Premier League LIVE: Team news, scores and updates as Luis Diaz is named among the substitutes for Jurgen Klopp's side
Follow Mail Sport's live blog for all the latest team news, scores and updates from Kenilworth Road as Luton host Liverpool in the Premier League.
Klopp explains Diaz inclusion
Jurgen Klopp has explained the decision to place Luis Diaz in his matchday squad today and revealed the Colombian made the decision to return to training three days ago.
The 26-year old's father is currently missing in his home nation.
Speaking to Sky Sports, Klopp said: 'It's still pretty emotional but Luis decided three days ago to start training again.
'All the signs he gets are very positive. He could come on as well, he trained well. Nobody can really measure how something like that feels.'
Liverpool's chance to move up the table
Liverpool will feel confident of extending their good run of form tonight against a Luton side who are still finding their feet in the Premier League.
Three points can move the Reds up to second in the league table and just one point behind Man City. They'll need to keep their goal difference ahead of Tottenham's to do so who play Chelsea tomorrow.
Lowdown on Luton
Since earning their first Premier League win at Everton at the end of September, it was a tough October for Rob Edwards' side.
They lost at home to Burnley and Spurs, before a 2-2 draw at Nottingham Forest. Last time out, they fell to a 3-1 defeat at Villa Park, with their only goal that day coming courtesy of an own goal.
Will the Hatters have a brighter November? It's a tough game hosting Liverpool, but maybe having no expectations will allow them to cause a shock.
The Liverpool players arriving – including Luis Diaz
With the time counting down to kick-off, the players are on site and getting ready ahead of the 4.30 start-time in Luton. Luis Diaz looks relaxed as he hangs with the Liverpool squad at Kenilworth Road.
Liverpool have arrived in Bedfordshire for this one
After four wins on the bounce, can they make it five in a row before Thursday's trip to Toulouse in the Europa League?
Liverpool team news
There's one change for Jurgen Klopp's visitors too, with Kostas Tsimikas dropped to the bench, and Joe Gomez brought into the starting 11.
Much will be made of the decision to put Diaz on the bench though. Will he be a crucial part of this afternoon's match?
Luton Town team news
The Hatters make one change from the side that lost at Aston Villa last weekend. Jacob Brown is replaced by Andros Townsend.
TEAM NEWS IN – Diaz on the bench
The team news is in, and Luis Diaz is named among Jurgen Klopp's substitutes for today's game at Luton.
Their first meeting since January 2008
It's been a long time coming for a game between Luton Town and Liverpool, the last meeting being an FA Cup replay at Anfield in January 2008, which the Reds won 5-0.
It's their first league meeting at Luton's ground since a goalless draw in August 1991. Twenty-two years later, they're meeting as equals once more.
Luton Town have a new home dressing room
As part of the ongoing work at Luton's Kenilworth Road stadium, the team have posted their new look dressing room on X (formerly Twitter). Can they make it a lucky place to get ready before big games?
The latest update on Luis Diaz's father
There is an ongoing search for Luis Diaz's father, Luis Manuel, who was abducted near the Venezeulan border last Saturday. It's a difficult time for the family, of course, and Luis Diaz's wife has posted an emotional birthday message for their daughter, who turns two in the midst of this international incident.
He's part of the squad for today's game, and we'll know the Liverpool and Luton teams in around ten minutes time.
Hello and welcome to Luton Town versus Liverpool
Hello and welcome to Mail Sport's live coverage of the Premier League game between Luton Town and Liverpool.
Kick-off at Kenilworth Road is at 4.30pm, just an hour and 20 minutes away. We'll have build up and team news as well as coverage of the match itself.
TOP STORIES

Source: Read Full Article