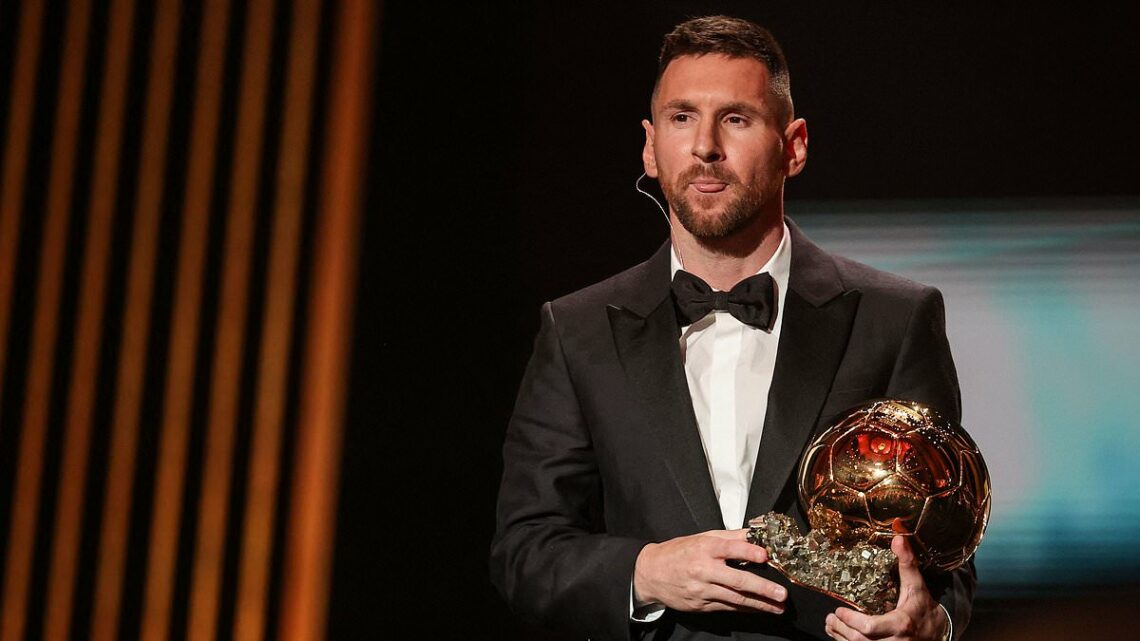 Lionel Messi wins his EIGHTH 2023 Ballon d'Or
October 31, 2023
Lionel Messi wins the Ballon d'Or 2023 award beating Erling Haaland to the coveted prize
Lionel Messi clinched his eighth Ballon d'Or title on Monday night in Paris
The World Cup winner pipped Erling Haaland and Kylian Mbappe to the award 
Click here to listen to the latest episode of Mail Sport's It's All Kicking Off 
Lionel Messi has clinched his eighth Ballon d'Or title, winning the men's award at the 2023 ceremony following his outstanding season leading Argentina to World Cup glory. 
Before moving to Inter Miami in the summer, the 36-year-old masterminded Argentina's victory in Qatar, scoring twice during the final, while also finding the back of the net during a penalty shoot-out, to help the team defeat 2018 winners France.
He also scored a whopping 32 goals in 55 games across all competitions for PSG, to help the side clinch the Ligue 1 title. 
David Beckham, the co-owner of Inter Miami, presented him with the coveted award at the Theatre du Chatelet in Paris, to a standing ovation from members of the crowd. 
'It's nice to be here once more to enjoy this moment,' said Messi. 'To be able to win the World Cup and achieve my dream.'
Lionel Messi claimed his eighth Ballon d'Or title on Monday night in Paris
After picking up his award, the Argentina World Cup winner reflected on his career saying it was his dream to win the World Cup 
The four-time Champions League winner arrived at the event alongside his family
Your browser does not support iframes.
Didier Drogba, who was leading the ceremony, asked if this Ballon d'Or was more special, considering it came from winning the 2022 World Cup, to which the 36-year-old replied: 'They're all special.'
He added: 'I couldn't imagine having the career I've had and everything I've achieved, the fortune I've had to be part of the best team in history.
'To win the Copa America and to get the World Cup after all those difficult moments in the national teams,' continues Messi.'
2023 Ballon d'Or rankings 
1st Lionel Messi (Inter Miami)
2nd Erling Haaland (Man City)
3rd Kylian Mbappe (PSG) 
4th Kevin de Bruyne (Man City)
5th Rodri (Man City)
6th Vinicius Jr (Real Madrid)
7th Julian Alvarez (Man City) 
8th Victor Osimhen (Napoli)
9th Bernardo Silva (Man City)
10th Luka Modric (Real Madrid)
11th Mohamed Salah (Liverpool) 
13th Yassine Bounou (Al-Hilal)
14th Ilkay Gundogan (Barcelona)
15th Emiliano Martinez (Aston Villa)  
16th Karim Benzema (Al-Ittihad) 
17th Khvicha Kvaratskhelia (Napoli)
18th Jude Bellingham (Real Madrid) 
19th Harry Kane (Bayern Munich) 
20th Lautaro Martinez (Inter Milan) 
21st Antoine Griezmann (Atletico Madrid)
22nd – Kim Min-Jae (Bayern Munich)
23rd – Andre Onana (Manchester United)
24th – Bukayo Saka (Arsenal)
25th – Josko Gvardiol (Man City)
26th – Jamal Musiala (Bayern Munich)
27th – Nicola Barella (Inter Milan)
= 28th – Randal Kolo Muani (Paris Saint Germain) and Martin Odegaard (Arsenal)
30th – Ruben Dias (Man City)
Speaking on Messi, Beckham said: 'It's very special to say he's a Miami player and he's in our city. He'll celebrate this with his team-mates and his family in his way. 
'We'll do our best to celebrate it in the Miami way. I'm sure we can do a good party.' 
The four-time champions league winner beat some tough competition to claim first place, with Erling Haaland coming in second, Kylian Mbappe coming in third and Kevin De Bruyne ranking fourth.  
There were seven Man City players included in the rankings with five of them, Haaland, De Bruyne (4th), Rodri (5th), Julian Alvarez (7th) Bernardo Silva (9th) making the top ten. 
And it was a big night for the Premier League champions, with the club also picking up the best team award. 
Aitana Bonmati, meanwhile, claimed the women's Ballon d'Or, after helping to guide Spain to World Cup glory in the summer, where she was named the player of the tournament after her epic performances. 
The Barcelona midfielder also helped her club side clinch their fourth successive Liga F title, while also winning the women's Champions League this year – their second European title in the last three seasons. 
'I'm very proud to win the Ballon d'Or,' she said. 'Football is a collective sport so I'd like to extend this prize to my team-mates and staff.
'As role models we have a responsibility on and off the pitch.' She added. 'We should be more than athletes and keep leading by example and fighting together for a better, peaceful and equal world.'
'Finally congratulations to the other nominees. They're great footballers.'
Chelsea star Sam Kerr came second, while Barcelona stars Salma Paralluelo and Fridolina Rolfo came third and fourth. 
England's Lionesses Mary Earps and Rachel Daly made the top-ten, with the goalkeeper placing fifth, while Daly finished tenth. 
Haaland, despite coming runner-up, didn't go home empty-handed, claiming the Gerd Muller Trophy for the best striker, after his stunning 52-goal season, helping City win the Premier League, FA Cup and Champions League. 
Erling Haaland came second in the rankings after his excellent season helping Man City win the treble
Kylian Mbappe came third, after the France superstar lead his team to the final of the World Cup in 2022 – where he scored a hat-trick
Haaland didn't go home empty handed though and was recognised for his 52-goal season in 2022-23 picking up the Gerd Muller Trophy for the best striker
Speaking on his award, Haaland lauded his team-mates, when asked how he was so dangerous in front of goal last season. 
'It's a mix between having amazing team-mates and an amazing club from the physios to the coaches it's a good mix of a lot of teams,' Haaland said. 
'The passes I get from some of them sitting here tonight too. It's a mix between a lot of things and I'm here to try to help the team.'
He was also asked by Drogba on whether he had any tips on how to score goals, and Haaland said: 'I mean it's my job so that's why I'm here now because that's what I'm good at. 
'My advice is to stay hungry and try and stay in the moment and to stay sharp. 
'You want to score and have this feeling, as I had quite a few times last season. And that's why I want to do it more.'
Aitana Bonmati claimed the women's Ballon d'Or, after helping to guide Spain to World Cup glory in the summer
She also helped Barcelona win the Champions League, a league title and Spanish Super Cup
Vinicius Jr claimed sixth place behind Rodri in the top-10 and was also presented with the Socrates award earlier in the night, in recognition of the work he has done away from the football pitch in fighting against racism. 
Napoli Star Victor Osimhen, who scored a whopping 31 goals in 39 games for the Serie A outfit, placed eighth in the rankings, one spot ahead of Man City's Silva. 
Real Madrid's Luka Modric claimed the 10th spot in the rankings, narrowly edging Liverpool forward Mohamed Salah, who finished 11th, despite enjoying a stand-out 2022-23 season for the Reds, scoring 30 goals in 51 games. 
Several big names from the Premier League were also named in the top-30 players, with Arsenal duo Bukayo Saka and Martin Odegaard placing at 24th and 28th in the standings respectively.
He also beat Bayern Munich's Harry Kane, who finished 19th in the standings, despite scoring 32 goals last season. 
Jude Bellingham, who masterminded Real Madrid's 2-1 El Clasico win on Saturday, his first appearance in the derby, placed 18th in the standings, while also claiming the Kopa trophy for the best young player. 
Inter Miami co-owner David Beckham presented Messi with his award during the ceremony
Gary Lineker was also in attendance to deliver Haaland his award for best striker
Manchester City stars were ever-present throughout the evening, with the club also winning the men's best-team award
He also beat Bayern Munich's Harry Kane, who finished 19th in the standings, despite scoring 32 goals last season. 
Aston Villa goalkeeper Emiliano Martinez was ranked 15th in the standings, but there was controversy inside the auditorium, after the Argentina World Cup winner was presented with the Yashin award. 
After his name was read out by Drogba, the goalkeeper was booed by fans inside the theatre as he walked to the stage, before the ex-Chelsea star stepped in asking fans to show some respect. 
Barcelona star Ilkay Gundogan finished one place below him in 14th, while Al-Ittihad striker Karim Benzema also placed inside the top-20, finishing 16th.  
And Barcelona's women's side also recognised, with president Joan Laporta picking up the best women's team award
Tennis star Novak Djokovic was also present, after he was pictured at the Rugby World Cup final in Paris earlier this week
IT'S ALL KICKING OFF! 
It's All Kicking Off is an exciting new podcast from Mail Sport that promises a different take on Premier League football.
It is available on MailOnline, Mail+, YouTube, Apple Music and Spotify.
Your browser does not support iframes.
Source: Read Full Article