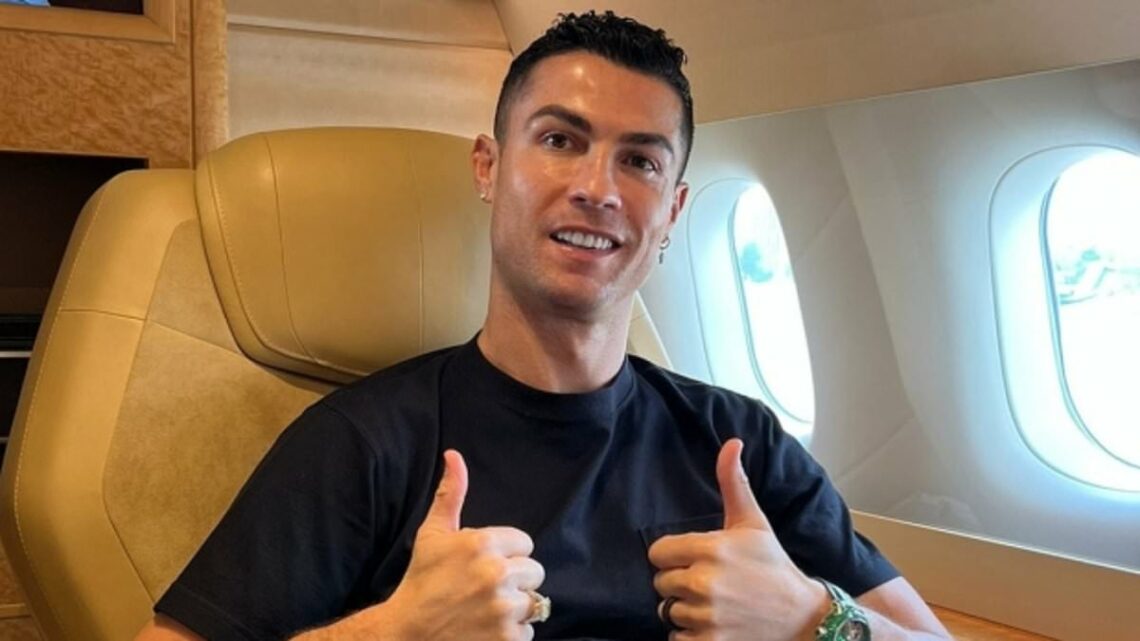 How do Messi and Ronaldo's new lives compare?
November 15, 2023
Cristiano Ronaldo is loving life as the centre of attention in Saudi Arabia, while Lionel Messi lives in a £7.3m apartment and has been spotted in Miami's supermarkets – but how do their new home lives compare?
Cristiano Ronaldo and Lionel Messi are arguably the greatest two players ever
The pair left Europe for pastures new in unfamiliar leagues over the past year
What is the WORST Premier League hat-trick? – Find out on It's All Coming Up 
Cristiano Ronaldo and Lionel Messi have dominated world football over the past two decades, with the stars scoring more than 1,500 career goals and lifting 74 trophies between them.
The rivalry has been a key talking point in the sport too, with it at its fiercest from 2009 to 2018 when the pair played for Real Madrid and Barcelona respectively. 
They were regularly trading blows in the race for the Ballon d'Or, with Messi's win in the 2023 edition taking his tally to eight, which exceeds Ronaldo's five.
Along with their supremacy in the upper echelons of European football, they have also both switched their surroundings for pastures new in a supposedly lesser league over the past year.
Ronaldo, 38, joined Saudi Pro League side Al-Nassr at the end of 2022 after his acrimonious departure from Man United, while Messi, 36, moved on from PSG to join David Beckham's MLS franchise Inter Miami in the summer. 
But how are the pair settling in to their new homes, and what are their lifestyles like? Mail Sport takes a look…
Lionel Messi (left) and Cristiano Ronaldo (right) are arguably the greatest players of all-time and both moved to supposedly 'lesser leagues' for a new challenge over the past year 
Messi has scored 11 goals in 14 games for Inter Miami and has sprinkled stardust on the MLS
Ronaldo has continued to take the acclaim of fans after making the move to Saudi Arabia
Your browser does not support iframes.
Since Messi joined Inter Miami in July, the Argentine World Cup winner has acclimatised effortlessly, with 11 goals and five assists in just 14 games as he has sprinkled stardust and firepower to the previously beleaguered MLS outfit.
Off the field, the adaptation has been just as smooth, with Messi – who is set to earn $54million-per-year (£44m-per-year) – spotted with his family within days of his arrival out and about in Miami.
Along with his wife Antonela and their three sons Mateo, Thiago and Ciro, he was seen grocery shopping at US supermarket chain Publix, with cereals such as General Mills' Lucky Charms and Kellogg's' Fruit Loops even in the family's shopping basket. 
He was also quickly swarmed by supporters when trying a sneaky exit from famous Italian restaurant Cafe Prima Pasta in Miami Beach, with one over enthusiastic individual even kissing him on the cheek.
Messi – who rejected overtures from Saudi Arabian clubs along with a romantic return to Barcelona – no doubt also chose a move to Inter Miami due to his previous links with the area.
Reports stated he was in favour of the deal due to its proximity to Argentina, while Miami is home to one of America's largest Latino populations. 
The Argentine has also reportedly owned a $9m (£7.3m) apartment in Miami for a number of years.  
According to Spanish outlet Cadena Ser, the World Cup winner bought one in the Porsche Design Tower all the way back in 2019.
Lionel Messi has been settling into life in Miami well with wife Antonela and their three sons
Messi has been spotted immersing himself in US culture by going to supermarkets in Miami  
He has regularly been swarmed by adoring supporters when out and about in his new city 
The Tower, which was built in 2017, is an astonishing 60-floor building and is situated between Bal Harbour and Aventura which is about 25 minutes away from the Inter Miami stadium. 
It offers residents stunning views of the surrounding area, including Miami Beach, which is located just seconds away.
The building also boasts several lifts designed just for residents' cars, allowing owners to park their vehicles in their exclusive suite. 
As well as car lifts, the apartment even has its own private restaurant and an outdoor lounge that faces the sea. 
Messi's jaw-dropping new home also features a cinema, along with golf and racing simulators, which offers perfect downtime opportunities for his family. 
He isn't far from a familiar face either. His friend and former international teammate Sergio Aguero reportedly lives in Hollywood, Miami after he and his girlfriend Sofia Calzetti bought a $15m (£12.2m) waterfront mansion.
Meanwhile social media star Adin Ross also claimed he was outbid for a separate (£8.74million) mansion by Messi, which is believed to be for either the player's parents or grandparents to stay in when they come to watch him in action for the MLS side.
Taking to social media to lament his loss, Ross hinted that there was no way of competing with the World Cup winner, who in May was named the second-highest paid athlete in the world by Forbes.
Messi is thought to have made £107m in 2022 in an even split between on-field and off-field earnings during his final year at French giants PSG.
His MLS contract with new side Inter Miami is all-but unmatched by his peers in the league, combining a bumper payday with lucrative add-on deals with AppleTV and club sponsor Adidas. 
His deal is reportedly being bankrolled in part by Adidas, with the sportwear giants giving him a share of the shirts they sell with his name on, and Apple TV, who are sharing the money made from TV subscriptions to MLS. 
All in all, the Argentine great has settled into life in Miami well and his own private bodyguard – who is ex-navy SEAL Yassine Chueko – has become an iconic figure himself for his presence by Messi's side throughout his time at his new club.
He has even been seen on the touchline at games, following Messi's every move to protect his safety in case of pitch invaders. 
Messi's $9m (£7.3m) apartment in The Porsche Design Tower offers stunning views of Miami
The luxury apartment has its own private restaurant, and an outdoor lounge that faces the sea
Messi's private bodyguard, ex-navy SEAL Yassine Chueko (right), has become an iconic figure
Like his long-term rival, Ronaldo has equally adapted on the pitch to his new surroundings, scoring 29 times and adding 11 assists in just 35 appearances since he signed for Al-Nassr on a staggering £173m-per-year deal. 
The switch to the Gulf nation will have taken a huge level of adjusting not just for Ronaldo, but for his partner Georgina Rodriguez and his five children that have joined him.  
The 37-year-old met Rodriguez while playing for Real Madrid and they have two kids together – Bella and Alana. Ronaldo also has three other children – Cristiano Jr. and twins Eva and Mateo.
Similarly like Messi and perhaps unsurprisingly given his stature in the game, Ronaldo has been treated like a king since moving to Saudi Arabia. 
He was given a heroes reception when 25,000 people welcomed him at Mrsool Park ahead of his debut for Al-Nassr, while he was originally based at the luxurious Four Seasons hotel in the Kingdom Suite upon his arrival. 
This had stunning views of Riyadh while it was within the 267m tall Kingdom Centre, which is home to designer boutiques such as Gucci and Louis Vuitton. 
The five-time Ballon d'Or winner is now staying in an exclusive gated community with round-the-clock security and has received gifts like a £630,000 custom-made watches from jewellery retailer Jacob & Co.
Ronaldo has also thrown himself in Saudi culture and the social scene and has been spotted rubbing shoulders with royalty at times.
He was pictured at Dariyah Nights – a shopping, art and music festival – with Minister of Sports Prince Abdulaziz bin Turki al-Faisal, which perhaps suggests his adaptation to life in Saudi Arabia has been more glitz-and-glamour than Messi's in Miami. 
Ronaldo was also present for Tommy Fury's boxing clash with Jake Paul in the kingdom and last month he led the huge names and celebrities in attendance at Tyson Fury's crossover bout with Francis Ngannou.
During the fight weekend, he was seen socialising with both Tommy and Tyson, although he did appear to be booed when he was shown on screen taking his seat ringside. 
His long-time partner Rodriguez, meanwhile, has been a hit on the social scene in Saudi.
Cristiano Ronaldo and long-term partner Georgina Rodriguez have been hits in Saudi Arabia 
The football legend has been treated like royalty in Saudi Arabia and met with Prince Mohammed bin Salman last month
Ronaldo also received a custom-made £630,000 Saudi-themed watch from Jacob & Co
The one-of-a-kind timepiece, with a dark-green Saudi theme to represent the country's flag and its main religion Islam, has 338 extremely rare gemstones embedded in it
Ronaldo has shared images online of the pool and outside area of his home in Saudi
Coverage of her social debut at the Joy Awards in January is said to have far outweighed that of famous actress Sofia Vergara who had been named 'Person of the Year'. British magazine Tatler also reported at the time that Rodriguez has already amassed a huge fanbase in Saudi, with one person describing her as an 'icon' before she even arrived.
Ronaldo's presence in Saudi Arabia has also encouraged an exodus of elite level European players to move to the Middle East, with the likes of Karim Benzema, Jordan Henderson, Sadio Mane and Neymar among those to join Saudi Pro League clubs.
However, during his first few months in Saudi Arabia, there were reports that he was already unhappy in the country and was seeking an exit as he struggled to adapt to the local culture with the language barrier also providing obstacles. 
In April, Rudi Garcia, Al-Nassr coach, left after rumours of a row with Ronaldo and other players over tactics. 
Ronaldo has found some differences in Saudi Arabia, previously telling reporters: 'The biggest change I have found in Saudi is obviously the heat and adapting schedules to train later in the day when it is cooler.
'But I have really gotten used to that now. The fans here have been incredible to me, welcoming me, and those that follow me to continue on this amazing journey.'
He has also spoken of the league's need to improve, as he told CNN: 'We have very good teams, very good Arab players, but the infrastructure – they need to improve a little bit more. Even the referees, the VAR system, should be a little quicker.
'But I'm happy here, I want to continue here, I will continue here.'
Overall, two of the greatest players in the history of the game have both adapted to their surroundings almost perfectly on the pitch, instantly becoming favourites among their respective clubs' fanbases.
Ronaldo stays in an exclusive gated community with Rodriguez and his five children 
He was one of the famous faces at Tyson Fury's fight with Francis Ngannou last month and was spotted socialising with both Tommy Fury and the Gypsy King (right) ahead of the bout
Ronaldo's long-term partner Georgina Rodriguez has also been a hit on the social scene in Saudi Arabia and was described as an 'icon' before she even arrived in the kingdom
However, off the pitch, it has been similar, with both stars slotting into new lifestyles and cultures away from Europe.
Messi seems to have seamlessly adapted to life in Miami with his family, with the Argentine not afraid to mingle in public and dip into American culture. 
Meanwhile, while Ronaldo did take a little time to combat the huge difference he faced when switching Manchester for Riyadh, he is driving new growth in football in Saudi Arabia and seems to be relishing being the star attraction of the kingdom.
Although, with the glitz-and-glamour of Saudi Arabia's Vision 2030 project – which aims to diversify the nation's income and reduce its dependence away from oil exports – coupled with the 'iconic' profile of Rodriguez, Ronaldo's new life has perhaps been more high profile. 
IT'S ALL KICKING OFF! 
It's All Kicking Off is an exciting new podcast from Mail Sport that promises a different take on Premier League football.
It is available on MailOnline, Mail+, YouTube, Apple Music and Spotify.
Your browser does not support iframes.

Source: Read Full Article