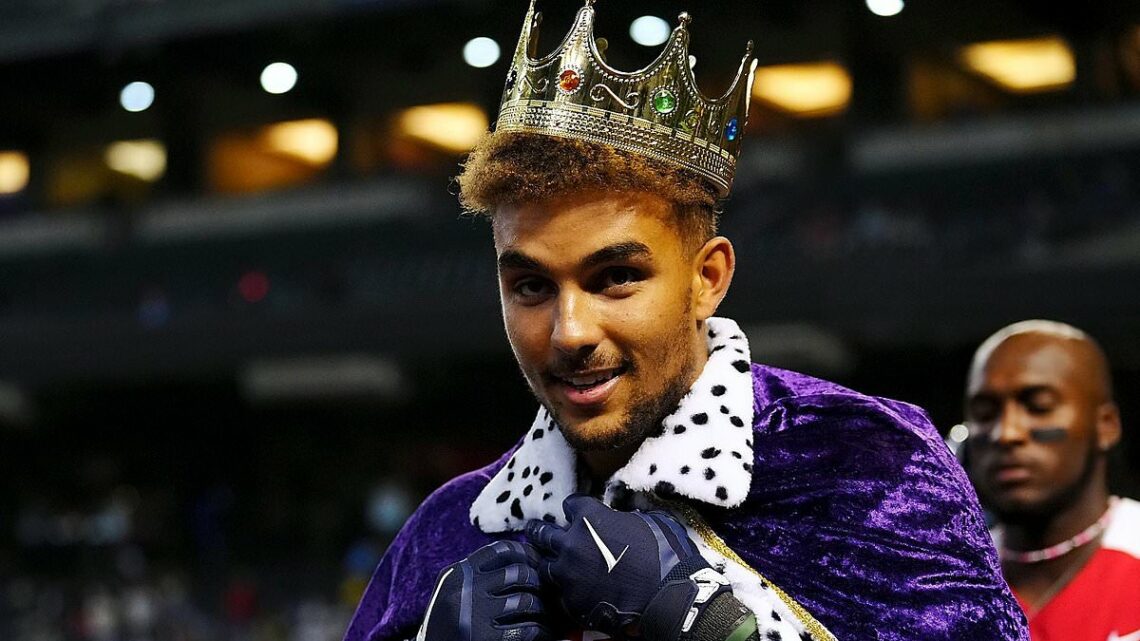 EXCLUSIVE: A new hope? Meet Harrison Ford, GB's new baseball talisman
October 30, 2023
EXCLUSIVE: A new hope? Meet Harrison Ford, Great Britain's talisman looking to lead their first crusade to baseball glory
Harrison Ford, 20, never saw himself representing Great Britain at the Olympics

The Seattle Mariners star could be heading for the 2028 Games in Los Angeles

But he thinks his parents are lying about the origin of his Hollywood star name!
'My parents say they didn't name me after him, but I think they are lying,' laughs Harrison Ford, answering Mail Sport's obvious opening question about his famous namesake.
The Seattle Mariners and Great Britain baseball star goes on to declare he is a fan of Indiana Jones. But this interview has not been set up to discuss the films of an 81-year-old actor. Rather, we are here to talk about a blockbuster the 20-year-old Ford hopes to star in at the home of Hollywood — the Los Angeles Olympics in 2028.
'It would be an honour to take part,' says the catcher — better known as Harry Ford — about the prospect of playing for Team GB at LA28 now baseball has been added to the programme.
'I definitely never saw myself being at an Olympics. It would be really special,' he says.
Special is also a word many would use to describe Ford, one of Major League Baseball's hottest prospects. Born and raised in Atlanta, he was signed straight from high school by the Mariners for $4.36million in the first round of the 2021 draft.
Harrison Ford, the Seattle Mariners and Great Britain baseball star, is an Indiana Jones fan
Ford, 20, never saw himself at the Olympics, but now has his eye on making it to LA2028
And as luck should have it, he is eligible to play for Britain because his mum Deborah was born in London and his father Alan hails from Kidlington, Oxfordshire.
'All my dad's family still live there,' says Ford. 'So I have been back a few times to stay at my grandma's house. I like a good fish and chips!'
That Ford has gone on to wear a GB jersey, though, is only because of a chance conversation last year with Mariners hitting coach, Brad Marcelino, a former British international. 'We were just talking one day and he asked me where I was from,' explains Ford.
'I told him my parents were English. He said: "Are you joking?" and started talking to me about the GB team and how they had qualifiers for the World Baseball Classic at the end of the year.
'He said: "We've got to get you in that", I was like: "Sure, sounds cool" — and the rest is history. It's been an awesome ride.' Ford made his GB debut against France last September, hitting his first of his three home runs in three games to help his country qualify for the World Baseball Classic — the sport's World Cup — for the first time. At the tournament in March, he made his mark with another two homers and his hilarious celebration which saw team-mates dress him in a regal robe and crown. 'We just came up with that idea in a meeting one day and then went to Walmart and bought all the stuff,' grins Ford.
The celebration captured the imagination back in Britain. The day after his home run in the team's historic win over Colombia, a video emerged from a primary school in Suffolk. It showed a boy being introduced in assembly as 'home run hero, Sir Harry Ford', then receiving a standing ovation from his class-mates as he walked in wearing a Ford face mask, robe and crown.
'I remember seeing that after the game,' says Ford after Mail Sport replays him the clip over Zoom. 'That really warmed my heart. It's cool knowing that all those kids even know I am. That means they are watching the games and that means they are getting into baseball.'
Ford got the most runs batted in and the most stolen bases at the European Championships
By beating Colombia, Britain finished in the top four of their pool and qualified for the next World Baseball Classic in 2026. Reaching the 2028 Olympics, though, is more difficult, with only six sides to feature in LA, and likely only one from Europe.
However, Britain's young side got to the final of this autumn's European Championship, with Ford finishing the tournament with the most runs batted in and the most stolen bases.
'Our goal was to get top five, so we surpassed that,' says Ford. 'We faced a really good Spain team in the final, but placing second was really good for GB. We have shown we are not just messing around, we are a good team and we can play with the best. The Olympics aren't until 2028 so we still have a lot of time. I am very hopeful we will be there.'
By then, Ford could well be an MLB superstar. Playing in the sport's elite league has been his dream since he first picked up a bat as a three-year-old. And two years ago, that dream moved a giant step closer to coming true when the Mariners picked him as the 12th overall selection in the draft.
'Although you dream about it, you never think about it being a reality,' he says. 'When I was 17, I remember there was a mock draft saying who they think teams are going to pick, and I saw my name in the first round. I was blown away. I was like, "Oh my god, this might actually happen".
'When it did end up happening, it felt amazing. Just hearing your name called on TV, there is nothing like it. I had a lot of family and friends there and we had a really big party. My phone was blowing up. It changed my life.'
So what is it about Ford that meant 20 MLB scouts would come and watch his games at high school? As the player himself puts it: 'I am a really good hitter. I catch the ball good. I run good.' In other words, Ford is the whole package. In the States, he has been described as a 'unicorn' because of his unusual speed for a catcher. 'I am a little different for sure,' he admits.
Ford has been described as a 'unicorn' in the USA because of his unusual speed for a catcher
Since signing for the Mariners, Ford has been sent out to gain experience with their Minor Leagues affiliates. He is speaking to Mail Sport from the locker room of his current team Peoria Javelinas, who play in the Arizona Fall League. When, then, should we expect to see him make his MLB bow?
'You never 100 per cent know in this business,' he says. 'At the Mariners, we have catchers who are really deserving of their position. So it will be however long it takes. But I just want to see how far I can go with my God-given talent and be the best I can possibly be.'
There clearly is no limit to Ford's ambition and one of his aims is to play an MLB match in London, where regular-season games have been held since 2019. 'I'm hoping the next time they pick, they may pick the Mariners in that one,' says Ford. 'The whole family would be able to go and see it, so that would be dope.'
Playing at the former London 2012 Olympic Stadium, though, would be one thing. Playing at the Games itself in Los Angeles would be another. 'GB needs to be there,' he adds. With Ford in their team, they have every chance.
Source: Read Full Article