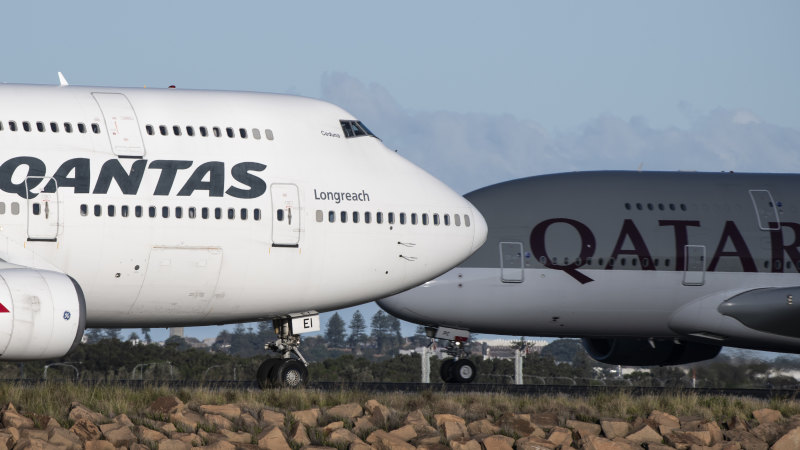 Why we shouldn't feel too sorry for Qatar Airways
September 6, 2023
Save articles for later
Add articles to your saved list and come back to them any time.
In the clamorous background to the extraordinary multiple corporate maydays by Qantas in the past weeks there has been one realisation. That is, to paraphrase Paul Keating, one should never come between the inveterate Australian traveller and a cheap (or cheaper) airfare.
Recent events surrounding the Australian and Qatari airlines reveal much about the degree to which any remaining goodwill towards our de facto national carrier has nosedived, as evidenced by the way some critics of Qantas have become virtual apologists for Qatar Airways.
Qantas has claimed allowing more Qatar Airways flights would "distort" the local market.Credit: Wolter Peeters
Readers have written to Traveller decrying the hypocrisy embodied in public support of Qatar Airways. Some have referenced the notorious October 2020 incident, when 13 Australian women (among other nationalities) were removed from a Qatar Airways flight in the airline's Doha hub, Hamad International Airport, after a newborn baby was found abandoned in the terminal.
The women were taken to waiting ambulances where they were stripped and subjected to gynaecological examinations.
"Why are people so keen on Qatar Airways as an alternative to Qantas and supposed protectionism?" wrote Herald reader Anne Mulvaney. "There are plenty of other airlines, such as Singapore, Thai and Malaysian, to choose from. Why fly through Doha and risk gynaecological examinations on women of child-bearing age or problems for a mother and sick child flying without the father. There are more important factors to consider when we fly than lounge access and lowest price."
The reference to a "sick child flying without their father" relates to another incident, as detailed by a fellow Traveller reader, Jen Coleman, earlier this year, in which a ground official in Doha would only deal with the father of a toddler who suffered hot tea burns during a flight with the airlines.
Some readers have sought to defend Qatar Airways. Stephen Yeates wrote in response to Anne Mulvaney's letter: "Qatar Airways was not responsible for the poor treatment of women at Doha Airport in 2020. The responsibility lies entirely with the Qatari authorities, including police and immigration officials following the archaic customs of an overbearing monarchy."
However, while Middle Eastern airlines have long portrayed themselves as independent, the reality is that Qatar Airways, unlike Qantas, is wholly owned by its government.
Where, one may argue, was the duty of care by the airlines towards its passengers? It's likely an argument the lawyers behind the multimillion-dollar class action against Qatar Airways will make on behalf of the aggrieved passengers.
I'm not advocating a boycott of Qatar Airways. Where do you draw the line? Singapore, Thailand and Malaysia – whose airlines are proposed as alternatives – all have, in some way or another, human rights issues. Indeed, as one Australian official commented incisively this week, if the existence of a fully democratic government were to be a condition of a particular nation's airline being allowed entry to Australia's airspace, a relatively small number would fly here.
Even the US is classified, at least by The Economist magazine's Democracy Index, as a "flawed democracy".
Australia does not perform so well either in its listing on the Amnesty International website: "New laws restricted the right to peaceful protest in several states and territories. Discrimination against First Nations peoples continued. The rights of child detainees were violated. Australia accepted an offer by New Zealand to resettle refugees, but indefinite detention of asylum seekers continued."
What I am arguing is that Qatar Airways – an airline with an outstanding business class but no premium economy class offering and an economy class that's no better or worse than most carriers – shouldn't be the subject of our sympathy, as much of it is laced with self-interest in terms of the widespread antipathy towards Qantas and the understandable public desire for fairer airfares.
Furthermore, Middle Eastern airlines aren't exactly demonstrating their goodwill towards the Australian jet-setting public. When I last checked, the price of an economy return airfare from Sydney to Muscat, via Abu Dhabi, with Etihad next January (admittedly the high tourist season for the so-called Arabian Peninsula) was well above $3500. You could argue, however, if Qatar had been granted more capacity, that price would be lower.
Qantas will probably try to mark our rejoicing of Alan Joyce's early departure from the airline with some sort of cheap airfares sale and an easier way to dispose of accumulated points.
But the biggest test of Australia's tolerance of human rights abuse may be yet to come. Saudi Arabia, that human rights superpower (not in a good way), has been ordering scores of new commercial aircraft from both Airbus and Boeing at a similar speed to which Alan Joyce has been trading Qantas shares.
The cash-soaked Saudis plan to turn the kingdom's capital, Riyadh, into an airport hub to rival those of Dubai, Abu Dhabi and, yes, Doha. They want their fledgling airline, Riyadh Air, with its ominous slogan being "the future of travel", to service 100 destinations worldwide, potentially including Australian airports (Qatar Airways flies to 150 destinations).
It may well prove the harbinger of cheaper airfares. I suppose it depends on what we are prepared to turn a blind eye to for the sake of less expensive travel.
The Opinion newsletter is a weekly wrap of views that will challenge, champion and inform your own. Sign up here.
The latest travel news, tips and inspiration delivered to your inbox. Sign up now.
Most viewed on Traveller
From our partners
Source: Read Full Article