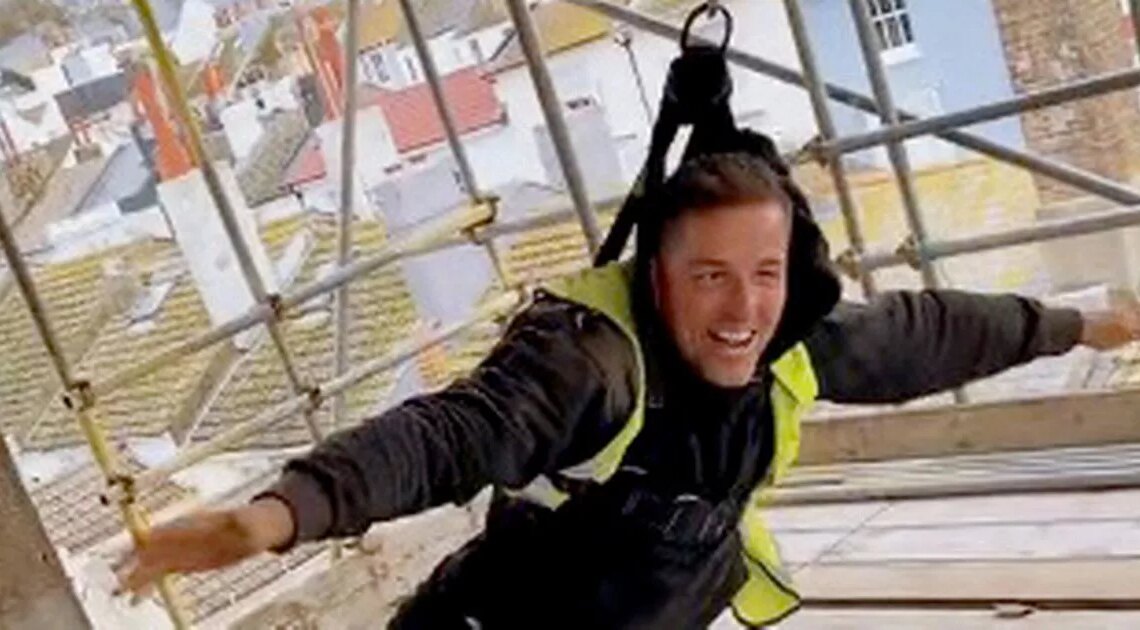 Scaffolding lad swings on harness as women joke 'this is why men die first'
October 25, 2023
Most of us like to have a bit of a laugh at work to keep sane on the grind.
However, this scaffolder's jolly with a harness caused many raised eyebrows from women. And some say it's the 'definition' of men having a lower life expectancy.
In the UK, the average life expectancy is 81 years with women typically living to 83 whereas men last about 79 years on this Earth. By watching this lad at work, it's no surprise that some women are not disputing the above life span findings.
READ MORE: 'Britain's most tattooed mum' excluded from Halloween parties as she's 'too scary'
Check out more Real Life stories here
In a TikTok clip which racked up 1.5million views, Paul – known as Scaff Lad Paul – decided to strap himself into harness which was connected to a multiple stories high scaffolding. The hi-vis vest wearing scaffolder stood on a wooden plank walkway as a colleague grabbed onto Paul's harness and swung him in between the gap with a three story drop below.
During the 41 second video that featured the song Flying Without Wings by Westlife, Paul appeared to be having the time of his life as he chuckled while he swung in the air. He held his arms out either side as if he was soaring in the air like a bird before his work mate continued to push and spin him in the harness.
"The actions in this video are performed by professionals or supervised by professionals," a TikTok disclaimer at the bottom of the video warned. "Do not attempt." Although, swinging in a harness to a boyband hit is hardly a professional part of the job description for scaffolders. "My harness was being tested," Paul cheekily admitted with a tongue out emoji.
Many people fled to the comments to share their thoughts on the worksite stunt.
One woman commented: "This right here is the definition of women live longer, class!"
Another user chuckled: "Do anything if you've got a hi vis on."
While a third voiced: "Was gonna say this is why men be dying."
Someone else giggled: "I work in H&S (Health and Safety) and I'm a bit lost for words."
Meanwhile, a fifth gasped: "Feels like final destination waiting to happen. Looks fun though."
Source: Read Full Article