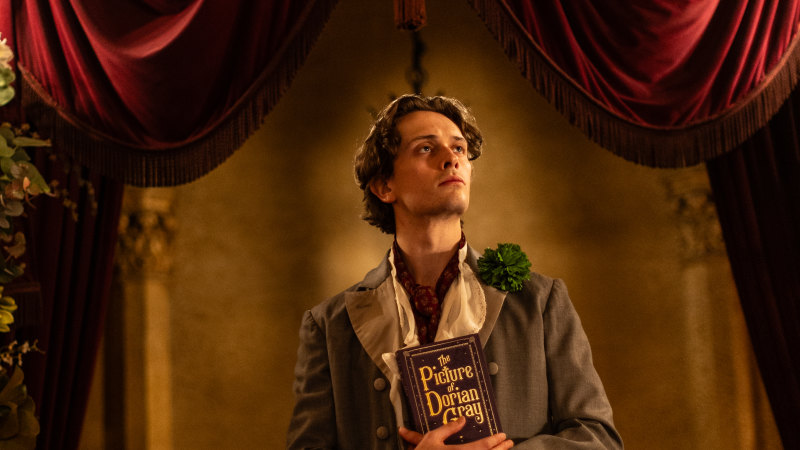 Love and tragedy: Oscar Wilde's life story in a bold new ballet
September 12, 2023
Save articles for later
Add articles to your saved list and come back to them any time.
In 1893, Irish humorist Oscar Wilde was threatened with blackmail by way of a letter he'd written to his lover, Lord Alfred Douglas. Wilde responded by having the letter's contents translated into French and published as a sonnet.
This, perhaps, tells you everything you need to know about the kind of man Wilde was – canny, self-interested, so sure of his genius that he thought himself untouchable.
Callum Linnane will perform in the Australian Ballet's 2024 premiere of Oscar, inspired by the life and work of Oscar Wilde.Credit: Jason South
He wasn't, of course. Two years after the attempted blackmail, Wilde would be convicted of gross indecency and sentenced to two years' hard labour in prison.
The author's wit and artistry, outsized personality and complicated legacy will take centre stage in the Australian Ballet's 2024 season with Oscar, a new, full-length ballet that will dramatise Wilde's life and works through dance. The production will mark the company's first performance at the Regent Theatre with a world premiere season in September before taking to the stage in Sydney in November.
Choreographer Christopher Wheeldon says the ballet will draw on Wilde's poignant morality tale The Nightingale and The Rose and gothic masterpiece The Picture Of Dorian Gray as literary anchors, but its main focus will be the stuff of his life: "his champagne-like triumphs, descent into depravity and tragic end serving time in prison".
The ballet will also give insight into Wilde as "an artist and as an eccentric", says David Hallberg, artistic director of the Australian Ballet.
Oscar, with Callum Linnane in the lead role, will give an insight into Oscar Wilde's artistry and eccentricity.Credit: Jason South
Hallberg notes that Wilde's life retains its relevance in an era when the cult of the artist is more pronounced than ever, yet at the same time, "true and honest self-expression can still be questioned, and scrutinised, and discriminated against". Wilde, he says, "paid a horrible price for the life he knew he had to live".
For Hallberg, there is a thrill in premiering a work – in his words, he is interested in building the repertoire for tomorrow. He believes in finding a balance between performing time-tested favourites and shepherding the ballet's audience through a process of discovery.
"I like to believe – and as this organisation has always exemplified – that we have to take audiences along on the ride of artistic creation," he says. "That isn't always safe. It isn't always a box office guarantee. So yes, there's risk in something like Oscar – but any art that was ever created was, at some stage, new."
The ballet is one of two new commissions to be performed in the 2024 season. In addition to the British-born Wheeldon, Hallberg has recruited Melbourne-based choreographer Stephanie Lake to create a new work for the company. Appearing in a contemporary double bill with Harald Lander's Études, Lake's new full-length work Circle Electric is "very fresh, very sharp", Hallberg says.
The season will also include a Sydney-exclusive production of Carmen, with Marcus Morelli and Jill Ogai.Credit: Chris Hopkins
"Stephanie Lake is one of the most exciting voices in Australian contemporary dance," he says. "To give Stephanie the opportunity to create this really substantial work is super exciting for me as a director."
Also on the program is Johan Inger's Carmen, which takes the well-known opera comique and translates it into a modern setting. The work is dark, passionate and unsparing. "Certain versions of Carmen can lack grit," Hallberg says. "[Inger has] added this grit to the story and to Carmen's character. She's a little raunchy, she's sensual and that's what makes her so compelling."
While most shows in the program will tour, Carmen will be performed exclusively in Sydney.
Rounding out the season are George Balanchine's pure dance triptych Jewels, which will be performed in Adelaide, Christopher Wheeldon's charming Alice's Adventures in Wonderland and seasonal favourite The Nutcracker by Sir Peter Wright.
For Hallberg, programming is one of the most complicated responsibilities of the job. He says his first responsibility is always to the dancers, and his second responsibility is to the audience. Ultimately, he aims to bring outstanding work to the stage.
"We are the nation's ballet company – we have a responsibility to bring that quality to audiences," he says. "Whether it's an Australian choreographer or an international choreographer, we bring in the best creators or existing works, so audiences get to see the best of what's happening here in Australia and the best of what's happening in the world. And that's a huge responsibility."
The Booklist is a weekly newsletter for book lovers from books editor Jason Steger. Get it every Friday.
Most Viewed in Culture
From our partners
Source: Read Full Article