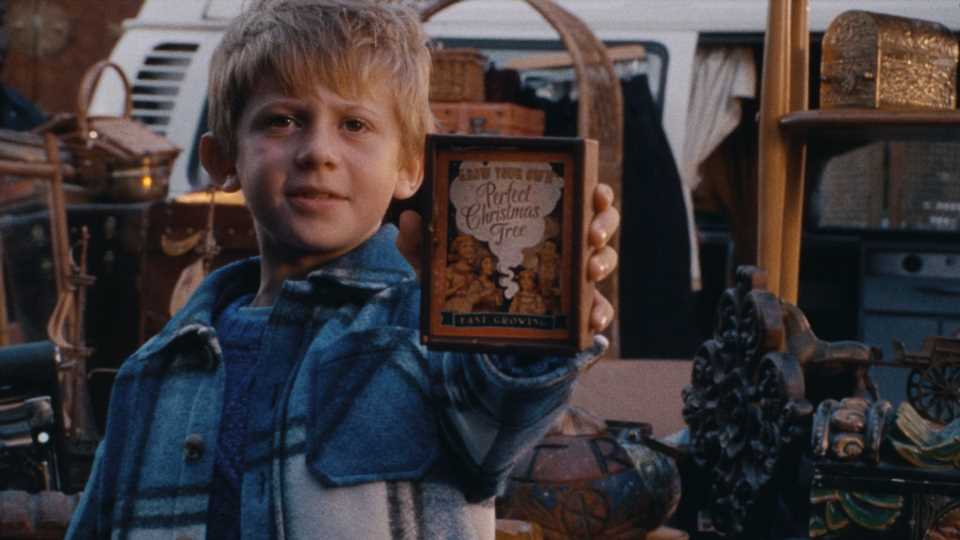 John Lewis Christmas advert LIVE — Retailer releases long-awaited festive video – how to be the first to watch it | The Sun
November 15, 2023
JOHN Lewis will release its long-awaited 2023 Christmas advert today, and you can be amongst the first to watch it.
The iconic annual Christmas ad will follow a little boy's quest for the perfect Christmas tree, befriending a playful character along the way.
As Alfie nurtures the little seed at home, it quickly grows into an energetic and mischievous Venus flytrap named Snapper.
And you can preview the heartwarming clip early if you are a member of the My John Lewis loyalty scheme.
You can sign up to My John Lewis for free by downloading the App Store or Play Store to access it all.
Read our Christmas advert blog below for the latest news and updates…
By Alice Grahns




Follow the adventures of Snapper

To further promote the advert, the adventures of Snapper will continue in episodic films showing some of John Lewis' must-have gifts for Christmas.

This includes everything from Nespresso Coffee Machines to the latest fragrance from Jo Malone.

There'll also be a special AR filter where Meta users can bring Snapper into their own homes.

Plus, a digital advent calendar on the John Lewis app will see Snapper reward My John Lewis members with exclusive rewards throughout

By Alice Grahns




Meet the star

The star of this year's ad – Alfie – is played by eight-year-old Teddy from Bournemouth. 

The advert was filmed in Middlesex in July and August – in the middle of a heatwave.

By Alice Grahns




How to watch the advert early

If you don't want to wait until the morning, you can get early access by signing up to the My John Lewis loyalty scheme.

The rewards scheme offers shoppers personalised offers and rewards.

Customers also get free entry into competitions – including the chance to win your wish list worth up to £1,000.

Plus, members get early access to the latest launches and money back when they recycle their old beauty and fashion products

You can sign up for free by downloading the App Store or Play Store.
By Alice Grahns




When can you watch the John Lewis Christmas ad?

The advert launches on the retailer's social media channels today.

It will also be broadcast on TV during Gogglebox on Friday.

This airs on Channel 4 at 9pm.

By Alice Grahns




What to expect from the John Lewis Christmas range

The products available include:

Plus Plant – £18
Mini Plush Bauble – £10
Printed Bauble – £6
Tote Bag – £6
Chocolate – £6.50
Boxed Biscuit – £4.50
Kids pyjamas – £19
Adult Pyjamas from – £34
Snapper slippers – £18
Real venus flytrap plant – £10
Christmas Card with Seeds – £3
Pomeranian plush – £30
Children's story book – £9.99

John Lewis to launch 'widest ever' Christmas range

This year's ad has the widest ever range of merchandise for shoppers, according to John Lewis.

The collection will be available in all John Lewis shops, on its website as well as selected Waitrose shops from today, November 9.

It's best to be quick though as it's a limited collection and the ranges usually fly off the shelves.

What has John Lewis said?

Charlotte Lock, customer director for John Lewis, said: "We are a nation that loves the traditions of Christmas – from classic traditions like pantos and putting up the tree to evolving new ones like crafting our own presents and Zoom get-togethers.

"Many of us have our own unique festive traditions and that makes them even more special.

"The film celebrates themes of family and evolving traditions and shows that a 'perfect' Christmas is finding joy together with loved ones, whatever your traditions."

John Lewis advert singer 'delighted' to take part

Andrea Bocelli said: "I am delighted to take part in this wonderful and unique tradition of Christmas storytelling. 

It is very special for me given the great support this will bring to both the John Lewis and Andrea Bocelli foundations. 

"Joy to all of your worlds this Christmas."

Inside the adverts music

The music is provided by famous opera artist Andrea Bocelli who performs a powerful song called "Festa", which means celebration.

It's been written and produced specifically for the John Lewis advert.

It will be released in longer form as a charity single with a proportion of the proceeds from the sale going to John Lewis charity partners to help care experienced young people and families in need.

By Alice Grahns




'An extraordinary privilege'

Sarah Jenkins, managing director of Saatchi & Saatchi, said: "It's an extraordinary privilege to be working with the John Lewis Partnership, and it's particularly magical to be launching a campaign that celebrates all of the traditions – both eternal and evolving – that make Christmas so special to the nation. 

"The race to be the number one Christmas ad brings extra festive spice and is such a brilliant embodiment of the skills and smarts of the UK's incredible creative industries."

By Alice Grahns




'Let your traditions grow'

John Lewis' Christmas ad is widely considered the major advertising event of the year – and signals that the run-up to Christmas has begun. 

This year's ad – which comes with the strapline "Let Your Traditions Grow" – is about changing traditions as we all develop.

It's the first campaign by Saatchi and Saatchi after John Lewis changed agency after 14 years.

John Lewis previously worked with Adam&eveDDB, the creative firm responsible for its Man on the Moon, Excitable Edgar and Bear and the Hare campaigns.

By Alice Grahns




The John Lewis Christmas ad releases TODAY

Get ready for all the feels – this year's John Lewis Christmas advert is finally here and it will warm your heart on cold days.

The ad is about a little boy's quest for the perfect Christmas tree, befriending a playful character along the way.

As Alfie nurtures the little seed at home, it quickly grows into an energetic and mischievous Venus flytrap named Snapper.

The fast-growing wannabe Christmas tree becomes a life force with its mischievous personality and gets in on all the festivities, but it eventually comes to an abrupt halt.

When Snapper grows so big that he tears Christmas decorations at the house, he's cast outside in the cold by the family.

The tearjerking moment leaves Alfie heartbroken, who's set on not freezing him out – and he has a heartwarming idea.

Source: Read Full Article