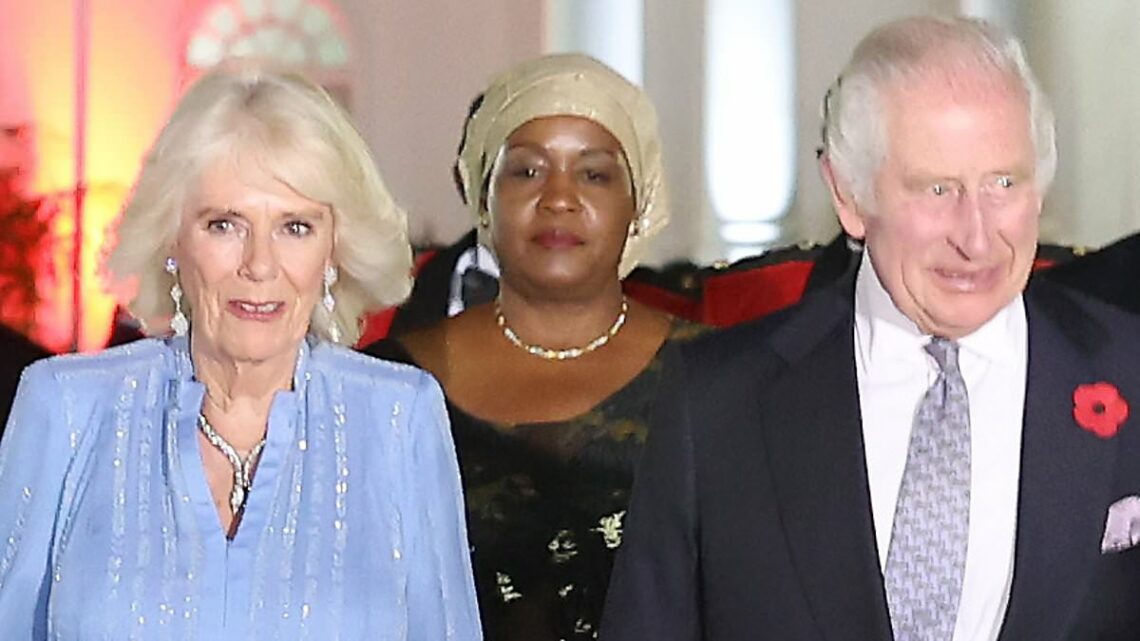 Inside Charles and Camilla's state dinner
October 31, 2023
Inside Charles and Camilla's state dinner: King and Queen enjoyed lobster ravoli and salmon with Champagne as part of eight-course feast in Nairobi
Petit fours, butternut and truffle soup and beef wellington were also served

READ MORE:  Charles and Camilla land in Kenya without ceremonial welcome
The King and Queen arrived in a flash of lightbulbs for a glittering state banquet tonight, rounding off the first day of their Kenyan state visit.
Queen Camilla looked elegant in a blue tunic top and palazzo-style trousers by one of her favourite designers, Anna Valentine.
She also sported a diamond elephant bracelet and a necklace belonged to her adored grandmother by Van Cleef & Arpels.
The king, who wore a lounge suit as the dress code was not black tie, posed for photographs with his wife and their hosts, President William Ruth of Kenya and First Lady, Rachel Ruto.
Standing with the magnificent backdrop of State House behind them, lit up for the occasion, they then walked down a red carpet the the sounds of a Ma traditional dance troop from Narok, who greeted them with a ceremonial dance of celebration
The King and Queen arrived in a flash of lightbulbs for a glittering state banquet tonight, rounding off the first day of their Kenyan state visit
Revealed: The king and queen's eight-course banquet 
The couple are set to dine on a lavish eight-course menu:
Beetroot and goat cheese foam with hazelnut crumble
Cream of roasted butternut, chestnut and truffle soup
Malindi lobster and seared seafood ravioli flavoured bisque
Watercress and stilton salad with candied apples and walnuts
Palate cleanser: lemon and raspberry sorbet
Pan-seared salmon with Champagne beurre blanc
Beef Wellington, chateau potatoes and minted asparagus (with chicken Wellington for the high table)
Dessert symphony: A visually stunning dessert platter with miniature portions of Kenyan and British inspired honey cake, carrot and walnut square, earl grey tea crumble and sarova chocolate cake
Petit fours and coffee (including chocolate truffles and macaroons, with Kenyan coffee or tea)
Among the guests were Foreign Minister James Cleverley and his wife.
It comes as the King told the Kenyan people of his 'greatest sorrow and deepest regret' at Britain's 'abhorrent and unjustifiable acts of violence' during the Colonial era.
In a keynote speech that went far further than many expected amid calls for an apology over government abuses under his late mother's reign, King Charles said there was 'no excuse' for British 'wrongdoings' in the east African nation, particularly against the Mau Mau rebellion.
Speaking at a state banquet in Nairobi, he told the Kenyan President and 350 guests: 'It is the intimacy of our shared history that has brought our people together. However, we must also acknowledge the most painful times of our long and complex relationship.
'The wrongdoings of the past are a cause of the greatest sorrow and the deepest regret. There were abhorrent and unjustifiable acts of violence committed against Kenyans as they waged, as you said at the United Nations, a painful struggle for independence and sovereignty – and for that, there can be no excuse.'
Charles continued: 'In coming back to Kenya, it matters greatly to me that I should deepen my own understanding of these wrongs, and that I meet some of those whose lives and communities were so grievously affected.
'None of this can change the past. But by addressing our history with honesty and openness we can, perhaps, demonstrate the strength of our friendship today. And, in so doing, we can, I hope, continue to build an ever-closer bond for the years ahead.'
The King stopped short of a direct apology, which carries greater legal culpability, because it is not British government policy to do so.
Queen Camilla looked elegant in a blue tunic top and palazzo-style trousers by one of her favourite designers, Anna Valentine
His words came as President Ruto made an even more strongly-worded address – and hinted at further demands for reparations.
He said Britain and Kenya could not 'live in denial of history' and highlighted the 'displacement, dispossession and disenfranchisement of native Africans, paving the way for a brutal colonialism'.
The president described British attempts to put down the Kenyan people's fight for independence as 'monstrous in its cruelty' and made clear that he felt the £20 million so far paid out by Britain in compensation to victims of torture and repression as inadequate.
'While there have been efforts to atone for the death, injury and suffering inflicted on Kenyan Africans by the colonial government, much remains to be done in order to achieve full reparations,' he said.
But he praised the King for his 'visionary leadership' on the issue, saying: 'Your exemplary courage and readiness to shed light on uncomfortable truths that reside in the darker regions of our shared experience are….commendable.
King Charles has expressed his 'greatest sorrow and deepest regret' for atrocities suffered by Kenyans during their struggle for independence from British colonial rule in a speech given at a banquet on his state visit to Kenya
But he stopped short of making a full apology called for by survivors of that period and local rights groups who are pressing for reparations from the British government
'This is a highly encouraging first step, under your leadership, to deliver progress beyond tentative and equivocal half measures of past years.
'We are therefore confident that, under your visionary leadership, the Kenya-United Kingdom relations will continue to prosper for the benefit of our two countries and peoples. '
The King endeared himself to his audience by using several phrases of Swahili and his pronunciation was described as 'impeccable'.
He highlighted the 'special meaning' Kenya has for his family, not least his late mother, not least because it is where she found out she was Queen.
But he also sweetly mentioned the Prince and Princess of Wales, saying: 'It was here, in sight of Mount Kenya, that my son, The Prince of Wales, proposed to his wife, now my beloved daughter-in-law.'
Charles speaks to Kenyan First Lady Rachel Ruto during the State Banquet
He concluded on a positive note, saying in Swahili: ' Umoja ninguvu', Unity is Strength.
Mwangi Macharia, the head of the African Centre for Corrective and Preventive Action, a human rights group, said Britain should follow the example set by Germany, which has apologised for its abuses in Namibia, and agreed to fund projects worth over a billion euros.
Nandi King Koitalel Arap Samoei led a decade-long rebellion until he was killed by a British colonel in 1905. In the ensuing years, the British confiscated most of his people's land and cattle.
Samoei's great-grandson Kipchoge araap Chomu credited the British with contributions to Kenya like education and public health systems but said historical injustices must be remedied.
'We have to demand public apology from the government of the British,' he told Reuters. 'After apologies, we also expect a reparation.'
Source: Read Full Article