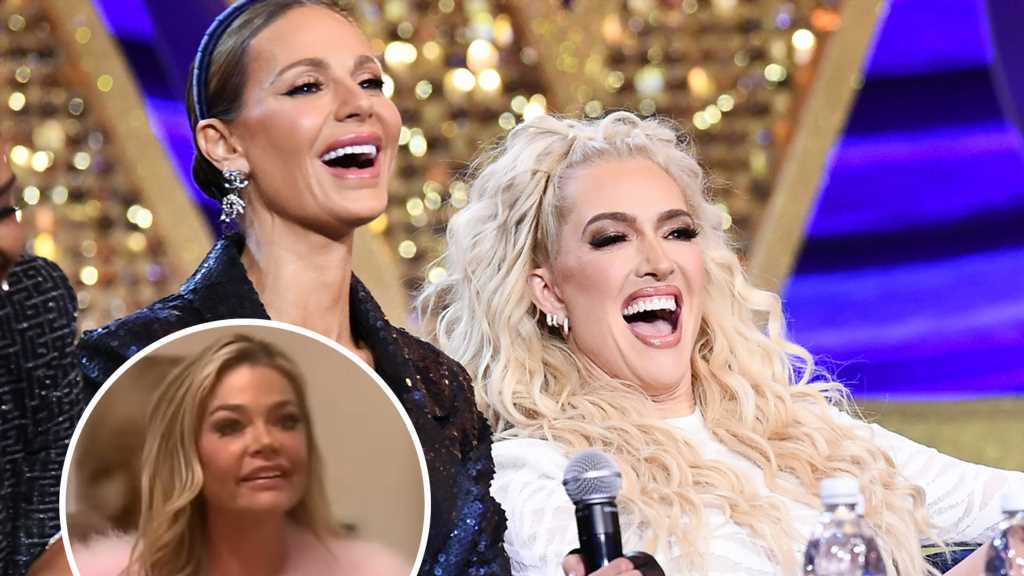 Erika Jayne Details New Denise Richards Confrontation on RHOBH: 'I Gave It to Her'
November 6, 2023
Erika opens up about her feud with Denise, with Kyle Richards admitting their former costar wasn't at "her most articulate" while confronting Jayne and Dorit calling her comments "misguided."
Erika Jayne wasn't the only one left confused when Denise Richards allegedly confronted her while filming the new season of The Real Housewives of Beverly Hills — as the show's cast says the Wild Things actress herself didn't seem sure what fight she was picking in the first place.
During a panel for the show at BravoCon over the weekend, Denise's return to the show was brought up. Fans already knew to expect fireworks between her and Erika, after the war of words was teased in the trailer.
"Denise showed up and she had some unfinished business, apparently," said Garcelle Beauvais, prompting Jayne to deadpan, "With the wrong person." When Dorit Kemsley added, "Only she couldn't figure out what her unfinished business was for a while," Kyle Richards then admitted the actress "wasn't her most articulate."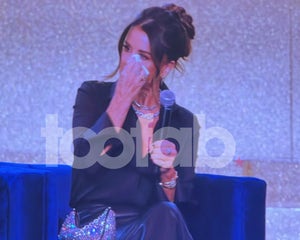 Kyle Richards Breaks Down In Tears Over Mauricio During Emotional RHOBH Panel at BravoCon (Exclusive Video)
Erika then set the scene, saying the initial confrontation happened at a THC-infused dinner party, hosted by Kyle, to which Denise somehow scored an invitation.
"Denise came and she very clearly tried to pick a fight with me. She kept saying things like, 'Go watch the show, you know what you did,'" said Erika, as Kyle exclaimed, "At one point she said, 'Roll back the tape!'"
Erika went on to say she has not seen or spoke with Denise for the past four years, before adding she believes Richards actually has "bigger beef" with other fellow former costars Brandi Glanville, Lisa Rinna and Teddi Mellencamp-Arroyave … all stemming from those claims from Brandi that she and Denise hooked up, which Richards has repeatedly denied.
"When she kept saying, 'Roll back the tape, go watch the show.' I said, 'Okay,' and I just apologized. I said, 'I'm very sorry if I hurt your feelings, I don't know why," Erika continued. "Then at Crystal's house at Taco Tuesday, she was there again and so I gave it to her and that's what you see."
RHOBH's Erika Jayne Calls Out 'Wet Blanket' Cast Member Over Magic Mike Live Drama (Exclusive)
According to Erika, she said she told Denise she didn't "want to do this with you" and that the energy would be "better placed with Brandi, Teddi and Lisa," adding that she "didn't ask for this" feud to happen. Dorit also called Richards' words "misguided," saying that while Denise clearly wanted to "get some things off her chest," it was also "really hard to watch because she couldn't get it out. She couldn't put her finder on what she was upset about."
Erika said "the entire table was trying to help" Richards find her words, claiming that fellow guest Cynthia Bailey even said to her, "Is there an example you can give her?"
The dinner party from hell was actually newcomer Annemarie Willey's first night meeting the rest of the women, they revealed during the panel.
"Literally, my first night," she said, "and these ladies are attacking each other across the table. I fully entered the Twilight Zone."
The Real Housewives of Beverly Hills airs Wednesdays on Bravo. Click here for more BravoCon coverage!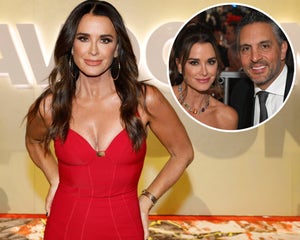 Kyle Richards Uses Word 'Divorce' While Addressing Mauricio Umansky Situation at BravoCon (Exclusive)
Source: Read Full Article