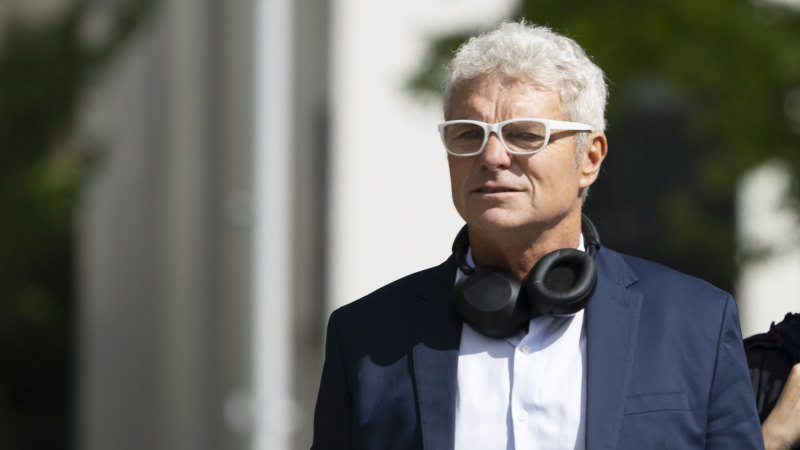 Blindly obeying orders 'ignores Nuremberg': Whistleblower's lawyer
November 15, 2023
Save articles for later
Add articles to your saved list and come back to them any time.
The barrister acting for defence whistleblower David McBride has told a judge that merely obeying orders "ignores Nuremberg" in arguing his client was duty-bound to leak confidential material relating to war crimes investigations to the media.
Stephen Odgers, SC, said his client was motivated by a belief special forces soldiers were being illegally investigated, after Crown prosecutor Patricia McDonald, SC, told the court the accused man had said journalists had used the documents to publish "the opposite of what I believed".
David McBride is facing a criminal trial for leaking confidential military information to the media.Credit: Alex Ellinghausen
An ACT Supreme Court hearing ahead of a jury trial beginning on Thursday has centred on whether the former military lawyer acted within his duty to serve the public interest while at the same time disobeying orders, prompting McDonald to argue obeying orders was "definitional to what it means to be a soldier".
But Odgers said that in modern Australia, military service didn't necessarily equate to following orders blindly.
"For the Crown to make the contention that the duty of the armed forces is to obey unquestioningly a lawful order, ignores Nuremberg, ignores the acceptance in our society that members of the military have higher duties," he said on Tuesday.
Nuremberg is the German city synonymous with war crimes trials where Nazi soldiers justified acts of brutality by saying they were following orders.
McBride is facing five charges relating to the disclosure of classified documents between 2013 and 2017, including theft of Commonwealth property and breaching the Defence Act, after his disclosures helped unearth allegations of Australian special forces committing war crimes in Afghanistan.
A jury will be empanelled on Thursday, after three days of legal arguments.
McDonald told Justice David Mossop on Monday that McBride leaked the documents because he believed there was no proper basis for investigating Australian special forces troops.
"The Crown will say that the evidence establishes that he gave documents to journalists, hoping they would support his position that Special Forces troops were being investigated when there was no proper basis to investigate them," McDonald said.
Odgers said it would be open to the jury to accept McBride had a duty to the administration of justice "in terms of disclosing what he believed to be criminality within the Australian Defence Force, which he believed to be justified to prevent the commission of future offences within the Australian Defence Force."
Justice Mossop asked Odgers whether that argument would depend on what the Crown's case was.
"As I understood it, the Crown case was that he was disclosing these matters because – well, the effect of the evidence would be that he was disclosing these matters because he thought that the people who do bad things were being investigated too much," Mossop said.
Odgers said there would certainly be evidence McBride was concerned that some members of the Defence Force were being improperly investigated on the orders of senior figures, "and a belief that the very conduct of those investigations was itself in breach of the law and constituted commission of an offence".
Mossop replied: "I think the way you've explained it is that the higher-ups might have been acting illegally by investigating these people too much, and that that was the source of the illegality that was being exposed." Odgers agreed.
But McDonald said "purporting to disclose over-investigation of special forces troops was not in the public interest".
"We don't want those in the military to be able to act by reference to something as nebulous as the public interest," she said.
Mossop will deliver his decision regarding McBride's duty on Wednesday morning.
Cut through the noise of federal politics with news, views and expert analysis from Jacqueline Maley. Subscribers can sign up to our weekly Inside Politics newsletter here.
Most Viewed in Politics
From our partners
Source: Read Full Article