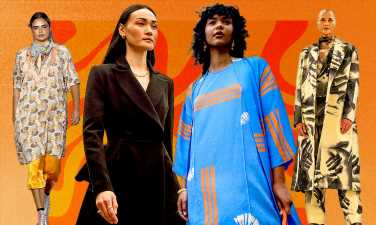 Local heroes: Australian-made fashion labels that deserve your money
October 25, 2023
Save articles for later
Add articles to your saved list and come back to them any time.
Peter Strateas and Mario-Luca Carlucci, the designers behind locally produced luxury brand Strateas Carlucci, know they're in a small – and somewhat endangered – club.
In the same week that Melbourne-made denim brand Nobody Denim went into liquidation (the company's assets were subsequently bought by another Australian brand, Outland Denim), Carlucci says unless consumers throw more support behind local labels, there will more forced closures.
Staying homegrown … Strateas Carlucci designers Peter Strateas (left) and Mario-Luca Carlucci (right) with models, including 13-year-old Ryder Carlucci.Credit: Simon Schluter
"People are more aware, they want something locally made, great quality, ethically sourced, fabrics to be organic and all of that but are they willing to make that jump with the price point? The answer is sometimes no, sadly," says Carlucci.
But, says Strateas, the team isn't getting too down about the shrinking state of local manufacturing, which had a temporary revival during the pandemic. "We've always looked at the limitations we have [of being Australian made] and find the positives in it," he says. "Sometimes it's influenced the way we have designed."
Strateas and Carlucci launched their luxury streetwear label in 2013 to immediate acclaim, earning them some of the nation's top emerging design prizes and the honour of being the first Australian label to show at Paris Men's Fashion Week, back in 2015.
If their first decade in business was about conquering the international market, then their second, buttressed by the impact of the pandemic, is about building their customer base here before once again showing in Europe.
But in a tightened economy, they realise not everyone has $1000, or more, to blow on a jacket. Taking a leaf from designers they admire, such as French contemporary luxury brand Jacquemus (founded by Simon Porte Jacquemus), they're expanding their accessories, jewellery and kids' ranges. The new offering will be part of a solo show at Melbourne Fashion Week on Thursday.
"[Jacquemus is] disruptive, but he's also become a household name – that's where we wanted to be," Carlucci says. "We still have plans to get to that level."
The trick is to branch out without selling out, says Carlucci.
The designers hope their kidswear will fill a gap for parents looking for something less gendered, as well as something sustainable (many are made from offcuts from the adult styles) and a little "edgy". Most pieces will cost less than $100.
"Kidswear was very skewed on [gender lines], and very 'kiddy'," says Carlucci, who has a 13-year-old son and a daughter, who is six. "We found there was a big discrepancy. There are the designer brands playing in that space, and then you have your high street or fast-fashion brands … So we found there was a gap in the market."
The fashion week show will also debut a capsule range of luxury upcycled pieces produced in partnership with sustainable fashion incubator and retail space Future From Waste Lab.
At our meeting, Carlucci is wearing a jacket made from the scraps of recycled suits the pair sourced from "all over" – op shops, factories, salvage operators and a big call around their extended circle. To the trained eye, it's obvious how much work went into the jacket, but they agree some consumers still struggle to understand that upcycled doesn't mean a cheaper pricetag.
"How do you make waste luxury? For someone to see it and not say, 'That looks like an upcycled garment?'" says Carlucci.
For everyone else, there's always an earring – or a kid's T-shirt.
The Strateas Carlucci runway, featuring Cub Sport, is at Melbourne Fashion Week on October 26, mfw.melbourne.vic.gov.au.
Make the most of your health, relationships, fitness and nutrition with our Live Well newsletter. Get it in your inbox every Monday.
Most Viewed in Lifestyle
From our partners
Source: Read Full Article