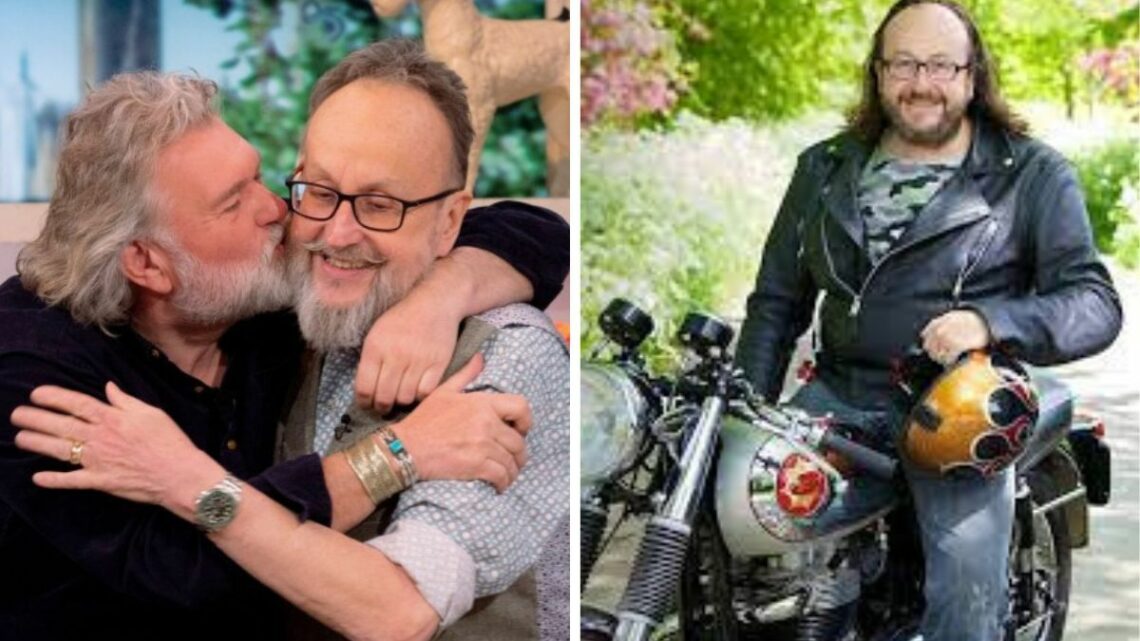 Hairy Biker Si King defied Dave Myers' doctor's advice to get him back on road
October 24, 2023
Hairy Bikers star Si King has admitted he defied advice from Dave Myers' doctors so that his cancer-stricken friend could get back on his beloved bike.
Si, who has gushed that he's "enormously privileged" to have such a close friendship with his co-star, has been there for his pal every step of the way, even through 30 gruelling chemo treatments.
The 57-year-old insisted he knew Dave would be capable, following intensive physiotherapy sessions to improve his balance.
"The medics were really concerned about Dave riding the bike [again], but I just kept saying, 'No, he'll be fine. It's in his DNA. If he says he can, he can, so just let him be,'" he recalled.
"When we rode off into the sun it was very emotional. It was a big sigh of relief for my best mate," Si reminisced.
READ NOW: Giovanni Pernice 'sad' as he breaks silence on Amanda Abbington's Strictly exit
It had been almost 20 years since the pair first landed their own TV show as The Hairy Bikers, which has seen the keen motorcyclists exploring food and adventure all over the world, filming more than 20 series and publishing 30 cookbooks.
Referring to 66-year-old Dave's return to the bike, Si acknowledged that it was "lovely to be back to our default setting" – riding together.
"Some of the most special moments were private ones on the intercoms as we were driving," he told Mail Online.
"When you share experiences they're doubled, so we were back to building magical memories."
Don't miss…
Miriam Margolyes explains reason she doesn't live with partner of 54 years[INSIGHT]
Joe Swash left red-faced over mortifying wardrobe malfunction on family holiday[LATEST]
Amanda Holden reaches out to support Brian May as he suffers heartbreaking loss[NEWS]
There were cheers all around from the TV crew after Dave plucked up the courage to do his first bike outing, which will be screened next year as part of a new series called The Hairy Bikers Go West.
The pair start off in Scotland before heading towards Devon, revisiting places that are meaningful and significant to them – and the show is expected to be a huge hit with their loyal followers.
Unfortunately for Dave, chemotherapy hadn't just taken away his balance but also his appetite – a cruel blow for someone who'd been a TV presenter, cookbook author and devoted foodie.
However, like his balance, his desire for food slowly started to return, with his wife Liliana tempting him with unusual combinations he developed cravings for, such as cottage pie with Vimto.
Advert-free experience without interruptions.
Rocket-fast speedy loading pages.
Exclusive & Unlimited access to all our content.
He was also fed tasty traditional delicacies from a nurse's home country of the Philippines while in hospital, developing a taste for her favourite noodle dish, pancit.
Now that he's begun to recover, he's also been working on a new cookbook with Si, titled The Hairy Bikers' Ultimate Comfort Food – and it's released this Thursday.
It will detail some of the recipes that tempted Dave to eat despite often feeling totally nauseated as a side-effect of his cancer treatment.
The book is also a celebration of the TV star's return to health, as he reveals he is no longer crying tears of "anguish", but of "joy".
Source: Read Full Article