Watch Raphael Warnock's Moving Speech After a Historic Senate Win: "Joy Comes in the Morning"
January 8, 2021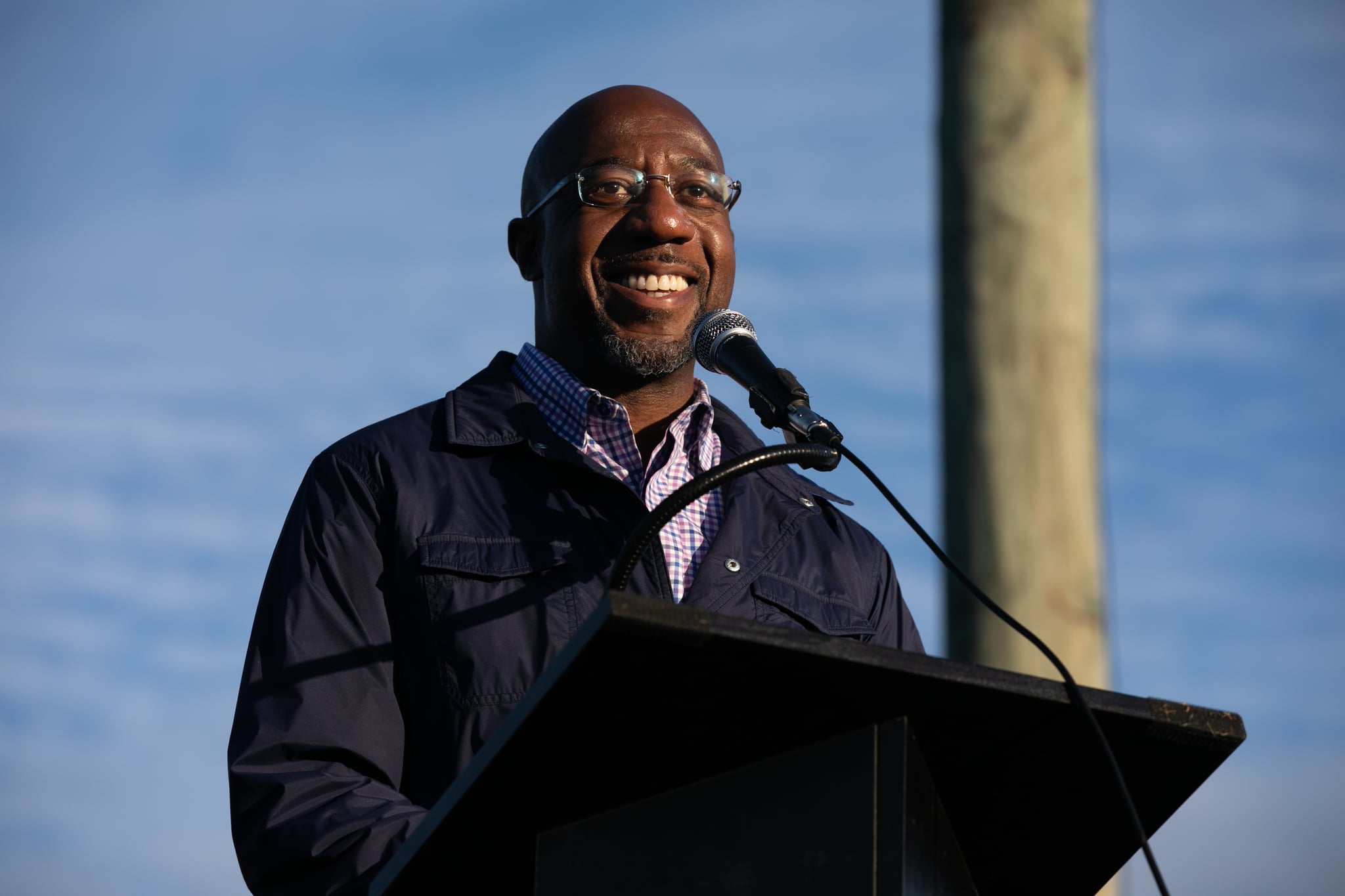 Image Source: Getty / Jessica McGowan
Reverend Raphael Warnock honored his parents in an inspiring victory speech after being declared the projected winner of his Senate race in Georgia. On the evening of Jan. 5, Warnock defeated incumbent Kelly Loeffler in an especially consequential runoff election that brought out historic voter turnout and will help determine which party controls the Senate. Once sworn in, Warnock will become the state's first Black senator and the 11th Black senator in the history of the nation.
"My roots are planted deeply in Georgia soil," the senator-elect began his at-home speech before reflecting on his upbringing in a Savannah housing project, his studies at Morehouse College in Atlanta, and his time presiding over Atlanta's Ebenezer Baptist Church, which he referred to as the "spiritual home" of Martin Luther King Jr. and John Lewis.
Warnock then turned to the subject of his parents. His late father, Jonathan Warnock, was also a pastor, as well as a World War II veteran and the owner of a small business. "I remember my dad in this moment," Warnock said toward the end of his speech. "He used to wake me up every morning at dawn. It was morning, but it was still dark. It's dark right now, but morning comes, and scripture tells us that weeping may endure for the night, but joy comes in the morning. Let us rise up, greet the morning, and meet the challenges of this moment."
Perhaps the speech's most moving moment, however, came when Warnock spoke about his mother, Verlene Warnock, who, he noted, picked cotton as a teenager. "The other day, because this is America, the 82-year-old hands that used to pick somebody else's cotton went to the polls and picked her youngest son to be a United States senator," Warnock said. "So, I come before you tonight as a man who knows that the improbable journey that led me to this place in this historic moment in America could only happen here."
Amid a polarized time of "political games," Warnock also assured his future constituents. "I am going to the Senate to work for all of Georgia, no matter who you cast your vote for in this election," he said. "To everyone out there struggling today, whether you voted for me or not, know this: I hear you, I see you, and every day I'm in the United States Senate, I will fight for you. I will fight for your family."
Source: Read Full Article