Los Angeles man recorded shoving other man into path of moving truck
December 7, 2018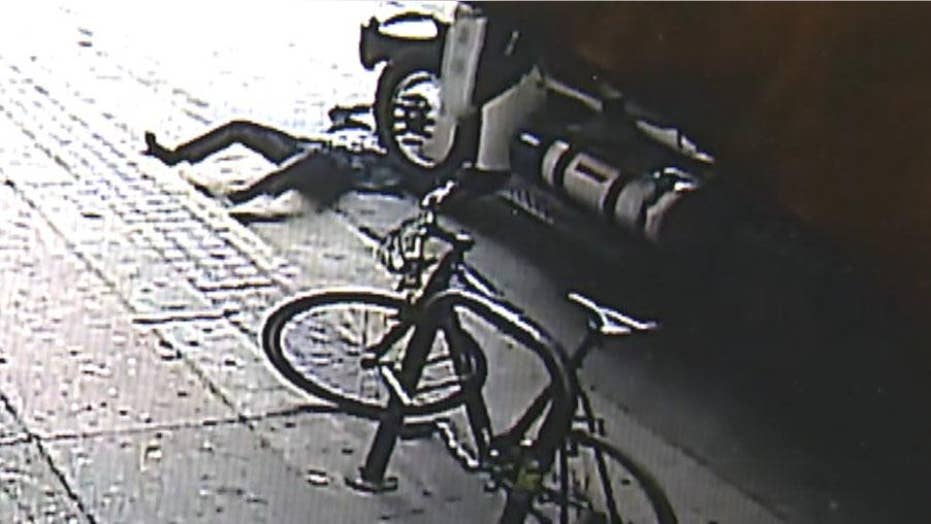 Calif. man pushes stranger into traffic
Frightening surveillance video captured the moment when a seemingly unsuspecting pedestrian in California was pushed in the way of an approaching truck by someone nearby.
The incident in Los Angeles took place Wednesday morning outside a restaurant whose surveillance camera recorded the exchange, Fox 11 Los Angeles reported.
In the video, a person sporting a yellow, hooded jacket lunges toward a man walking by, pushing the man into the street. Within moments, the accosted individual was hit by an oncoming truck.
Another part of the surveillance shows the suspect reaching to the ground and grabbing something before walking away from the scene. In the corner of the video, the man who was pushed can be seen on the ground kicking his legs in the air.
The video then shows people coming to the man's assistance and the truck's operator reversing the vehicle off of him, after which he could be seen slowly sitting up.
The unidentified suspect was later taken into custody, the Los Angeles Police Department tweeted.
"IN CUSTODY!! Earlier, @ABC7 aired a clip of an individual pushing a passerby underneath a panel truck. Thanks to our partners @LAFD he is now in custody," the LAPD Central Area tweeted. "Alert Fire Fighters observed him walking in the #DTLA area and called for us to respond, where he was arrested."
Source: Read Full Article